Spare Me 34th Street, Rudolph, and Charlie Brown Please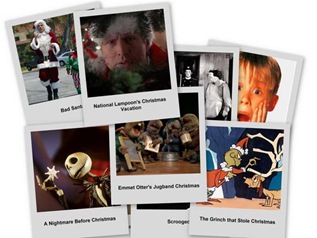 Well, it's that time again; the holidays. Time for credit card bills, bulimia, annoying relatives, and yes, Christmas movies. Every year, it's the same old stuff: Miracle on 34th Street, Bing Crosby, Rudolph the Red Nosed Reindeer, and Charlie Brown's crappy little tree. Well I'm a little tired of all of that cliche, Winter Wonderland stuff.
I've decided to put together a list of my favorite off beat, quirky, dark, or just plain weird holiday movies. They all have to be of a Christmas theme and/or heavily related to the holidays.
I have to give credit where credit's due. I received quite a bit of input from my wife and my 15 year old daughter, so I will also indicate each of their top picks.
So without further ado, let's start the countdown.
The List of the 10 Greatest Off Beat Holiday Movies:
Home Alone (1 not 2) – That's right baby, it's Christmas and you get one extra for free! Who's the best?
(1990) Macauly Culkin plays the adorable? Kevin who is accidentally left alone for Christmas. He soon has to defend his home from bumbling burglars who try to break in. Oh the hilarity!
Why it's qualified: I'm not really sure it even is, that's why it's at number 11.
Why I love like it: Who would have ever thought that this childhood mega-celebrity would have become a gay, drug abusing, parent/agent estranging train wreck? Only anyone with two eyes.

National Lampoon's Christmas Vacation – (1993) Remember when Chevy Chase was funny? Yeah, me neither, but if he ever was this was probably the last dying gasp.
Why it's qualified: I guess it's shows that no matter how screwed up your family is, at least you have them.
Why I love it: I love Randy the white trash brother. I also love the over-the-top Christmas lighting on the house. A lot of people in my neighborhood should realize that it was only a joke, not a suggestion.

Trading Places – (1983) A snobbish investor and a wily street con artist find their positions reversed as part of a bet by two callous millionaires.
Why it's qualified: It happens at Christmas time. There are scenes with a drunken Dan Akroid in a filthy Santa suit. And Jamie Lee Curtis was the best present that I got that year.
Why I love it: Eddie Murphy and Dan Akroid were incredible in this movie. Plus, I work in a large financial services company and 90% of what I know about the Commodities Market goes back to what I learned from this movie as a 14 year old. Oh, and Jamie Lee Curtis' neckid boobs were also quite the treat for my 14 year old eyes.

Scrooged – (1988) Ah, the modern take on the Dickens classic. Bill Murray, the self absorbed jerk is taught by a wonderful ghost (Carol Kane) the "true" spirit of Christmas.
Why it's qualified: Bill Murray and Bobcat Goldthwait definitely do their best to make this anything buy a typical Christmas movie.
Why I love it: I love the interaction between the Ghost of Christmas Present (Carol Kane) and Bill Murray. They really have a great chemistry.

How the Grinch Stole Christmas – (1966) A grumpy hermit hatches a plan to steal Christmas from the Whos of Whoville.
Why it's qualified: It features a crotchety, grouchy Grinch who wants to steal and ruin Christmas.
Why I love it: My two favorite parts are "The Grinch" theme song and when he straps the antlers onto his poor little dog. Plus, my sister's friend has a kid that is the spitting image of that little Mary Lou Who girl.

Bad Santa – (2003) Billie Bob Thornton and Tony Cox team up to pose as Santa and Elf so that they can rob a department store at Christmas time. Funny, foul, dirty, inappropriate, and heart warming all at the same time.
Why it's qualified: A movie about a Drunk and a Dwarf posing as Santa and his helper so that they can rob a department store. That's a little weird. The other thing that's off is the copious amount of cursing involved.
Why I love it: Two Words: "Billie Bob!" Oh, plus the sex scene with Lorelai Gilmore (Lauren Graham) getting nasty with Santa in the hot tub. The best part of the movie is the funny little fat kid.

Emmet Otter's Jug-Band Christmas – (1977) This movie was adapted from a book by Russell and Lillian Hoban and it's a take on O'Henry's "Gift of the Magi". Made for TV by Jim Hensen and featuring his lovable puppets.
Why it's qualified: These are animatronic otters who play bluegrass music in a Battle of the Bands to win Christmas Presents. Not exactly Jimmy Stewart.
Why I love it: The other band in the battle of the bands "River Bottom Nightmare Band," who rocks the house with an awesome metal jam. (Much like "The Devil Went Down to Georgia," I still think that the bad band won.) I guess I just love me some Metal.

Elf – (2003) After inadvertently wreaking havoc on the elf community due to his ungainly size, a man raised as an elf at the North Pole is sent to the U.S. in search of his true identity.
Why it's qualified: A giant man in an elf suit working with tiny little elves. That same giant man wearing that same elf suit to work in New York City. Don't forget, it's a Christmas movie where Sonny Corleone (James Caan) plays the elf's estranged father.
Why I love it: Will Ferrell is his typical hilarious self. He just goes for broke in every scene. You can tell that he never thought for a minute that it had a chance of flopping. I love that guy!

March of the Wooden Soldiers – (1934) Laurel and Hardy at their finest.
Why it's qualified: It wasn't really "Christmas" movie, but it aired on Christmas day every year forever. I'm sure that so many families consider it a staple of Christmas day. Off Beat – well, it has Boagie men and giant toys killing them.
Why I love it: I watched this movie every Christmas day at my Grandparent's house. I waited every year for the scene when the soldier busts through the house and his head falls off. He just keeps right on kickin' Boagie Man asses without a head. Even as a child, I knew that it was something special.

A Christmas Story – (1983) (My Wife's Number 1) I want a Red Rider pump BB gun with a compass in the stock. Who wasn't rooting for poor Ralphie? and Who didn't know he was going to shoot his eye out? So what, it's Christmas and he wants his BB gun. Just like all of us who wanted something that no adults thought that we should have.
Why it's qualified: I just love how they expose the soft white underbelly of a typical 50's white trash family. Their house isn't beautiful and they are kind of pathetic. Definitely not your regular Christmas movie family.
Why I love it: What else, the Triple Dog Dare? Plus, I love his determination and refusal to accept the crotchety nay saying from those adults. Oh, by the way, Ralphie is the same exact age as me, and two of my friends went to summer camp with him every summer.
Drum Roll Please…………………….. We Have a Winner!

Nightmare Before Christmas – (1993) (Mine and My Daughter's Number 1, smart kid.) Wow, so much to say. This is a modern marvel. I love the darkness, the painstaking detail involved, and every detail that was built in. Every time I watch this movie, I notice something new.
Why it's qualified: A skeleton, Halloween king who decides to "help" Santa by taking over Christmas. Having Halloween Town do Christmas. That's out there.
Why I love it: Not only my favorite Christmas movie, but in my Top 10 movies of ALL TIME! The humor, the music, the tragic desperation of the characters what a masterpiece. Did I forget to mention the Best Soundtrack of All Time? This is the movie that all animated movies should be benchmarked against. Bravo Tim Burton, Bravo!
What's YOUR Favorite?
Enter your favorite in the comments below. As always, if I'm dead wrong, or just missed something, please add it in the Comments.
Get More Updates
See some of the other places where you can connect with me out there in the wilds of the internets.