Where is my Flying Car?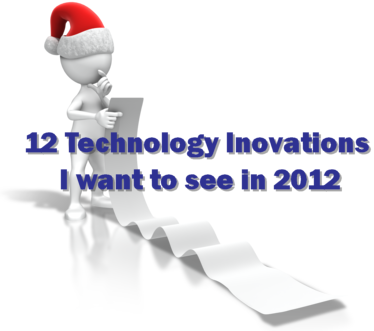 As 2011 comes to a close and I've been reading all of these "The Year in Technology" round-ups. There were a few nice innovations, I still have a few things on my wish list. Believe it or not, most of them are not of the flying cars ilk; rather the why doesn't this exist yet variety.
2012 Technology Wish List
Without further ado, here's the list:
Smartphone batteries that stay charged for a week
Laptop batteries that stay charged for a full work day (10 HOURS)
Facetime phone calls to work without wi-fi (It's a freakin' mobile phone!)
All of these "Cloud" storage services to give a reasonable amount of data. (No, 2-5 gigs doesn't cut it!)
Evernote to get some calendar/scheduling capabilities (Do I really need a separate To Do app?)
A true internet TV (Apple's polish, with Google's flexiblity, and a Logitech remote)
Wireless cable boxes
A Macbook Air with a convertible/removable keyboard that runs an iPad emulator
Webcams and microphones built into TVs (Sofa Skype anyone?)
A car stereo that syncs with iTunes over wi-fi when it's parked in my Garage
For people to stop acting like "The Cloud" is anything more than the same old servers we've been using for decades with a fancy new buzzworthy name.
A legitimate residential broadband service that is not the Phone or Cable company.
The New York Mets to get bought by an owner with a budget and a clue. (Not technlogy, but I thought Santa might be reading this.)
That's it. Not that much to ask, right?
Enough about me, what technological innovations would YOU like to see in 2012? Leave your wishlist in the comments below.
Happy New Year!!!
Get More Updates
See some of the other places where you can connect with me out there in the wilds of the internets.