What to Buy the Gadget Freak For Christmas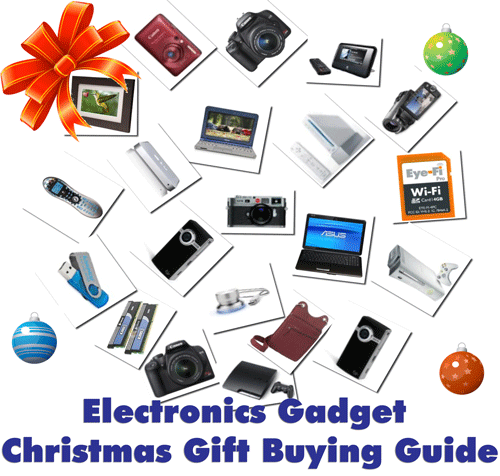 Do you have a Gadget Freak or Tech Geek in your life that is impossible to buy for? Well, this list should help you find the ultimate Christmas (Hanukkah or Kwanzaa too) gift for them this season. The list sorts gifts by Category and puts an approximate price range next to each one. There is a link to the Amazon.com page for each item. While Amazon has a big selection and decent prices, there are definitely other places that may be cheaper. I personally love NewEgg.com for price, selection, and speed of delivery.
Price Ranges:
Under $100 –

$100 – $250 –

$250 – $500 –

$500 – $1000 –

Plumb Ridiculous –
Let's Get to Some Serious Shopping
Phones
iPhone –
This is the ultimate gift for the gadget head this year. The look, the feel, the sexy, oooooh, you know you want one too.
Cameras
Good
Panasonic Lumix DMC-TZ3
–
This is a little bit big, but still "pocketable". The thing that makes this camera so special is the 10x zoom lens. Most cameras have a 3x zoom. This thing takes great photos too.
Casio Exilim EX-Z75
–
If you want a super duper small, simple, fun camera, than Casio is your choice. I've had a few Casios and I bought one for my parents last Christmas (Proud new Grandparents) and they just love it. Every time I pick up their camera, I just kick myself for not buying myself one. Did I mention SMALL?
Better
Canon PowerShot G9
–
You can attach an external flash (the biggest shortcoming of pocket cameras) and accepts different zoom and fish eye lenses (like an SLR). This camera is the closest thing to an SLR that fits in your pocket that you can get.
Best
Nikon D40
–
If you have a real photography buff in your life, then this is the camera for them. This is a GREAT starter Digital SLR camera. It blows away tons of much more expensive cameras. For anyone that doesn't pay their rent by taking pictures, this thing is 10 times better than they need for a nice price.
Accessories
Eye-Fi Memory / WiFi Card
–
Once they have that awesome camera, why not get them a memory card with WiFi? Yes, that's right, this memory card will automatically load those freshly taken shots to their favorite photo sharing website. Pretty slick!
Super Tiny Video Camera
Sanyo Xacti Mini Video Camera
–
If you know a video junkie, than the Sanyo Xacti is just the thing. They are sooooo small that you can carry one in your pants pocket. This is the ultimate go-anywhere, adventure video camera.
Music
Good
iPod Nano
–
Perfect for the gym or any other activity where size matters. Small, cute, and packed with all of the most important features.
Better
iPod Video
–
If small size is not important, but a full set of features and massive storage capacity is important, than this is your choice. 80 gigs of storage has enough room for several thousand songs, seasons worth of your favorite TV shows, and about a gazillion of your favorite photos. This is truly the jack-of-all trades portable music device.
Best
iPod Touch
–
Combine the music of the Nano, with the most spectacular video screen on any gadget and you have a marvel of modern technology. Oh, did I forget to mention, wireless Internet, integration with your calendar and address book, and Palm Pilot style organization applications? Yes, this is truly the super device for the gadget hound in your life. One drawback however, is that it only holds 16 gigs of files. (That's not nearly enough for the features available.) Still, it's pretty darn cool.
Portable Wireless Speakers
Griffin Evolve –
This is the best way to use your iPod anywhere in the house or yard. The iPod goes in a dock and the wireless speakers detach and go anywhere within 100+ feet to hear really nice sounds. There is a wireless remote that will handle volume and playback from your back yard or where ever. This is the most convenient way to rock a back yard party.
Video Games
Portable Games
Sony PSP
or Nintendo DS
–
Most geeks suffer from serious Attention Deficit Disorder. (who me?) So, for those long plane or train rides, boring business meetings, or other out-and-about downtime they need a portable gaming system. the PSP and DS both offer hours of exciting filler for painful downtime. Your nerd will love you forever.
Console Games
Wii, PS3, or XBox 360
–
Take your pick. They all have their strengths and weaknesses. PS3 has the BlueRay DVD player, XBox 360 integrates with your PC beautifully, and Wii wins the Fun contest by a mile. How do you choose? Well, which ever one you can find on a store's shelves is the one you should get.
Individual Games
Rock Band
–
No contest, hands down winner. Your geek and all of their geek friends can rock out like they actually have some talent after their next Dungeons and Dragons tourney.
Television Viewing
HD DVD
or BlueRay DVD
–
Do you love to watch movies? Yeah, me too. A High Definition DVD player will make movies come to life like never before. There are two competing formats, HD DVD and BlueRay. I'm not sure which one to pick, so just let price and availability help you. They both look incredible.
Logitec 880 Universal Remote
–
This is the thing that every man (and woman) craves. Complete and total control. If Captain Kirk had an entertainment center, he would have this remote. It does everything imaginable.
Slingbox
–
The Slingbox hooks up to your home TV and Internet connection. Then, when you are traveling, you can watch your TV, or Tivo from anywhere over the internet. You can watch your own programming on a PC or Cell Phone. Why is this cool? Have you ever been in Japan and wanted to watch Desperate Housewives or an NFL game? Exactly.
Computer
Mac Book Laptop –
Want to get someone an awesome new laptop? Get a Mac Book. It looks beautiful, runs lightning fast, and is light as a feather. If you have someone who absolutely needs to run Windows programs, you can buy it preloaded with Parallels, a program that will let it run Apple and Windows programs at the same time.
Mac Pro Desktop Super Computer –
A Mac Pro desktop computer is probably the burliest, most expensive desktop PC that you can get. You can set this thing up to run Apple and Windows programs at the same time with the power of a NASA super computer.
Super Mobile Road Warrior

Asus Eee Mini Computer
–
Do you know someone who is constantly on the road? Do they need a simple, cheap, tiny laptop that just works? Then the Asus Eee mini computer will do the trick. It's $400 and runs a scaled down operating system that has all of the most critical applications necessary (Internet, Office Apps, Email, etc.). This thing is so small and cool that everyone who sees it will be amazed.
Big Ass Monitor –
The only thing that could make a geek love their computer more is to see more of it.
HP Home Server
–
Remember that your geek loves their computer and all of their photos, music, videos, etc. Well now you can give them an insurance policy against the catastrophes that could occur from all of the "fixing" that they are always doing. Give them the simplest, most elegant backup server they could ever desire.
Gadgets for the Car
GPS Navigation System
–
Do you know someone that is always getting lost? Well this will not only help fix that, but it's also cool to mess with. Geeks love this kind of stuff.
In Dash GPS with DVD Player
–
This is the ultimate In-Car gadget. It mounts into the dashboard, and pops out a huge GPS screen. It also plays DVDs, CDs, connects to your iPod and cures Cancer and Poverty. Seriously, this turns your car into a science fiction movie. This is a MUST for car and gadget aficionados.
So, What's On Your Wish List?
Include any of your dream gadgets in the comments. And hey, if you sign your significant other up for an Email Subscription, they may get the HINT! By the way, maybe I should send this article to my wife (Hmmm?).

Subscribe via RSS |

Subscribe to Comments |
Email Subscription
Other Articles You May Like
What's the Point to Unlocking the iPhone?
Who Else Wanted More From the iPod Touch?
How to Download TV Shows from the Internet (Part 2)
Is Microsoft Office in Danger of Being Dethroned?
Reader Poll – Roadside Memorials: OK to Document?
See How Easily You Can Embed a Map on Your Site
The Easy Way to Download TV Shows from the Internet
How Much Social Networking is Too Much?
Get More Updates
See some of the other places where you can connect with me out there in the wilds of the internets.