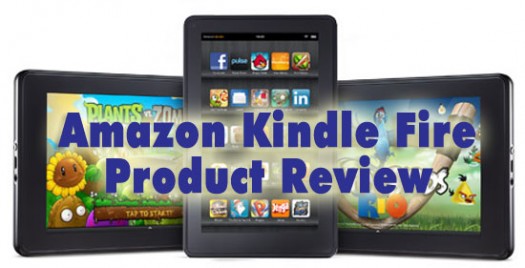 The Amazon Kindle Fire launch was one of the most anticipated in recent years, creating a lot of buzz within the online community. After a few months while the dust has settled and users are becoming experienced with the workings of the tablet, here are some observations on the device touted as iPad's 1st real competitor. With a very pleasing design, beautiful video touch screen with stunning brightness and color contrast, as well as the sturdy build of the device without being too heavy or bulky, the Fire has a lot to offer to anyone looking to economically go mobile with diverse, unique functionality.
Instant Reader
One of the features that sets the Kindle brand name apart from everyone else is its original claim to fame: the ability to instantly download print media from the Amazon store and be able to get down to the business of reading. The Kindle Fire gets very high marks for the ability to enjoy full-color magazines as well as the wide selection of books available on the Amazon site. In fact, for the wide range of content available, including literally millions of downloadable movies, TV shows, music, eBooks & magazines, as well as browsing capabilities, the Kindle Fire ranks very high.
Kindle e-Reader
For an extra price (under $100), you can purchase this tablet that reads like real paper, touting no eye strain or glare, even in bright sunlight.
Kindle Apps
Amazon's Appstore includes a wide array of free app selections. Because Kindle Fire has capitalized on its former claim to fame as a reader turned mobile device, magazine and newspaper apps are helpful for current print subscribers to browse the most recent edition on the tablet, or in some instances the app provides the ability to purchase a single month or annual subscription (including 90-day trials) right through the app.
Of course, free apps enabling you to access your Netflix, Hulu Plus or Flixter accounts make this device your own personal TV screen. Amazon Prime members also get free streaming capability from Amazon On Demand, plus discounts on all Amazon content.
There are also useful apps available for purchase for a nominal one-time or monthly price, such as Notepad for taking notes, and Calendar scheduling tool.
Cloud Storage
With unlimited free cloud storage available, there's no need to worry about what your device is currently storing, and a backup of all the content you purchase through your Amazon account is available.
Cost
Definitely a huge positive for anyone who has compared pricing on both the Kindle Fire and the iPad, as well as other available options. Most people agree that the $199 price tag is well worth it for the functionality. Add the eReader for a total price of $278.
Some issues to be aware of:
The Silk Browser tends to get lower marks for most people until it learns the browsing habits of the user.
The battery does very well with most functions, but users are advised to keep the device plugged in during streaming, as it tended to drain the battery.
Kindle Fire can connect to many available WiFi connections so that you can download, stream, access email or browse the web. However, the Fire does not have 3G capability for a truly mobile experience.
With lower price, this device is missing out on some of the functionality that the iPad delivers, such as a larger screen, camera, storage capacity, and the largest App Store available.
About the Author
Ruth Suelemente is a freelance writer who is well-versed on a variety of topics, including a high speed internet and related technologies.
Did you Like this Article?
Sign up for free updates from VitaminCM.com.
Get More Updates
See some of the other places where you can connect with me out there in the wilds of the internets.