…The best $10 I Ever Spent!
The ASTD Conference Celebration dinner for the conference was held at the Georgia Aquarium on Tuesday night.
Venue: Georgia Aquarium in Atlanta, GA. Wow, what a place. They have 5 Whale Sharks, that's more than any place in the world.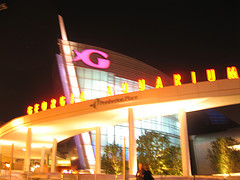 There were Beluga Whales that were almost human in personality. All of the tanks and exhibits didn't just house the animals, but they really showed them off in a way that evoked emotion. There were Dungenous Crabs that were in a dark cave-like setting with red lighting. It looked kind of sinister. The whale sharks swam over a glass tunnel that made them seem ghostly as they drifted over. Seeing them right over your head really gave you a sense of how truly immense, yet serene they are.
Event: The event was a lot of fun. We had the run of the aquarium for a few hours. There was a live band in the main hall and a jazz band in another room. Both bands were very good. There wasn't much need for elaborate decorations (due to the spectacular venue) but the few things that the did do were nice. The star of the show for me were the Sea Nettles Jellyfish. They were in a cerrulean blue tank with lighting that made them glow in the most amazing orange color. I watched them for at least a half hour and took about 100 photos. (None of them capture how amazing they looked.)
Dinner: The food was catered by Wolfgang Puck. So, as you might expect, it was delicious. There were also vouchers for 2 drinks per person. Oh yes I did!
Pictures:


Get More Updates
See some of the other places where you can connect with me out there in the wilds of the internets.