Posting to your Blog Using Desktop Software
Overview: Find out what 10 Desktop Blogging Applications can do to help you post articles to your blog.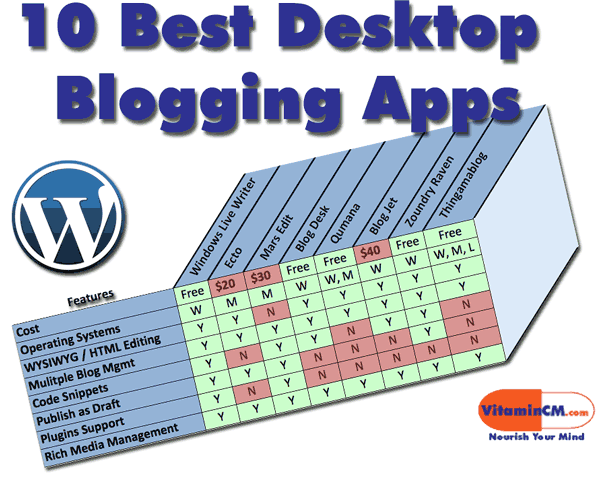 The WordPress web interface gives you everything you "need" to write and publish blog posts. Just because the web interface can do a lot, does not mean that it is the "best" tool for everyone. Many people prefer to write and publish their posts from a desktop blogging editor. There are numerous applications that provide you a powerful set of tools for writing and publishing posts directly from your desktop. There are a few significant advantages to writing your posts using a desktop blog editor:
You can still write when you are not connected to the internet
Feature-rich desktop publishing experience
The performance is MUCH faster than the web interface
Excellent media insertion, editing, and management
Support for plugins that provide tailored functionality
Here are some of the more popular desktop blogging editors.
Top of the Heap – Desktop Blogging Apps
There are only about three apps that I think are sure things.
Windows Live Writer
MarsEdit
Zoundry Raven

Windows Live Writer – This is my favorite desktop blogging tool on any operating system at any price. Best of all, it's free! Every possible feature that you could want is included in Live Writer. I use a Mac to write my blog posts, but I run Parallels (virtual machine) to run this Windows only app. Yes, it's that good. I just hope that they make a Mac version some day.
What I Love:
Publish posts as DRAFT status and opens the web-based post editor in one click
Plugins – an increasing amount of useful tools that make the rich get richer
Compose posts with your blog theme's formatting applied in real-time
Edit existing posts
Very polished interface and user experience
Could be Better:
It occasionally adds some funky code
No version for Mac
Windows Live Writer Interface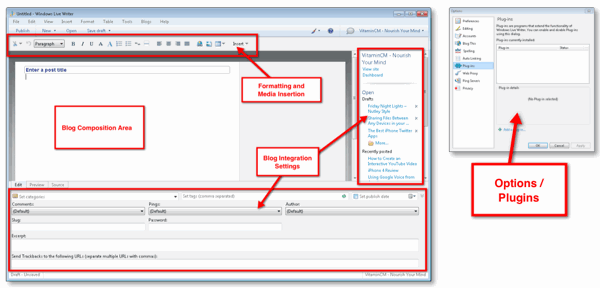 MarsEdit – MarsEdit is a half-step behind Windows Live Writer, but it's still the best blogging tool available for Mac. It costs $30, but it's definitely worth it if you want to avoid the hassle of running a Windows Virtual Machine. I think it's about one version away from being truly awesome.
What I Love:
You can edit code in the app or your favorite code editing app
Nice smooth working experience
You can add a lot of Post metadata directly in the interface
Could be Better:
The ability to Post as Draft instead of Published
It seems like there are always about 12 windows open
No Windows version
MarsEdit Interface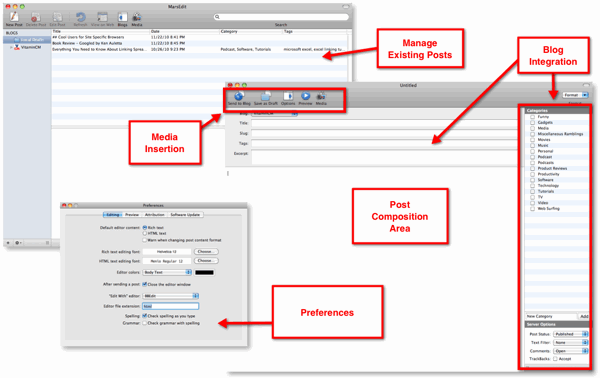 Zoundry Raven – This is a pretty good (Windows only) tool if you're on a PC and you don't want to use Windows Live Writer. (Not quite sure who would do that; but I digress.) It has almost all of the "must-have" features that I typically look for in a slightly less polished package. The one nice thing I like is that there is a portable version that can be run on any Windows machine, right from a USB Flash drive. (See how to set up Portable Apps on a USB drive here .)
What I Love:
Very clean, sensible writing interface
Contains a ton of features, even compared to the paid apps
You can get a portable version that loads on a USB drive and runs on any Windows machine
Could be Better:
No Mac Version
No plugins or extensions
Zoundry Raven Interface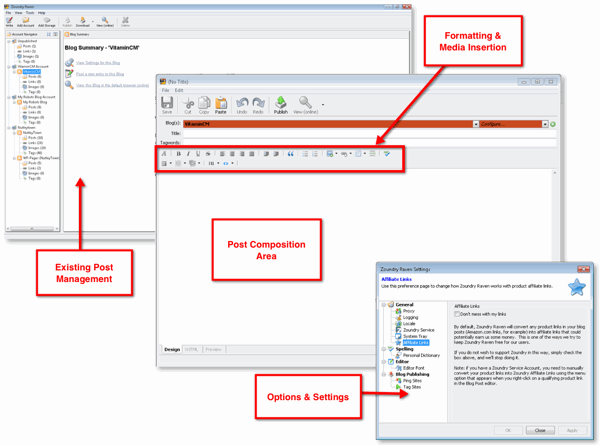 They Could Have Been Contenders
These apps could be good if they just add some of the features and stability of the big dogs. Close, but no cigar.
Ecto
Qumana
Blog Desk
Blog Jet
Ecto –  $20 – I used Ecto for a little while (right after Qumana) to write posts. It has a few more features than Qumana, but it's not nearly as good as MarsEdit. Believe me, the extra $10 is well worth it.
What I Love:
It has a decent WYSYWIG interface
It integrates with Flickr and Amazon
Could be Better:
Not great options for working with Code and Design views
No upload as draft
It's just not-quite-right
Ecto Interface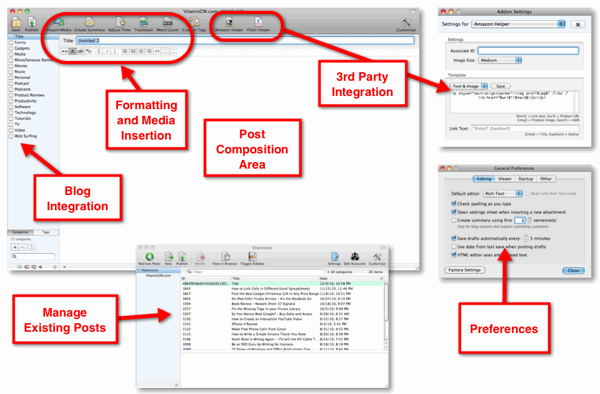 Qumana – I actually used this app for a brief time when I switched from Windows to a Mac. This was the first Mac based blogging tool that I found fairly useable. I've moved on to some better options, but it's not the worst tool I've seen.
What I Love:
Decent Media Insertion and Formating
The have good integration with their own advertising platform

Con – it's their own platform. Adsense please.

Runs on Windows and Mac
Could be Better:
No easy way to add CSS Styles to content. (Headings, etc.)
No plugins
Qumana Interface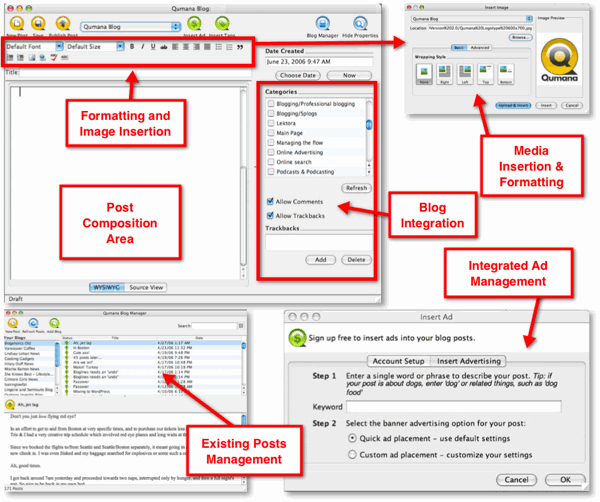 Blog Desk– Blog desk is a pretty good Windows blogging app. The interface is laid out in a sensible way that will be easy to figure out. It's not as good as my favorite blogging apps, but it's usable.
What I Love:
Simple and easy to use
Integrates well with WordPress features
Could be Better:
Not as full featured as some of the other options
Blog Desk Interface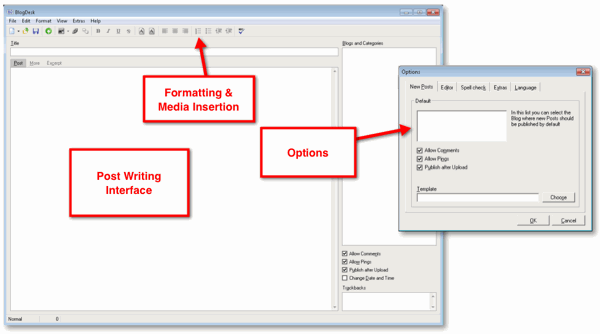 Blog Jet – The name sounds like BlogDesk and the interface and features look alike too.  It's pretty good and free, but there are a few better choices for the same great price. Good, not great.
What I Love Like:
Clean, simple interface.
Media insertion and management
Could be Better:
Added CSS styles
Source Code editing
Blog Jet Interface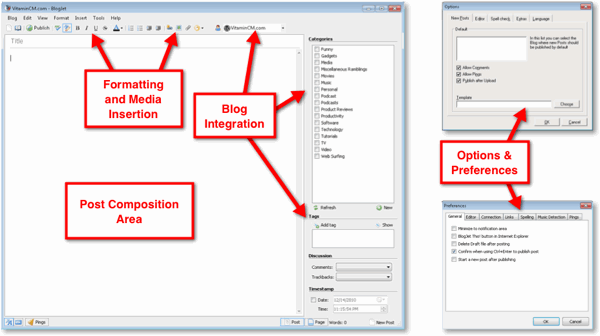 Not Quite Ready for Prime Time
These apps are just not worth a look.
Thingamablog– I didn't like Thingamablog at all. It was buggy and clunky. It also was flaky when I was trying to set up my sites. ThingamaBLOB is more like it.
What I Love Like:
It does support Windows, Mac, and Linux
Could be Better:
Multi-platform support means that you get a bad app on any computer that you use
No features – no fun!
Thingamablog Interface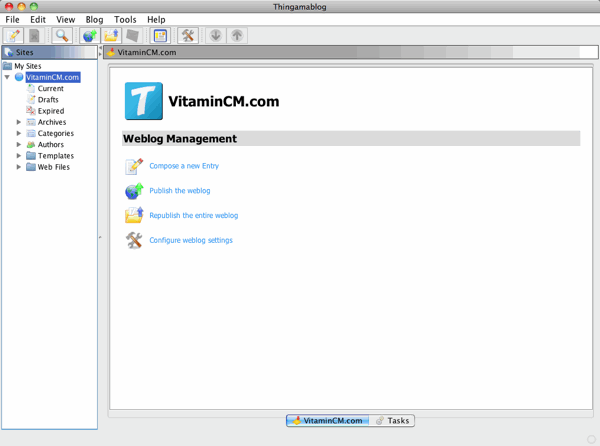 Bleezer – This was another disappointment. It runs as a self-contained Java app from anywhere on any Operating System. Java apps kinda suck for a variety of reasons. They are slow and ugly, to name a few. Bleezer is no exception.
What I Love Like:
Multi-platform support
Not much else
Could be Better:
Java is slow and flaky
It doesn't have a compelling feature set
No fun to use
Bleezer Interface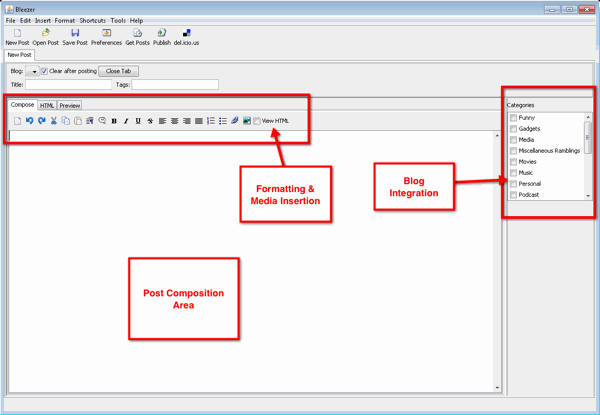 Desktop Blogging Application Feature Comparison
The table below compares the desktop blogging applications covered here on some critical features.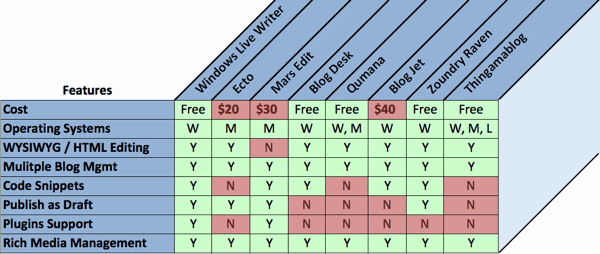 Additional Resources
Here are a few articles that go into more detail on desktop blogging editors:
WordPress Desktop Blogging: 5 Tools Reviewed – Centernetworks.com
15 Desktop Blogging Tools Reviewed– SmashingMagazine.com
Desktop Blogging: 20 Best Blogging Software To Help You Blog From Your Desktop– WebDesignBooth.com
Desktop blog editor comparison– Lifehacker.com
Desktop Blogging Clients for Linux Labanol.org
Did you Like this Article?
Sign up for free updates from VitaminCM.com?



See some of the other places where you can connect with me out there in the wilds of the internets.
Get More Updates
See some of the other places where you can connect with me out there in the wilds of the internets.