Everything you Think about Business is Wrong!
Overview: This is a review of Rework, the book by Jason Fried and David Heinemeier Hansson, founders of 37 Signals. Rework discusses ways to run a lean, effective business.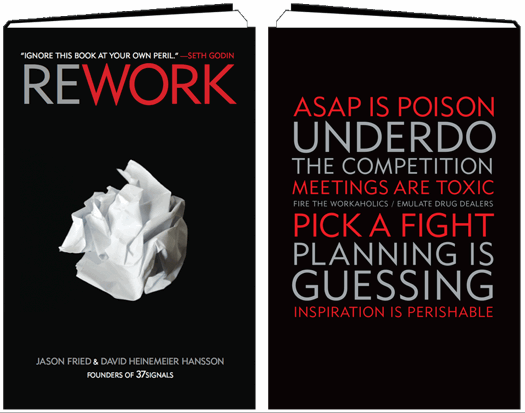 Title: Rework
Subtitle: Change the way you work forever
Authors: Jason Fried and David Heinemeier Hansson
Published: 2010
Publisher: Crown Business (Crown Publishing)
Price: $22.00 list price. ($10 – $16 on Amazon, depending on format.)
Number of Pages: 279
Who is this book for? This book is for anyone who runs their own business or wants to start their own business. It is also helpful for people in bigger companies that want to do things better.
What is it About?
The book covers lots of thoughts on little things that big businesses are doing wrong. They take it from the point of view of someone starting their own company or launching a product. Some of the key concepts are: Stay small, don't add features just to add them, focus on doing the pieces that you can do great and leave out the other stuff. There are a lot of useful, concise tips on how to focus on the most important things and leave out the nonsense.
Excerpts
Here are a few useful takeaways from this book:
Workaholism

Workaholics miss the point too. They try to fix problems by throwing sheer hours at them. They try to make up for intellectual laziness with brute force. This results in inelegant solutions.

Build Half a Product, not a Half-assed Product

Trim a product or project down to your best stuff. Not every idea needs to be jammed into something.

Tone is in your Fingers

Don't obsess over your equipment, technology, or tools; just start creating. Let your skills be the determining factor.

Get Real

When trying to explain or envision a product you should create a drawing or mockup. Remove as many layers of abstraction as possible.
Meetings are Toxic

Meetings are terrible productivity thieves. If you must have a meeting make sure to do the following:

Have a clear agenda
Set a timer
Invite as few people as possible
Address a specific problem/issue
Make someone responsible for implementing a solution

Say No by Default

Don't let customers derail or destroy your product with endless whining and requests. Politely explain why you are keeping it simple.

Let your Customers Outgrow You

Keep your product simple and approachable so that you are able to keep gaining new customers.

Don't Outspend – Out teach

Teach your customers about your product, business, or niche.

Everything is Marketing

Everything that impacts your customer is marketing. Answering the phone, sending an email, responding to problems or requests. Everything!

Skip the Rock Stars

Don't keep chasing after the "best" talent. Create an atmosphere that allows talent to flourish.

They're not Thirteen

You should trust your employees and they will act like grownups.
Verdict
I found this to be an exciting read. It is short and fast, but packed with interesting, useful ideas. If you read through this book you will definitely find some ideas that help you do things better. What a breath of fresh air!
Video Review of Rework
I discuss my thoughts on the book in the video below.
Pick up your Own Copy
Get Rework – Hardcover Edition
.
Get Rework – Paperback Edition
.
Get Rework – Audio Edition
.
Get Rework – Kindle E-Book Edition
.
Get a Kindle E-Book Reader
.
Disclosure
The links above are "Affiliate" links for Amazon.com. This means that if you click through and buy one I get a small prize. (I hope it's a robot.) I liked it enought to spend my hard-earned-money on a copy. That should tell you something, because I'm kinda cheap.
Did you Like this Article?
Sign up for free updates from VitaminCM.com?



See some of the other places where you can connect with me out there in the wilds of the internets.
Get More Updates
See some of the other places where you can connect with me out there in the wilds of the internets.