Enhance your Browsing Experience Using Bookmarklets
OVERVIEW: Learn how to use bookmarklets to get every drop of power out of your favorite browser.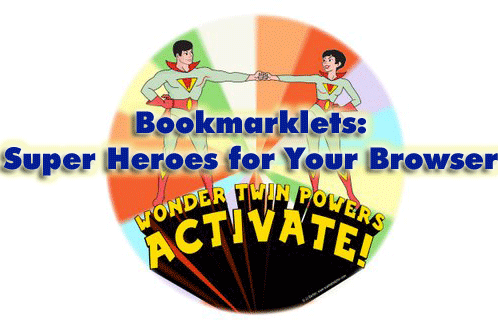 What are Bookmarklets?
Bookmarklets are special bookmarks that add one-click functionality to a browser or web page. They look like normal links, but are written in Javascript and can perform different tasks depending on what page you're visiting, what text you have highlighted, etc. When clicked, a bookmarklet can apply filters to the page you're viewing, open prompts for searches, or a host of other helpful features. Bookmarklets are added to your browser as a bookmark and usually work in all browser.
What Can Bookmarklets Do for You?
There is no limit to the type of things that you can do with some clever bookmarklets, but here are just a few of the things that I use them for on a regular basis:
Open your email app (Gmail, Yahoo, MSN, etc.) with the title of the current page and a link to it; poised for you to enter a recipient. (In one click.)
Subscribe to a new blog in Google Reader without all of the annoying clicking.
Strip out all of a pages junk (ads, header, footer, sidebar, etc.) and send just what you want to your printer.
Look up Definitions, Translations, Currency Conversions and other useful information with one click.
How to Use Bookmarklets
Acquiring and using bookmarklets is both incredibly powerful and simple. Follow the steps below.
First you need to make sure that the Bookmarks toolbar is visible in your browser. View> Toolbars> Bookmarks Toolbar (Links in Internet Explorer)
Find a web page that has bookmarklets that you can "grab" (See list below under the Additional Resources heading.)
Click and drag a bookmarklet to the Bookmarks/Links toolbar on your browser.
Click on the bookmarklet when you want to use its functionality.
The Javascript will run and perform the specified action.
Video Tutorial
The following video shows you how add bookmarklets to your browser and use them to improve your web surfing.
Take your Bookmarklets on the Road
Bookmarklets are not just useful in your desktop browser, they also provide extra functionality and convenience to your mobile browser. In fact, they're even move helpful on a mobile browser, because they make up for the lack of flexibility that a full size screen and keyboard provide. I use Xmarks to sync my favorites across all of my browsers and iTunes to sync them to Safari on my iPhone. If you use another smartphone (Android, Blackberry, Windows Mobile, or Symbian), you can sync your bookmarklets too.
Here is a list of great bookmarks for your mobile browser.
Additional Resources
Now that you know how awesome bookmarklets are, you probably want to know where to get them. Here's a list of places where you can find bookmarklets to do just about anything you need.
Digital Inspiration's Guide to Most Useful Bookmarklets for Chrome, Firefox, Safari, etc.
Your HTML Source's Bookmarklets Explainedx
Marklet.com's Bookmarklets Directory
LifeHack.com's 20 Useful Bookmarklets
LifeHacker.com's 10 Must Have Bookmarklets
ToThePC.com's 30 Useful Bookmarklets for KickAss Web Browsing
UPDATE
Check out this cool tutorial on the Instapaper Bookmarklet. It allows you to save, clean, and optimize articles on the web for you to read later on. You'll love it!
Wanna Get More Good Stuff Like This?
Get More Updates
See some of the other places where you can connect with me out there in the wilds of the internets.