Increase Google Reader's Productivity Using Greasemonkey Scripts
I use Google Reader to read through 200+ feeds that contain mountains of information. Google Reader does a great job helping me manage this tall task. If you do a little tweaking, you can turn Google Reader into an amazing productivity tool. Firefox allows you to add extensions to increase functionality.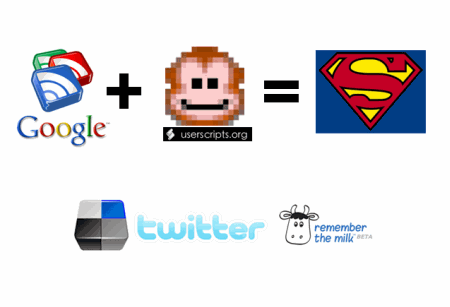 One of the most handy extensions is Greasemonkey. Greasemonkey allows you to customize the way a webpage works using small bits of JavaScript. There are thousands of Greasemonkey scripts available that help you get more from just about any popular website or service. I use a few scripts to customize Google Reader into more than just an RSS feed reader.
Subscribe to New Feeds Quicker than Ever
Auto add to Google Reader bypasses the "Add to Google homepage" / "Add to Google Reader" choice, directly adding to Google Reader. This will take several annoying clicks out of your way.
Bookmark Articles to Delicious
Google Reader + Del.icio.us bookmark Google Reader articles to Del.ico.us without opening the article's page.  There are a bunch of similar plug-ins for all of your favorite social bookmarking sites.
Add Articles to you To Do List
Remember The Milk Cow in Google Reader creates to-do tasks in RemeberTheMilk right from the Google Reader interface. Then, you can take action on them later on when you have time.
Post Articles to Twitter from Google Reader
Google Reader + Twitter adds reader posts to twitter right from google reader, complete with a URL shortener and tags.
See Google Reader + Greasemonkey in Action
The following video will show you how these scripts help you get more out of Google Reader.
Download the video.
Some Other Helpful Scripts
Google Reader Preview Enhanced 
Google Reader Print Button
Gmail Box for Google Reader 
How Do You Get More from Google Reader?
If you have other tips for getting more from Google Reader post them in the comments below. You suggestions can include other helpful Greasemonkey scripts or any other tips that you use.
Other Helpful Articles
Lifehacker  has numerous articles on Greasemonkey Scripts for Google Reader
Userscripts.org scripts tagged "googlereader"
Subscribe to VitaminCM.com for Free
Get free updates from VitaminCM.com

Subscribe to RSS Feed

Subscribe via Email

Subscribe to Comments
Get the VitaminCM.com Podcast

Subscribe via iTunes
Get More Updates
See some of the other places where you can connect with me out there in the wilds of the internets.