Super Cheap Computer for your Living Room
Overview: Learn how to build an amazing Media Center PC on a shoestring budget in this series of tutorials.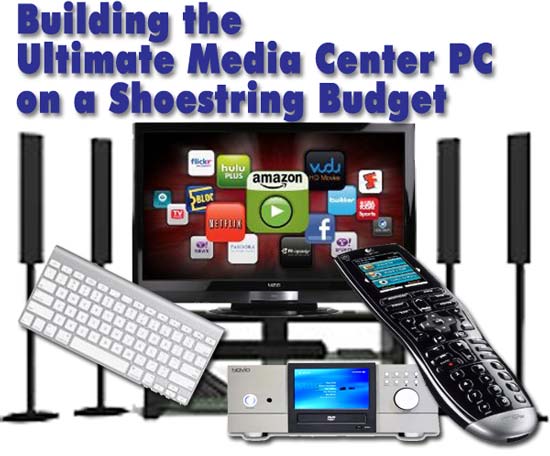 Every day there are more and more sources of amazing media content available over the internet. This is great if you don't mind sitting alone in your computer room watching a monitor, while listening to some tinny little speakers. What if you want to settle into your couch with your friends and family and watch on your big screen TV and house shaking surround sound system?
Well, I'm going to show you just how easy it is to get all of your favorite Video, Music, Pictures, and Social Media out of the computer room into the middle of the living room. Best of all, you'll see how to do it for as cheap as possible.
What We Will be Doing
My goal is to build a small computer that can handle all of your home media needs for Less Than $400. (Much less in some cases.)
This little workhorse needs to meet a few very important requirements:
Small – It should make your Nintendo Wii look like a big fat fatty.
Low Energy Consumption – Since it will be on all the time, it has to be efficient. (10 – 20 watts)
Stream 1080p HD Video – It has to be able to handle full-HD video with no lags or stutters.
Surround Sound – It has to be able to take advantage of a modern 5-1 (or better) surround sound system.
Expandable Storage – Our libraries of Music, Photos, and Video are constantly growing, so we need enough room to hold it.  (See backup server below.)
Function as Backup Server – Since it will have all of this storage, it should function as a backup destination for the computers the house. (Windows, Mac, and Linux)
Remote Access – I should be able to securely access and control it from other computers inside and outside of the house.
Power to handle other stuff – There are a bunch of other cool things that can be done with a little home media center. This machine has to have enough power to handle them too.
Selecting the Hardware
You can use anything from a full-blown new computer that costs $1,000 or more on down to an old laptop that you have lying around to build your media center pc. The goal of this project is to have a small, inexpensive system; so that rules out the high-end new stuff and a lot of the old stuff. However, one of the ways that you can bring this project in cheaply is to reuse some parts that you may already have. (More on this later.)
The best choice of a small inexpensive machine is one of the net-top computers that have come out recently. You can find dozens of them for a few hundred dollars.
My Build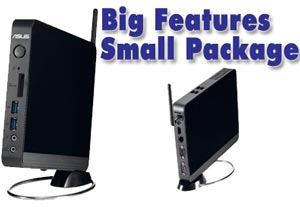 I went with an Asus EB1021 net top pc, which cost $309. It has a relatively new AMD E-350 processor that runs circles around the current generation of Intel Atom processors. The onboard video card also outperforms the Intel Ion video cards.The case is about the size of 2 or 3 DVD cases stacked up. While tiny,  it is jam-packed with a boatload of ports:
6-in-1 Memory card reader
4 USB 2.0 ports
2 USB 3.0 ports (very fast)
Gigabit Ethernet port
802.11 N wifi
HDMI &VGA video ports
Digital S/PDIF & RCA audio (7-to-1 surround sound)
Choosing an Operating System for your Media Center PC
This is a big choice for setting up your machine. Each OS has its pros and cons, so the choice is entirely up to you. Here are some of the pros and cons of each OS:
Windows – You will have the widest choice of apps to pimp out your system. Con – it's expensive (over $100).
Mac/Hackintosh – If you want to run OSX on your machine, you can look around for instructions on the web. Pro – It's free and it's a Mac. Con – It's tricky and quasi illegal (you wouldn't let that stop you, right?).
Linux –  It's free and reasonably easy to use now. Con – Not as many cool apps as Windows or Mac.
I went with Windows 7 Professional (64 bit) because it was already installed on my machine and it met my requirements.
Going with a Fully Built System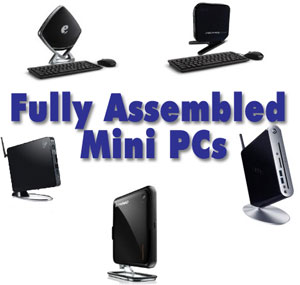 Most people will not want to assemble their PC and install the Operating System, so I picked a couple of fully functioning systems that you can use if you want to skip over a few steps. Here are a few recommendation for very nice prebuilt nettop PCs.
If none of these strike your fancy, choose from even more options. Nettop PCs at Amazon
Next Up – Assembling the PC and Installing the Operating System Now that I have my shiny new machine it's time to get it up and running. Stay tuned for the next part of this series.
This is part one in a six part series on Building the Ultimate Media Center PC on a Shoestring Budget. View the rest of the series:
Budget Media Center PC – Component List
Media Center PC – Build and Operating System
Media Center PC – Hardware Accessories
Other Cool Server Tutorials
These articles have even more with your home server:
Get More Updates
See some of the other places where you can connect with me out there in the wilds of the internets.