Where is my Wireless Television Router?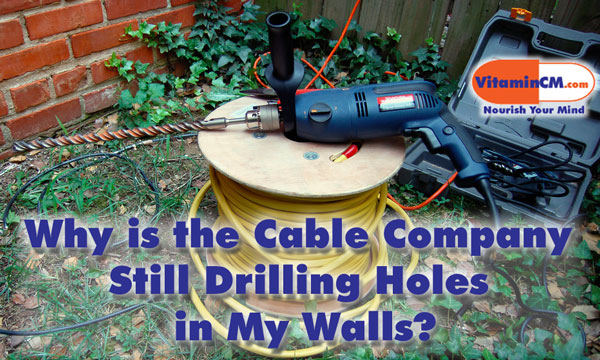 Another Aggravating Conundrum
Did you ever buy a wireless router? You plug it into the wall and your cable modem and you're done. Computer in the living room – no wires, no problem. Computer in all three bedrooms – no wires, no problem. Connect your video game console to the web – no wires, no problem.
Strange, because wifi, let alone game consoles, has only been around for a very short time. Compare that to Television. People have been beaming video through hundreds of miles of air for SEVEN DECADES. It's a pretty simple thing, a transmitter beams the information out and a receiver captures the information and displays it on a screen.
Why then do I have to take a full day off from work and sit in my house while some goon drills holes through my new oak floors, freshly painted walls and staples an ugly white cable along my baseboards? All this to get a video signal from the hole in my baseball wall to my TVs a mere 10 to 20 feet away.
Where is the wireless TV router that works as well as my internet router? There should be a simple device that sits in one room of my house and connects to the cable coming in from the street. Then, I just get a wireless cable box that gets attached to each set in my house. That's it, nothing else. No more coaxial cable running through my living room. No more 5 hour installations, no more holes drilled into my damn house. Is that too much to ask. Now, if I want to move the TV from one side of the living room to the other, I don't need to call a contractor.
Is that too much to ask?
What are Your Thoughts?
I would love to hear what you think about this perplexing hassle. Does anybody have any ideas or solutions?
Did you Like this Article?
Sign up for free updates from VitaminCM.com?



See some of the other places where you can connect with me out there in the wilds of the internets.