Fun Movie to See With the Family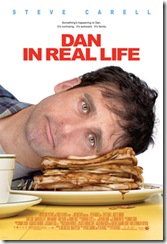 Dan in Real Life is a cute, touching movie about a widower / single father of three girls struggling to hold his family together and find love. Dan (Steve Carell), an advice columnist has been a widower for 4 years and has focused all of his attention on his kids, who are growing up, despite his best efforts. The kids are all starting to grow a little weary of dad's "focus" on them and need a little breathing room.
The family goes away for a yearly "bonding" weekend with the extended family and that's where the fun begins. Dan meets an amazing woman, whom he later finds out is dating his brother. He loves her, she loves him, but this love is FORBIDDEN. Will he back off, will they sip wicked nectar of this off-limits lovin'? Well, I'm not going to spoil it for you.
Let's just say that it's a fun, funny, touching movie that I watched with my wife and my teenage daughter. One hug (daughter) and one cry (wife) let me know that it was a good choice.
Get More Updates
See some of the other places where you can connect with me out there in the wilds of the internets.