Make all of the gadget lovers in your life happy this year
Overview: Find the perfect Christmas present for any techie, geek, or nerd in a variety of categories at every price range. This is my big list of Electronics Gadgets Christmas gift suggestions.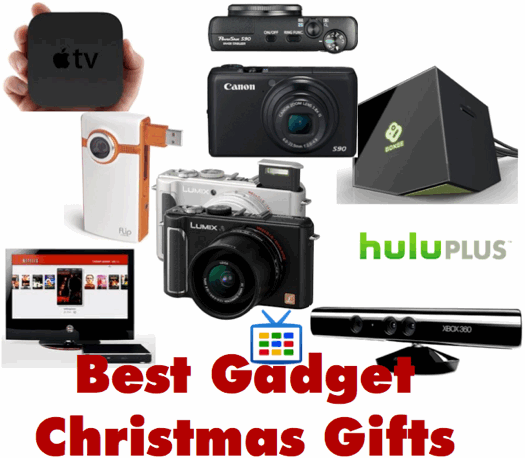 Christmas Gift Gadgets by Category
Don't look now but it's that time of year again. Time to agonize over what to buy for the gadget lover, geek, techie in your life. Fear not, I have some great suggestions to help you out. This list of gift ideas is separated by categories. There is an approximate price next to each gift to help you find the one that fits your budget.
iPad
Every Christmas Gadget List should start off with the grand daddy of this year's gadgets.
Apple iPad Tablet
The iPad is easily the hottest gadget of the year. If you want to just outright BUY somebody's love this year, look no further than the iPad.
Price – $550 – $900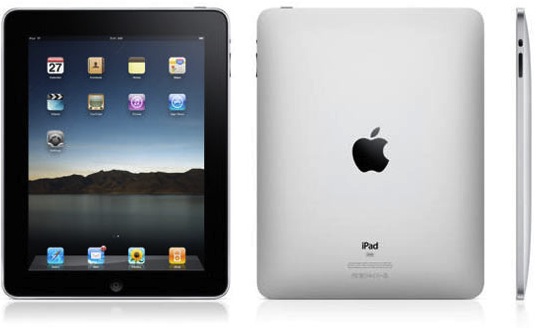 Watching Video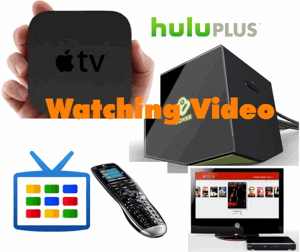 This is probably the most exciting category of the year. There are a bunch of new devices that will allow us to to bring merge our TVs with the rest of our digital lives. If you have a TV, a couch, and a butt then you need one of these.
Video Streaming Set Top Boxes
Apple TV
Stream anything from Netflix, YouTube, and Flickr, as well as music, photos, and videos from PCs and Macs right to your living room TV. If you want an inexpensive, slick way to bring the world's media rigth to your couch, this is it.
Price – $100
Logitech Revue Box with Google TV
Google TV lets you access everything on the web. Watch your favorite web videos, view photos, play games, check fantasy scores, chat with friends, and do everything else you're accustomed to doing online.
Price – $300
Logitech Revue Companion Box with Google TV and Keyboard Controller
"Now it's easy to find, watch and share something on your HDTV, regardless of where it comes from. Just type what you want in the search bar. Search the Web for your favorite YouTube video Find a classic TV re-run or your latest prime time network programs Watch the latest blockbuster movie on Amazon Video On Demand Tune in to the big game and check your fantasy league standings at the same time"
Price – $300
Boxee Box by D-Link
The Boxee Box brings all your favorite TV shows & movies from the Internet or your hard drive onto your TV – no PC needed. This is a GREAT way to bring everything cool from the internet and your personal collection right to the TV in your living room.
Price – $200
Roku HD-XR Player
The Roku player instantly delivers HD-quality movies and TV shows directly to your TV over the Internet. The affordable Roku player is compact, easy to set up and intuitive to use.
Price – $100
Nettop Media PC
Not sold on any of the features of the big name media streaming devices? Why not just build your own from scratch? Start with a small, silent, energy efficient NetTop pc and build an amazing living room media center.
Price – $200 – $400
Sling Media Slingbox PRO-HD
This is probably one of the all time best gifts for a real road warrior. A Slingbox connects to your Cable Box, DVR, and Router to take anything on your home TV and shoot it anywhere in the world to your Computer, Phone, or iPad. How does it work? Who cares? You can watch your local sports teams in Tokyo or catch up on your DVR'ed sit-coms from Bulgaria. TV from back home is one of the best cures for the home-sick blues.
Price – $265
Video Streaming Services
Know a TV and Movie junkie? For $8.99 a month, Netflix members can instantly watch unlimited TV episodes and movies streamed to their TVs and computers and can receive unlimited DVDs delivered quickly to their homes.
Price – $10/month
Stream episodes instantly in HD (720p) to your connected TV, Blu-ray player, gaming console, set-top box, iPad, iPhone, and other devices.
Price – $10/month
One Remote to Rule Them All
Logitech Harmony One Universal Remote
If you know someone with a bunch of devices in their living room, then they need a serious remote to control it all. The Logitech Harmony Remote can control up to 15 devices from ONE REMOTE. That's right, a coffee table that actually has room for coffee now. This will make anyone the Commander in Chief of their living room.
Price – $165
Cameras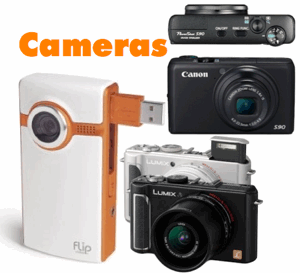 Cameras are always a great gadget gift. Who doesn't love to capter the images and footage of their life? There are a lot of cool cameras, but I narrowed it down to a few that I thought were really good gifts at a reasonable price.
Still Cameras
Canon Point and Shoot Camera
I love the new Canon point and shoot cameras. They are really small and shoot great pictures. If tiny is your top priority then get a Canon.
Price – $125 – $400
Panasonic Point and Shoot Camera
I also love the Panasonic point and shoots. They are the other end of the spectrum though. If you want an enormous zoom lense, hi-def video capture, and great feature in a larger package then get a Panasonic.
Price – $125 – $400
Eye-Fi Wireless Memory Card
The Eye-Fi Pro X2 SDHC wireless memory card provides fast, wireless photo and video transfer from your camera to your computer and an online site of your choice. With this convenient and innovative card, you can automatically upload your photos while traveling, and not have to wait to share your images with friends and family. And you'll never have to remember where you took each shot because the Pro X2 automatically records the location in the photo. The Pro X2 is easy to install and is compatible with hundreds of cameras on the market today, including Canons, Nikons, Casios, Sanyos, and more.
Price – $45 – $150
Video Cameras
?Flip UltraHD Video Camera – Blue, 4 GB, 1 Hour (3rd Generation) NEWEST MODEL
This is the video camera that turned everyone into a movie producer. If you know someone who would love to capture, edit, and share life's most exciting moments, than they need a Flip video camera.
Price – $150
Zoom Q3 null with 2X Optical Zoom 2.4 LCD Screen, Blue
If you want to film something where the audio is important, than stay away from a Flip video camera. The Zoom HD camera uses the same great microphones and audio components as their portable recorders. So if you want HD videos of your band that have audio to match, this is a great gadget.
Price – $200
Video Games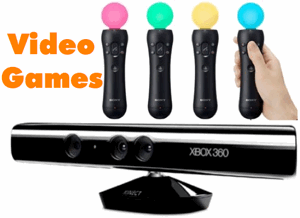 Another year with no new "must have" video game consoles coming out. Thank god. The most exciting thing in gaming this years are cool new devices that extend some already solid platforms. How refreshing, a new product that makes the stuff you already own even better, not obsolete.
Xbox Kinect Sensor Bundle
This is definitely the video gaming gadget of the season. This camera allows you to become the game controller. It tracks your movements to control game play.
Price – $150
PlayStation Move Starter Bundle
Do you love the way the the Wii's controllers let you join the action? Well now you can do the same thing on the PS3 with Move Controllers. Here's the difference – you are moving through the best video game graphics ever. This is no kiddie game.
Price – $100
Computer Accessories
The computer still occupies a stronghold at the center of the gadget lover's universe. This year I decided to focus on a bunch of smaller accessories that will help fine-tune that special someone's computing experience.
Apple Magic Trackpad
The new Magic Trackpad is the first Multi-Touch trackpad designed to work with your Mac desktop computer. It uses the same Multi-Touch technology you love on the MacBook Pro. And it supports a full set of gestures, giving you a whole new way to control and interact with what's on your screen. Swiping through pages online feels just like flipping through pages in a book or magazine. And inertial scrolling makes moving up and down a page more natural than ever. Magic Trackpad connects to your Mac via Bluetooth wireless technology. Use it in place of a mouse or in conjunction with one.
Price – $70
Bamboo Pen Tablet
The Bamboo Pen Tablet turns your computer into a virtual canvas, allowing you to create digital artwork with the touch of a pen. With its textured surface, the tablet simulates the intuitive feeling of pen on paper. Using the easy-grip pen, you'll be able to add hand-drawn embellishments to your favorite photos, add life to digital sketches, and add personal touches to scrapbook pages with ease.
Price – $45 – $200
Case – Laptop, Camera, Phone, iPad
If you know someone that is getting a shiny new "whatever" then they will probably need a case to protect it. Laptops, cameras, iPods, and every other cool thing are a lot cooler when they're not broken.
Price -Varies
Samsung 24-Inch Monitor
If you know anyone who spends more than 10 minutes a day on their computer than this is for them. A large monitor improves your computing experience more than any single piece of hardware out there. Photos, movies, documents, and everything else get better when they're bigger.
Price – $225
Reading (and Writing)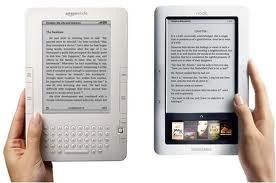 If you have a reader in your life than you're in luck. There are some GREAT gadgets available this year. Here are a few that I think would make amazing gifts.
Kindle E-Book Reader
Do you have a reader in your life? Then this is the best gift that they can ever get. They can read books, audio books, news papers, magazines, blogs, and anything else.
Price – $140
If you have a reader in your life that is also a big Barnes and Noble fan, than maybe the Nook is a better choice than the Kindle. Same idea, just integrated with the B&N experience instead of Amazon.
Price – $150
Livescribe 4 GB Echo Smartpen
This is the greatest note taking device I have ever seen. While you're writing, your smartpen is remembering–linking everything you hear to everything you write. Later, simply tap on your notes to replay the recording. Now you can find and get what you need, instantly, with a tap.
Price – $160
Data Storage
As computers and gadgets get more and more capable, they all do one core thing – create data. There is a never ending battle to find the right solutions for storing, moving, and protecting all of that precious data. Here are a few weapons to help your gadget lover win the fight.
Seagate FreeAgent DockStar Network Adapter
This dock will allow you to hook up to four USB hard drives to it, then make them available to every computer in your house. Not only that, you can get to any of the data on those hard drives from anywhere in the world over the internet. Now, that special someone in your life can get their pictures, music, movies, and documents from anywhere.
Price – $30
Pogoplug Media Sharing Device
Pogoplug is a multimedia sharing device that lets you connect any external hard drive and then access and share your content over the internet. Easily share content, including video and photos, with friends and family with no uploading. Installation takes less than 60 seconds and there are no monthly fees.
Price – $95
This is one of my all-time favorite services. Dropbox allows you to sync your files online and across your computers automatically. You get 2 gigs of free storage, but a pro account is a lot more useful. This also allows you to have all of your files on the internet and your smartphone.
Price – $5/month +
Music Player
This category has been canabalized by the latest generation of smartphones and media streaming devices. There are still a few times when it pays to have a specialist over a jack of all trades.
Apple iPod nano
If you have a workout nut in your life then you know they need music. They also need a small, rugged, portable mp3 player that doesn't get in thier way while they are doing their thing. Nothing fits that bill more than the new iPod Nano.
Price – $145 – $180
Services
All of our computers and gadgets are nice, but sometimes you need the right service to make them even better. Here are a few services that will connect the gadget lover's world together and help make sense of it all.
My FAVORITE software/service in the world. I use it to capture every idea, to-do, or anything else that I need to remember and recall later. An Evernote Pro account is an incredibly useful tool in any student, professional, soccer mom, or anyone else's life.
Price -$45/year
Do you have a budding photographer in your life? Let them show their stuff to the rest of the world with a pro membership to the BEST photo sharing site in the world. A Pro account gives you more uploads, more features, and more fun. This is a really accessory gift for anyone getting a shiny new camera too.
Price -$25/year
Pandora is the most amazing service for music lovers. With Pandora you can explore this vast trove of music to your heart's content. Just drop the name of one of your favorite songs or artists into Pandora and let the Genome Project go. It will quickly scan its entire world of analyzed music, almost a century of popular recordings – new and old, well known and completely obscure – to find songs with interesting musical similarities to your choice. Then sit back and enjoy as it creates a listening experience full of current and soon-to-be favorite songs for you.
Price -$25/year
RememberTheMilk is the simplests web-based To-Do list manger that I have ever seen. You can keep everything that you have to get done in one place. Create new tasks literally in seconds. Get a Pro account to unluck even more awesome features.
Price -$25/year
Smaller Gifts & Accessories
Think you can't get an awesome gift on a small budget? Think again! There are a few really cool items that won't make your bank account go into shock.
Don't forget the cables! If you get anybody anything that connects to anything else, it requires cables. I can't gaurantee that the cables are going to be included with your shiny new gadget, but I can GAURANTEE that you will not find cables any cheaper than MonoPrice.com. You will be shocked at how good the prices are.
Price – WAAAAY Cheaper than Best Buy

External USB Hard Drive
Take your most important files everywhere you go. This tiny gadget can carry tons of information from home, to work, to a friend's house and back. Powerful, portable, and flexible.
Price – $50 – $150
Memory Card
If you know someone with a camera then you know someone who needs more storage space. If you know someone who's getting a new camera then don't forget the memory.
Price – $10 – $20
Western Digital External USB Hard Drive
Everybody can use a simple, high quality portable drive that offers the maximum capacity for all your photos, music, video, and files. It's lightweight and easy to carry. Simply plug it in to any USB port and start saving your files. Store all your favorite videos, music, photos, and important files.
Price – $10 – $25
GorillaPod Tripod
The Joby Gorillapod makes taking digital photos more fun than ever. Designed with self-timer photography in mind, the Gorillapod lets you mount your camera just about anywhere you want so that you can include everyone in your automatic shots. All you need to do is use the universal 1/4-20 screw to attach your camera to the standard tripod mount, then wrap the three flexible segmented legs securely to a nearby tree branch, fence, park bench, or anything else that's convenient.
Price – $20 – $50
Xbox Live Points
If you have an Xbox loving video gamer in your life than they can never have enough Xbox Live points. This allows them to do all of the cool things online that make the Xbox great. This is like clean socks and underwear – you could always use more.
Price – $20
Rechargeable Batteries
If you have a gadget, you need to keep it charged. Buying batteries all the time is bad for the environment and your wallet. Grab some rechargable batteries for that new gadget and do yourself and the world a favor.
Price – $10 – $40
Gift Certificates?
If you just can't pull the trigger on any of the choices above, why not just put the choice in their hands? Buy a gift certificate to one of these places and they can get whatever they want.
Price – As little or as much as you like!
Did you Like this Article?
Sign up for free updates from VitaminCM.com?



See some of the other places where you can connect with me out there in the wilds of the internets.
Get More Updates
See some of the other places where you can connect with me out there in the wilds of the internets.