Overview: Learn how to connect your smartphone to your computer, television, and DVR.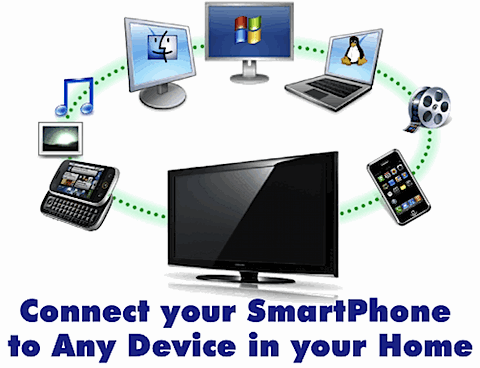 This is the third article in a three part series on Sharing Files Between Any Devices in your Home.
Your Phone is Smarter than You!
More and more people have smartphones with increasing ability to connect to things. You can use a variety of tools to connect your super gadget to your just about everything in your house.
Connect your Computer to your Mobile Phone
Smartphones usually connect to your computer through USB cables. There are many other ways that you can use to get documents, music, pictures, and video to your phone. One of my favorite ways to move files between your computer and phone is DropBox.com. This file sync tool allows you to place any files into a folder and have them go up to the web and back down to any computer. Guess what, it will also allow you to get your files from your phone. See how to Sync Files on Multiple Computers Using DropBox.
You can use Orb.com to install a server on your computer that will allow you to stream your media and documents any internet connected device. You can even get apps for your phone that will make it work beautifully.
Install it on your computer
Log into your account from any device with internet access
Access your media
Here is a full list of supported phones.
Opera Unite is a new feature in Opera's browser that streams Music, Photos, and Files from Windows, Mac, and Linux computers. The one catch is that the "viewer" machines need to be running Opera's browser. That's not a huge catch now that you can even run it on iPhones. By the way, it's an awesome mobile browser on just about every phone I have ever seen.
If you just want to stream your music from your computer to your phone there are a few good options:
AudioBox.fm is a service to let you securely store, manage and stream audio files online. If you have an internet connection, you have your music library.
Sockso stream music from Windows, Mac, and Linux computers to any internet connected device.
Connect your Mobile Phone to your Computer FIles
You can actually use your mobile phone to control your computer (Windows, Mac, or Linux) with a software called VNC. This lets one computer (or phone) view and control another over a Local Area Network or the Internet. You just install the server software on your computer and the viewer software on your phone. Then, you can access view and control your computer right from your phone.
Here are instructions for setting VNC up inside your home network.
Here are instructions on using VNC from outside your home via the internet.
My favorite VNC client for mobile phones is MochaSoft. They have free and paid apps for BlackBerry, iPhone, Windows Mobile, Palm, and Android. The following video shows you how to set up VNC software on your computer.
Schedule your DVR from your Phone
Everybody loves their DVR, but what happens when you were going to go home to watch TV on a Tuesday, but you get invited to happy hour instead? You didn't have your DVR set and you don't want to miss anything. Well, luckily just about every DVR provider lets you schedule recordings over the internet/phone now. Here are some tips on controlling your from your phone. (I got a bunch of the big boys. Just google for yours if it's mising.)
Optimum – iO TV – DVR
TiVo Enables Remote Wireless DVR Control
Send your TV to your Phone
If you are on the road a lot, one of the coolest gadgets in the last few years has to be the Slingbox TV Streamer
. You hook up a slingbox to your TV,/Cable Box/DVR combo and stream them over the internet to wherever you may be. Wanna watch your favorite local sports team from Taiwan, no problem. Wanna watch all of your Lost recordings from your DVR in Prague, no problem. They even have SlingPlayer Mobile for iPhone and BlackBerry phones.
Extra Credit – Stream your TV to your Phone and Project it Anywhere
If you have one of the computer or TV stream options listed above, you need to grab a Pico Projector
. These cell phone sized projects will connect to your phone and project its screen onto a wall. Bam! Portable movie theater.
Get More Updates
See some of the other places where you can connect with me out there in the wilds of the internets.