Super Fast Router with Printer and Hard Drive Sharing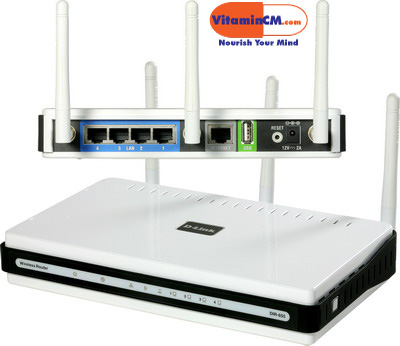 I recently wired up my whole house with full gigabit ethernet ports in all of the rooms. The only problem is that my router, a five year old Belkin Wireless G router does not support gigabit networking or fast wi-fi speeds. To compound things my router has been dropping my internet connection a lot lately, so I decided to upgrade the heart of my home network.
What I needed from a router
I had a few big requirements from my new router:
The wired ports had to support gigabit data transfers (1,000 megabits per second)
The wi-fi format had to be 802,11N
Support for External USB Hard Drive networking
I did all of my research at Newegg.com and decided on the D-Link DIR-655 Xtreme N Gigabit Wireless Router
. This router met all of my requriments for around $90.
Networking Setup – I just unplugged my old router and plugged this in and I had no problems.
USB Sharing – This was a little more tricky. There is a CD that comes with the router that lets you install a utility on Windows machines in a snap. The drive just shows up like a USB drive plugged right into my machine. The software for my Mac was not quite as effective, You have to do some crap from the command prompt and it doesn't exactly work well. Oh joy, more fiddling. Linux is just as flakey.
Performance – I have not dropped the internet yet and my speed seems to be pretty good. The speed inside of my network is where this thing shines. I ran a backup of my Windows machine to the USB Hard drive and the transfers seemed really fast. I can't wait to stream video to my TV.
Reccomendation
If you need a really fast router that allows you to plug in a USB drive or printer and don't mind spending close to $100, then you should definitely take a look at the  D-Link DIR-655 Xtreme N Gigabit Wireless Router
. If you have more modest needs, head over to the Networking section at Newegg.com.
and see their huge selection.
See the Video Review Below
UPDATE: I have to give a shout out to my friend Dan from MenuPix.com for suggesting this router to me. Good call Dan!
Where to Buy
You can find a good deal at the following locations:
Buy at NewEgg.com D-Link DIR-655 Xtreme N Gigabit Wireless Router
Buy at Amazon.comD-Link DIR 655 Router
Subscribe to VitaminCM.com for Free
Get free updates from VitaminCM.com

Subscribe via RSS Reader


Subscribe to Comments
Get the VitaminCM.com Podcast

Subscribe via iTunes

Subscribe via YouTube
Connect with Me on the Web

Follow me on Twitter

Friend me on YouTube

Friend me on StumbleUpon

Friend me on Facebook

Friend me on Digg.com

Share bookmarks on Delicious

Share music with me on Last.FM

Share pictures on Flickr