Did you ever want to write something funny on a church sign, or have a cassette tape with your name as the artist? How about creat a custom badge, logo, or seal for yourself? You can go to www.says-it.com and pick from a bunch of fun projects that take seconds to make some funny, fun stuff.
I made this Seal and Cassette for the site.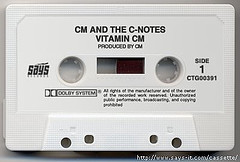 I can't help it, I love this crap!
Get More Updates
See some of the other places where you can connect with me out there in the wilds of the internets.