Put RSS Data into your Web Page Using FeedTwister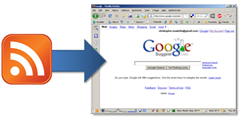 Reading RSS feeds in your feed reader is great, but what if you want to display the information in an RSS feed on a web page? There are a few good services that will do this very easily.
Let's take a look at using one of these services. I'm going to use a service called FeedTwister to take the feed that I created in the previous post using Yahoo Pipes and display it on a page.
With FeedTwister, you can take an RSS feed and use FeedTwister to display an RSS feed on a web page using the following steps:
Get a free account on FeedTwister.com.
Copy the URS from an RSS Feed.
Create the new FeedTwister feed.
Copy the JavaScript that FeedTwister generates.
Go to your web page editor and paste the JavaScript code into your page.
Save and Open the web page.
The video below shows how to take an RSS feed and use FeedTwister to display an RSS feed on a web page.
Other Good RSS Mixers: Popfly, Google Mashup Editor (GME), Feedblendr, FeedDigest.
Sharing Calendars with RSS
You can use RSS for more than just reading your favorite blogs. Many calendar applications like Google Calendar, Outlook, 30Boxes, etc. all allow you to subscribe to published calendars. They also allow you to publish your calendar so that other people can subscribe. This is a great way for a you to keep a group of people all on one calendar. Here are two video explaining how to share Google Calendars and share Outlook Calendars.
Other Uses for RSS
There are plenty of other interesting ways to use RSS. Here are a few articles that are chock-full of resources and ideas:
Mashable.com has a great list of 120 RSS Resources.
MicroPersuasion.com has a list of 10 Ways to Use RSS.
Big in Japan has an interesting list of Power Tips for RSS.
What Cool Tips Do You Have?
If you have any tips or suggestions please enter them in the Comments below.
Don't Miss the Next Article
Subscribe to the RSS Feed.

Subscribe to RSS Feed |

Subscribe via Email |

Comments
Want More than Just News?
Subscribe to the VitaminCM Podcast in iTunes.
Get More Updates
See some of the other places where you can connect with me out there in the wilds of the internets.