Awesome Desktop Application Moves to your Phone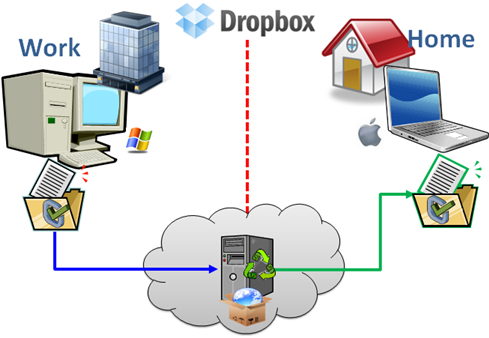 One of my favorite desktop applications of all time is Dropbox
. Dropbox allows you to sync important files between multiple computers. You just install the software on your computers and set up a dropbox (folder) and place files in it. The files will instantly appear on all of your other computers.
While this is amazingly convenient if you are at one of your computers, what happens when you are at someone else's house or out on the town? Well, the contents of your dropbox are not only on your computers, a copy is also available on the dropbox website. (They are securely protected by your ID and password.)
Well, they just released an iPhone application that will let you view and open the entire contents of your dropbox in the palm of your hand from anywhere. Once you install and log in to the iPhone application, you can see all of the files and folders just like they appear on your computer.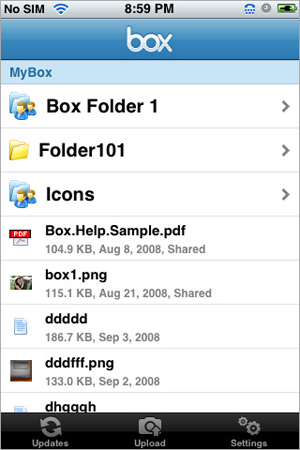 Just touch one of the files and view it on your phone. (View only, no editing.) You can view any file that the iPhone can handle:
Office files like Word, PowerPoint, Excel, and PDFs
Audio files like MP3s, WAVs, AACs
Video files like MP4s and M4Vs
HTML files
Cool Features
Using the iPhone has its own set of constraints and capabilities that make it a unique user experience compared to your desktop computer. There are a few really cool features that make this a great iPhone application.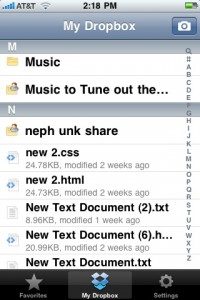 Alphabetical File Browsing – You can quickly scan through your files by name using the alphabetical browser bar running down the right side of the screen that works just like like the Contacts application. If you have a lot of files, this really helps speed things up.
Favorites – You can mark important files as "Favorites" and they will be saved locally on your iPhone. Now, the file can be opened locally without having to wait for it to download over AT&T's amazingly slow 3G network. If the file is edited on one of your computers, it will be updated to your phone.
Photos – You can add photos taken on your iPhone directly to your dropbox. This doesn't sound like much, but previously I had to sync my phone and pour through my pictures to move the right one into my dropbox. This is so much more convenient, especially if you are out and about and see something that you want to remember.
Wish List
While Dropbox is 98% awesome, there are always a few things that could be improved. Since the iPhone does not support many common media formats (Quicktime, AVI, WMV, WMA, MPEG, etc.) it would be cool if they could build in a simple media player that would allow me to view these files. Yeah, I know that this is an iPhone problem, it's just that I'll take help from anywhere I can find it.
Why you should use Dropbox
If you're still not sold on Dropbox
, watch this video and you just might be.
See this complete tutorial on using Dropbox to sync files across multiple computers.
Get More Updates
See some of the other places where you can connect with me out there in the wilds of the internets.