Make all of the gadget lovers in your life happy this year
Overview: This is the big list of Electronics and Gadgets Christmas gift suggestions. Find the perfect Christmas present for any techie, geek, or nerd in a variety of categories in every price range.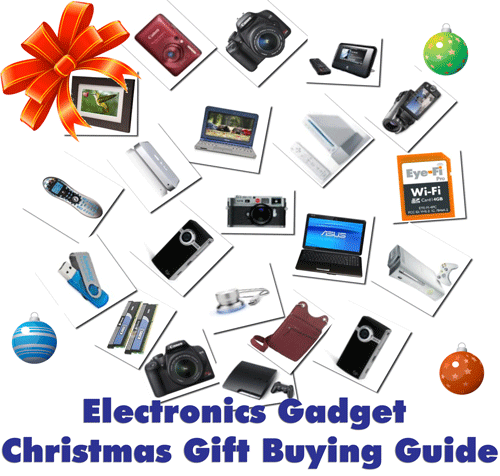 Christmas Gift Gadgets by Category
This list of gift ideas is separated by categories. There is an approximate price next to each gift to help you find the one that fits your budget.
Electronics
Electronics can usually steal the show on any Christmas morning. Besides the fact that they are so cool and fun, setting them up also fills that dead time between unwrapping presents and waiting for food. There a lots of cool electronic gadgets available in any price range for the techie in your life.
Powermat Wireless Charging Device All of those gadgets in our life make quite a mess with their chargers. Well why not ditch them all? The Powermat Wireless Charger allows you to just drop your devices onto a pad and have them charge without hooking up any wires.
Price: $125
Kindle EBook Reader Know someone who loves to read? Are they a commuter? Well the Amazon Kindle is the perfect gift. They can carry tons of books, magazines, and newspapers in their pocket.
Price: $250
Super Portable Pico Projector Want to share your pictures and movies on the go? Then you need a Pico projector. These cell phone sized projectors can display images and videos from your computer, camera, iPod or other device anywhere.
Price: $299
Music
Let the audiophile in your life do more than ever before with their music. Here is a range of music products that will let you take your music with you or spread it around your house.
Apple iPod nano with Video Camera This super tiny iPod now has a really good video camera built into it. So now, not only can you take your music, pictures, and movies with you, you can capture new movies too.
Price: $135
Roku SoundBridge Music Streaming System
The Roku Sound Bridge will allow that special someone to stream the music from their computer, pandora, or internet radio stations wirelessly to the bathroom, basement, garage or back yard.
Price: $165
Photo and Video Devices
Everybody loves pictures and videos. The latest crop of devices allow you to capture, create, display, and share your memories like never before. Here is a range of cool gift ideas for beginners through experts in just about any price range.
Eye-Fi Share 2 GB Wi-Fi SD Memory Card This two-in-one miracle goes in your camera and stores all of the photos that you take. After that, it can wirelessly send them back to your computer or up to the web using wi-fi.
Price: $69
Digital Photo Frame After taking thousands and thousands of pictures, why not show them off? A digital photo frame allows the photographer in your life to proudly display a collection of their favorite images.
Price: $50 – $100
Flip Ultra HD Camcorder The best way to capture videos is to have a camera with you. With the size of the Flip UltraHD Camcorder, you can carry it with you at all times. The video quality is very good and the user experience is so simple you won't believe it.
Price: $175
Canon Powershot SD780
Do you know someone who needs an incredibly good and incredibly small point and shoot camera? Well look no further than the Canon Powershot SD780. This thing is like a chubby credit card that shoots great pictures and sharp video.
Price: $199
Canon PowerShot G11 Maybe your nerd has outgrown their tiny point and shoot camera, but still wants something that they can take with them. The Canon G11 has most of the quality and features of a DSLR at a fraction of the size. It allows fully manual control and has a mount for a good flash attachment.
Price: $449
Canon Digital Rebel DSLR
Do you have a serious photo buff on your gift list? Well they're probably ready to move up to a Digital SLR. The Canon Rebel is the most affordable way to get into a DSLR. Great quality and usability all in one.
Price: $575
Canon VIXIA HG21 Camcorder If your Martin Scorsese needs a little more quality and control than a Flip camcorder, than you might want to look at one of the mid-range Canon camcorders. They have powerful zoom lenses and great quality without breaking the bank.
Price: $699
Video Games and Toys
2009 has not been a huge year in video gaming innovations. No new consoles, not many blockbuster new games either. My suggestions for the gamer in your life cover some old reliables. These are all great additions to the video gaming arsenal for any household. Plus, with the growing capabilities for playing, or streaming music, photos, and videos, you'll get more action than just blowing up aliens.
Remote Control Helicopter All work and no play makes Jack a dull boy. A remote control helicopter will help relieve the stress of crunching all those boring old numbers
Price: $25
CALL OF DUTY 4:MODERN WARFARE Sometime you just want to blow something up. Call of Duty will let you get your frustrations out in a safe and fun way.
Price: $45
Rock Band Game Let's face it, all geeks and nerds want to be rock stars. Well this will let them, if only for a few hours. Jam out with groups of friends and family members.
Price: $99
Nintendo Wii Console Nintendo Wii is great for family members from 2 to 102. No other system will provide more hours of fun for everyone.
Price: $150
Xbox 360 Console Microsoft Xbox 360 provides hours of gaming and entertainment options.
Price: $199
PlayStation 3 Console Video games, streaming media, BlueRay DVD movies, what more could you want from a home entertainment console?
Price: $299
Computers and Accessories
Who couldn't use a new computer? How about an additional inexpensive one for the household? What if your gift recipient already has a computer? Then you can grab them the perfect accessory or upgrade to help them get the most out of it.
Pink Tranquility Laptop Bag Just because they're carrying computers doesn't mean that women want their laptop bag to look ugly. Pick up a stylish, feminine laptop bag for the lady geek.
Price: $25
Targus Netbook Case Wrap up that new netbook in style. Let a fancy new bag add some sheik to that geek.
Price: $25
CORSAIR Flash Voyager 8GB USB 2.0 Flash Drive Carry all of your files around with you. Portable Flash Drives serve 101 different uses.
Price: $25
Kingston 8GB USB Flash Drive Carry all of your files around with you. Portable Flash Drives serve 101 different uses.
Price: $45
Griffin PowerMate/USB Multimedia Controller This USB device allows you to control aspects of just about any program by turning the know or pressing down on it. Aside from providing a unique user control capability, it just looks amazing on any desk.
Price: $45
STM Bags Small Loft Laptop Bag (Chocolate/Orange) Just because we're men doesn't mean that we want to carry our computers around in ugly bags. Why not spruce the place up with a cool, stylish laptop bag.
Price: $55
Logitech Cordless Desktop Wave Pro Any computer can be improved by adding a solid keyboard and mouse. After all these are the two things that you touch all day long.
Price: $79
Memory Upgrade If you know someone with a computer, you know someone who wishes it were faster. Help them speed up their machine with a memory upgrade.
Price: $
Logitech diNovo Keyboard and Mouse Combo Want to add killer form and function to your desk, get a high-end keyboard and mouse setup. Your fingers and eyes will thank you.
Price: $299
Super Portable Netbook Computer Have a student or globetrotter in your life? Why not get them a tiny, but powerful computer that can go anywhere and do anything that they need?
Price: $300 – $400
Tools
As soon as you get a healthy collection of electronics and gadgets, you know what comes next. You have to assemble everything. Then what? That's right, something breaks. Well, here are some super cool and valuable tools to keep your electronic empire humming along smoothly.
Leatherman 830146 Core Pocket Multi-Tool The ultimate do-everything tool for any geek. A Leatherman tool will allow you to fix, build, or disassemble anything.
Price: $49
Television Watching
Some of the coolest tech gadgets to come out this year revolve around extending your television viewing. Want to get your media from your computer to your TV? Easy! Want to stream online video from Netflix, Hulu, and YouTube to your TV? Done! Set your geek free from the whims of the cable company with one of these awesome TV extenders.
Roku HD Player Media Streamer The Netflix Media Streamer hooks up to the TV and allows you to click and watch streaming Netflix movies instantly. No more waiting around for your new disks to arrive.
Price: $100
Western Digital WD TV HD Media Player Hook the WD TV to your television and plug in a USB drive with music, photos and videos and you have a great home theater. The WD TV allows you to stream your media right onto that huge, beautiful TV and get out of the computer room.
Price: $99
Apple TV with 160GB Hard Drive This is probably the most simple way to get all of your music, photos, and movies onto your TV. If it's in your iTunes Library, then you can have it on your TV in a snap.
Price: $229
Slingbox TV Streamer
If your geek is on the road a lot, why not let them watch their favorite TV show and Sports teams from anywhere. The Slingbox will stream their home TV and DVR to them over the internet or 3G phone.
Price: $275
Other Resources for Saving Big on the Perfect Christmas Gift
Don't See something you like here? Well here are some places that you can find really great deals on electronics and gadgets.
Save a Fortune at Amazon.com
Amazon has an product line that goes on forever. There is always something on super-terrific clearance sale. You can find giant discounts on products at Amazon.com. The links below list products that are at least 75% OFF in their respective categories.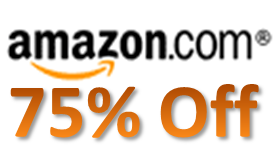 75% Off Books
75% Off Cameras and Accessories
75% Off Computers and Accessories
75% Off Electronics and Gadgets
Find the Best Selection of Computer Gear at NewEgg.com
My absolute favorite place to find the best prices on computer and electronics is Newegg.com. They have tons of great deals every day.
Get Great Deals on Macs and their Accessories
MacMall and ClubMac have a lot of deals on Macs, iPods, and other gear.
Get the Absolute Best Prices on Cables and Accessories
MonoPrice.com has the best prices on cables for everything. Seriously, I got a good HDMI cable and a mini-display port to DVI cable for $15 with tax and shipping included. NEVER buy your cables from Bestbuy!
If you are looking for other arrangements of electronics and gadgets Christmas gift suggestions take a look at one of these other lists.
Complete Electronics Gadget Christmas Gift Buying Guide
Best Chrismas Tech Gadgets for Women
Best Chrismas Tech Gadgets for Men
Find the Best Christmas Gadget in Any Price Range
Get More Updates
See some of the other places where you can connect with me out there in the wilds of the internets.