Never look at the web the same way again – Using Firefox Extensions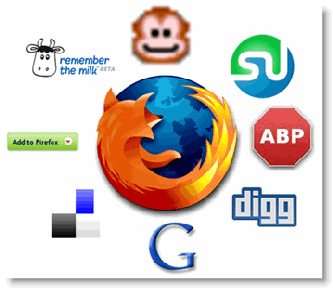 Goal: Provide a list of extensions that will allow Firefox to bend the web to your will.
You didn't think I'd do a series on extending popular applications without covering FireFox did you? I'm certainly not about to risk getting my Nerd License revoked. FireFox is the single most extensible application ever. Its' biggest strength is Mozilla's encouragement to take their product and stretch it to the limits. You can add in things that improve and customize security, privacy, and convenience. There are ways to reconfigure websites to your taste, discover new sites, remove annoying advertisements, and even control other desktop applications. We'll take a look as SOME of the many very helpful ways to get the most out of this tweaker's dream.
If you're not using Firefox already, than you should be. Get it here with the Google Toolbar installed

My Favorites
Greasemonkey – This is the single best extension that I use. Greasemonkey uses scripts to modify and customize pages. There are scripts that will fix, extend, and improve just about all of your favorite sites.
You can go to Userscripts.org to get tons of great Greasemonkey scripts. Here is a list of articles with the best Greasemonkey scripts to use.
Adblock Plus – Get rid of all of those hideous banner ads and see just the content. This is a MUST HAVE!
ColorfulTabs – When you have several tabs open, you need an easy way to tell them apart. ColorfulTabs makes each of your tabs a different color.

Speed Dial – Set up nine of your favorite sites and they are all on one tab. Click on one to open it full screen.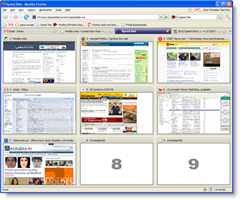 PDF Download – Let's you view PDF files outside of the browser so that it doesn't screw up your session.
StumbleUpon Toolbar – This toolbar gives you a never ending stream of website suggestions to rate. After a while you get addicted it starts to get pretty good at sending your sites that you'll like.
Del.icio.us Button – Allows you to quickly bookmark pages to and retrieve pages from your Del.icio.us account.
ForecaseFox Enhanced – Shows you the weather conditions and forecast for your area in the bottom right corner of your screen.

PicLens – Fines images on a page and lets you turn them into a slideshow. Not essential, but pretty.
Really Helpful Articles on Firefox Extesions
I was going to write this entire article about how to get the most out of Firefox with extensions, plug-ins, and Greasemonkey scripts. Then, I said there are probably about a gazillion or so good articles out there already. So what I decided to do instead was break the extensions into categories and list a few good existing articles under each.
Web Surfing
Quickonlinetips.com has a pretty comprehensive article "50 Best Firefox Extensions for Power Surfing" that has tons of good suggestions.
Computerworld.com which generally covers business software and technology lists their "20 must-have Firefox extensions". This is a great site for finding out about enterprise software and IT news.
RambleSmack has a nice list of the "Best Firefox Extensions" grouped by task and topic.
Productivity
Lifehack.org has a list of the "Top 10 Firefox Extensions to Improve your Productivity" that is very nice.
CybernetNews.com has a list dedicated to bookmarking. Best Firefox Extensions for Bookmarking
Web Development
Firefox has a ton of super extensions that are incredibly handy for anyone doing web development.
Extremetech.com has a nice list of web development focused extensions. The Best Extensions to Enhance Firefox
Ironspider also has a collection of of extensions aimed at web development. Best Firefox Extensions
Managing Digital Media
Downloading, Uploading and Managing digital photos, videos, audio, and files is tricky business. There are some cool extensions to make it a little less of a headache.
Mashable.com has an article that is all about downloading and managing Media and Files. DOWNLOAD EVERYTHING: 30+ Firefox Add-ons For Downloading Images, Videos & Files. There are some great tools here to help you handle all of your download needs.
If you take a lot of pictures, then you need to check out this list "10 Best Firefox Extensions for Photographers" from PhotographersJourney.com.
What's Coming Next
This is the fifth in a six part series on "Getting the Most Out of Your Software Using Third Party Add Ons". The final article covers the Best of the Rest. These are plug-ins from other applications.
Be Sure that you Don't Miss Anything
Subscribe to the VitaminCM feed.

Subscribe to RSS Feed |

Subscribe via Email |

Comments
Get More Updates
See some of the other places where you can connect with me out there in the wilds of the internets.