Save Tons of Cash with the Best Free Software
OVERVIEW: You can replace the most expensive applications on a typical computer with excellent, free software and internet services and never miss a beat.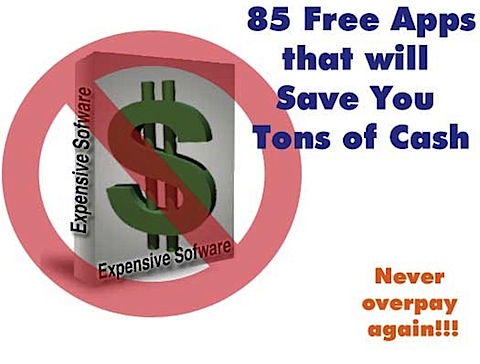 Why Pay More?
Equipping your computer with the software that you need to get everything done can be insanely expensive. However, you don't need to put off your retirement to have a very effective computer that is loaded with everything you need. You don't need to by the most expensive apps to take care of occasional things. I compiled a list of ways to replace the most expensive software that typically sits on most people's home or work computers.
The software will be organized into the following categories:
Productivity
Communication
Multimedia
System Utilities
Development / Programming / Blogging
The bulk of the software costs addressed here are created by two main suites: Microsoft Office Ultimate 2007 ($679) and Adobe Creative Suite 4 ($1,800 – $2,500). The reason they cost the most is simple; they are each packed with several of the most highly used applications. Professionals from accountants to artists, project managers to photographers all rely on them every day to add value to what they are paid to do.
There are also several "standalone" applications that I have targeted ranging from a few dollars to several hundred. Again, many professionals swear by these tools.
Important Disclaimer: I am not suggesting replacing all of your most "mission critical" software in favor of the free options listed here. If you are a professional Graphic Designer, or Certified Public Accountant, ponying up the money for Photoshop or Excel is the cost of doing business. I am saying that a CPA does not need to spend $600 to tweak the pictures of their kids soccer game and a Graphic Designer does not need to pay for Microsoft Excel to track their fantasy baseball league.
Productivity
This is the most important and most expensive category of software for most people are productivity applications. You can't have a computer without Microsoft Office (or Apple's iWork), right? Think again. There are so many viable alternatives available that I have stopped counting.
re is what we are talking about replacing:
Microsoft Office – Word, Excel, PowerPoint, Access, Outlook, InfoPath, Groove, OneNote, Publisher (Outlook handles email, contacts, calendar, and tasks. It will be covered in the Communication section.)
Microsoft Visio – Flowchart and diagraming tool.
Microsoft Project – The industry standard project management tool.
Microsoft OneNote – Very useful note taking application.
Adobe Acrobat Professional – The ability to create, open, edit, and combine files into PDFs. (This is part of $2,100 +/- Adobe Creative Suite which is covered in the Media section.)
Intuit Quicken – The king of the hill in personal finance software.
Integrated Office Suites
Open Office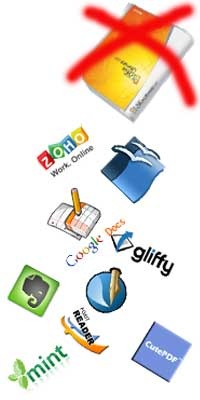 – An open-source office software suite for word processing, spreadsheets, presentations, graphics, databases and more. It stores all your data in an international open standard format and can also open and create Microsoft Office files. It's not quite as good as the "real thing", but it works fine on Windows, Mac, and Linux machines. It also has a host of plugins that extend its functionality.
Web Based Office Suites – Who says you even have to load any software to your computer? Several web-based office suites allow you to open, create, download, and share documents, presentations and spreadsheets right from your browser.
The most impressive feature of these web-based suites is the real-time collaboration abilities. I have been on a conference call where 5 people were all updating cells in a spreadsheet at the same time. Everybody gets a different color and you see it happen instantly. Plus, they have great mobile version of their tools that can be used on your phone. While there are a lot of choices, the two that have impressed me the most are Google Documents and Zoho Applications.
Google Documents is very tightly integrated with other Google services. You can create documents online and download them to your desktop or vice-versa. You can also store and share just about any other type of files there too. If you"re a Gmail user, you get the option of opening email attachments right in your browser.
Zoho Applications has an impressive collection of well integrated applications. Aside from the core docs, spreadsheet, and slide shows, you get the following: email, calendar, planner, chat, online meetings like Webex, database, project management, billing and invoicing, CRM, and a bunch of other applications. (Some of the business apps have a cost associated, but nothing compared to what their competition charges.) If all of that is not enough, they even integrate seamlessly with third party applications. This is about as close to Microsoft Office as you will find anywhere.
If you are not sure whether you should use a desktop or web-based office suite, you should just do both. Open office has plugins that allow you to open and save your online Google and Zoho documents directly from the File> Save menu. And if you do spring for Microsoft Office, there are similar plugins for that too.
What Office applications are missing? Visio, Project, Note Taking, and Publisher
Flow Chart Creation
Some times a picture is worth a thousand words. Just not a thousand bucks.
Gliffy allows you to create and share beautiful diagrams and flow charts just like Visio.
Dia can create very sophisticated drawings and diagrams.
Cade is a compact but powerful 2D vector editor for Windows. It includes basic Visio functionality and could be used to create diagrams, network diagrams, flowcharts, schemas, maps and so much more.
Project Management
Who needs Microsoft Project? This article breaks down The 10 Best Free Online Project Management Applications. If you can't find a winner here, you probably shouldn't be managing projects any way.
Note Taking – With all of this productivity going on, you have to keep track of it. Microsoft OneNote is nice, but there is a waaaaay better free option out there.
Evernote – Evernote allows you to easily capture information in any environment using whatever device or platform you find most convenient, and makes this information accessible and searchable at any time, from anywhere. Visit my Evernote tutorial to see how useful it can be.
Zoho also has a nice note taking application that is completely online.
Desktop Publishing
You may need to replace the features that Microsoft Publisher or Adobe InDesign have.
Scribus – A free desktop publishing application with native versions available for Windows, Mac, and Linux. Scribus has broad feature set of page layout features that comparable to leading commercial applications such as Adobe PageMaker, QuarkXPress and Adobe InDesign, and able to prepare files for professional quality image setting equipment. It can also create animated and interactive PDF presentations and forms.
Working with Adobe PDFs
Let's face it Adobe Acrobat SUCKS. Every new version makes it suck even more. It's slow, bloated, buggy, and the good stuff (creating and converting) costs extra. Well these three gems will help you shed the fat when you read PDFs and save some money when you need to create them.
Foxit PDF Reader – Love PDFs, but hate the bloat of Adobe Acrobat? I thought so. Foxit will open your PDF files so fast, you'll wonder why anyone would ever use Acrobat. Get hours of your life back.
CutePDF Writer – If you need to create PDF files from your documents and don't want to shell out for Acrobat Pro, then get CutePDF Writer. This installs on your system as a Printer. Then, you can turn any printable information from any application on your computer into a perfect PDF.
Free PDF to Word Converter – Now that you can convert any documents into PDFs, you're probably wondering how to convert PDF files into an editable format to work with them.
Put it all together to be a PDF guru.
If you use a Mac, you can use the Preview app to do most of the PDF steps listed above. See this tutorial by MacLife.com for instructions.
Finances
Raise your hand if you or someone you know uses Quicken or MS Money to track their finances and expenses. This is another area that we would never have considered doing online a few years ago. The fact is, you can get your bank on from anywhere these days. My grandmother does it, so what's stopping you?
Mint – Who needs quicken when you can securely store it all in the cloud and get to it from anywhere?
Communication
Communication is a critical function that your computer facilitates. Microsoft Outlook and its supporting services are the centerpiece of the typical enterprise communication infrastructure. (Lotus Notes if your company just hates you.) Outlook handles Email, Contacts, Calendaring, Task/To Do Management, RSS Feeds, and basic Instant Messaging. You will also need some type of phone system and tools to manage it. When you're done with all that, you might just want to ask your Facebook and Twitter friends where they are going for drinks.
Let's see how you can replace all of that functionality for free.
Desktop Outlook Replacement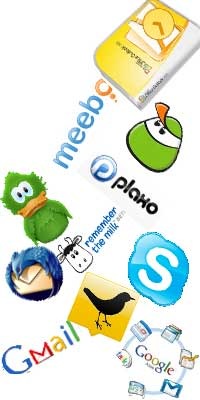 You will need a tool that sits at the heart of your communication hub. The closest free desktop tool to Microsoft Outlook is Mozilla's Thunderbird.
Thunderbird – If you use Microsoft Outlook at work and would like to manage your personal email, contacts, and schedule then Thunderbird is for you. You'll need to install the Lightning Calendar application to have scheduling too. It's not quite Outlook, but it's pretty darn good for free.
One of the things that makes Thunderbird so great is its open Extension platform. It works the same way that FireFox does. There are tons of extensions that add great new functionality to meet your needs.
Web Based Outlook Replacement
There are several web based options that will give you basic Email, Contacts, and Calendaring.
GMail – I love Gmail. The interface is simple and fast. You get tons of file storage and the threaded email conversations help you stay organized. Gmail allows you to tag your emails so that you can group, sort, and search them using any system that makes sense to you. You can keep your Contacts organized and synced with your phone and desktop too. Google's Calendar and Instant Messenger (Gtalk) are integrated with the whole system too. There are some other add-ins listed further down that bring more features to the system.
Zoho, Yahoo, and Microsoft Live also have similar apps for managing the basics. I'm sure one of them will meet with your approval.
Plaxo Sync – If you have Contacts, Appointments, Notes, and To Do's on your desktop and some other places on the web, Plaxo will automagically sync them all. What other places you say? Here's a few that you may have heard of: Gmail, Google Calendar, Yahoo, Hotmail, Windows Live, and AOL. Do you have scattered out-of-sync data across any of those services? Well I don't.
RememberTheMilk – This is an online task manager. It is quick and simple to use. Best of all, it integrates with Gmail and Google Calendar very well. It helps me keep on top of the things that I have to get done.
Google Reader – Read all of the latest updates from your favorite blogs, news, and websites in one spot via RSS. Google Reader has some great features for managing and reading your feeds. If you see an article that you like, you can Star it and Tag it for future retrieval. You can share articles with your friends too. I currently subscribe to over 200 feeds and Google Reader helps me handle them easily.
Mulit Protocol Instant Messenger
All of the tools listed above integrate with some type of instant messenger. However, if you have friends on AIM, Yahoo, MSN, and Google's instant messenger networks you're kind of stuck. Having four different windows open to see all of your friends gets old real quick. Use one of these applications (depending on your OS) to chat with all of your friends on every network known to man.
Digsby – Simply the best Instant Messenger tool available. This WIndows only app can connect to all of your IM networks (AOL, Yahoo, MSN, Google, ICQ, Jabber, and Facebook ) to let you chat with any of your contacts. That alone makes it valuable, but wait, there's more: Get real-time updates on your social networks (Facebook, MySpace, Twitter, and LinkedIn). You can also get updates on your inbox for just about any email account (Gmail, Yahoo, MSN, plus any IMAP and POP3 accounts).
Trillian – A buggier generic equivalent of Digsby will run on Macs and PCs.
Pidgin IM – This is an open source tool that does most of the same stuff that the rest of these apps will do. (Windows)
Adium – Awesome multi-network Instant Messenger tool. You can connect to all of your IM networks (AOL, Yahoo, MSN, Google, ICQ, Jabber, and Facebook ) to let you chat with any of your contacts. Clean, light, and simple; everything you need. (Mac)
Meebo – Well, if you want to chat with your friends on all of your IM networks from inside your browser, then Meebo does a great job. Register, set up your screen names, and voilla, you can chat with anyone. Now, when you're at work, or your friend's house, you can instantly get to your buddies. This just in… Meebo has an iPhone application that works great. Look for other smartphones to follow.
Voice Calling
You may be wondering why I'm including phone calling in an article about saving money on software. There are two reasons: 1. You can use one of several free applications and services to save money on phone calls. 2. You can integrate voice calling into your other communication software to make it even more powerful.
Skype – Make free Computer to Computer phone call with video using skype. You can also pay (very little) to make and receive calls to regular land line phones. You can even set up multi-person video conferences. Nice.
Google Voice – is a cool new phone service that gives you the power of a sophisticated corporate phone service for free. Here are some of the great things that you can do with a Google Voice account:
Google voicemail: voicemail like email
Voicemail transcription: read what your voicemail says
Custom greetings: vary voicemail greetings by caller
International calling: low cost calls to the world
Notifications: read voicemail messages via email or SMS
Share voicemails: forward, embed, or download voicemails
Dial2Do – Dial2Do lets you do common tasks by just calling a number and speaking. Use it to send EMAIL or TEXT messages, record REMINDERS to help you remember things, post updates to your TWITTER or JAIKU stream and LISTEN to your favourite internet content.
Social Networking Management
You can update your Facebook and Twitter status from your Instant Messaging client, but if you want the full experience, you should take a look at these two desktop social networking command centers. They both run on the Adobe AIR platform which is covered in the Utilities section below.
TweetDeck – This is a desktop application, built on Adobe AIR, that allows you to view and interact with your Twitter and Facebook streams. TweetDeck splits your stream into multiple columns, so that you can see what's happening from multiple vantage points. If you follow a lot of people, this will help you keep it all straight.
Seesmic – Build your community in one central place with Seesmic Desktop, which integrates both Twitter and Facebook. This all-in-one tool makes it easy to reply to your friends and share text, links, photos and videos all in one screen.
Mulitmedia – Imaging, Video, and Music
You can run into some big bucks when you enter the world of Media Creation and Management software. Not to mention how much money you can spend getting the music and videos that you want to enjoy.
Media Creation
Adobe Creative Suite 4 (Photoshop, Illustrator, Acrobat 9, Flash, Dreamweaver, Fireworks, Premiere, Soundbooth, Encore, InDesign ) has most of the tools that pros use for these media tasks. If you're willing to have a few less features and integration, you can get all of the most important functions for free.

Photo Editing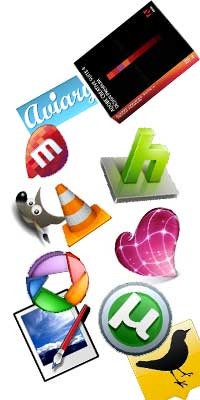 – Photoshop is still the only choice for professionals, but amateurs can still do everything they need with the free tools listed below.
Gimp – This is constantly labeled as the "best free photoshop alternative" available. Gimp will handle anything from basic touch-ups to advanced image creation. The best thing is that it works equally well on PC, Mac, and Linux machines.
Paint.net – If you need to do minor edits to your photos and images that don't warrant the King's ransom that Photoshop commands, you should give Paint.net a try. You can do edits that range from simple to complex without spending a dime. Yes, I know there's a huge Gimp following, but I just like this better.
Web-Based Graphics Tools
Aviary– This is an online suite of tools that does photo-editing, logos, web templates, filters, color palettes, screen capture & more. Think of them as the right side of Zoho's brain. If Zoho is MIcrosoft Office, then Aviary is Adobe Creative Suite.
Picnik is another great online graphics tool, because it integrates right into Flickr, even if there are some other applications that are a little more feature-rich or powerful.
Find other great online photo editing services here and here.
Capturing Your Computer's Screen – If you need to take screen captures of applications on your computer, then TechSmith Snagit is the Cadillac. It does everything that you need perfectly. The best combination of simplicity and power of any application on my computer. Woth every penny!
Skitch – I have to take screen shots of things all the time. On my PC, I use Snagit, the best screen shot tool in the world. Skitch does a great job of capturing, editing, and annotating anything on your screen. If you document anything, this will become a trusted friend.
Aviary– they also have a nice little browser plugin that will take screenshots and let you edit them using their online tools. Then, you can save the screenshots online or back on your computer.
Video Editing – You can spend a few mortgage payments on professional video editing software. Do you really need all that to edit down pictures of your Fraternity's Kegger and post them to Youtube? Probably not.
Windows Movie Maker – There are a ton of expensive, complicated video editing programs out there. Fortunately for Windows users, there is Windows Media Player. Until you are actually getting paid to make videos, this is all you'll need.
iMovie – This is a very good video editing option. I use it all the time to create videos for the VItaminCM.com podcast.
Online Video Editing – Cuts, Eyespot, JumpCut, Motionbox and, One True Media allow you to edit and share your videos online. Here are several other good online video editing services.
Video Screen Recording – If you want to do video captures of your applications, then TechSmith CamTasia is for you. This simple, beautiful product. It will make you look and feel like a pro. Problem is, it's $300.
CamStudio – is an open source alternative to Camstasia, and the project just released version 2.5, which solved many bugs that were present on the older versions.
Web Based Screen Recorders
Screenr– Capture everything that is happening on your computer's screen without installing any software.
Screentoaster – You can record screencasts, tutorials, demos, training, lectures and more for free.
Audio Recording Software – Want to record your next great album yourself? You can do it for free.
Audacity – Audacity is free, open source software for recording and editing sounds. It is available for Mac OS X, Microsoft Windows, GNU/Linux, and other operating systems. You can have a pretty good multi-track recording studio entirely free.
Aviary– They also have an audio editing app.
Media Acquisition
Apple iTunes downloads for music, TV, and movies can pile up a small fortune. Luckily, there are a number of great ways to get a hold of your favorite stuff for free.
Music Streaming – You can hear all of your favorite music for free from a number of great streaming music sources. Here are a few of my favorites.
Pandora – Get a constant stream of music that you like. Put in artists that you like and hear songs from them and similar artists. I constantly find new, great music on Pandora. My Pandora Profile.
Other great options: Last.FM, Grooveshark, and Lala.
Boxee – Boxee's free software lets you navigate all your personal movies, TV shows, music and photos, as well as streaming content from websites like MLB, Netflix, Pandora, Last.fm, and Flickr from one screen with a remote. This HD content can be played on your TV by hooking your computer to the inputs on the back. If you have an iPhone, there is a remote control application that allows you to control it all from your couch.
Miro Player – Open-source, non-profit video player and podcast client. Torrents made easy, RSS made beautiful, with tons of gorgeous HD video.
Hulu Desktop – Hulu Desktop is a great viewing experience for your computer. It's optimized for use with an Apple remote control, allowing you to navigate Hulu's entire library with just six buttons. You know you want some.
uTorrent – The best way to download huge files is with BitTorrent technology. My (current) favorite BitTorrent client is uTorrent. Nothing spectacular, just a solid tool that fills an important role. Alternatives: Azureus is a java based bit torrent client with similar features.
Media Management
Once you create and/or acquire all of that great content, you'll need something to organize it and play it back. You're in luck, there are some amazing free media organizers.

Picasa – Do you take a ton of pictures? Me too. Do you have a hard time keeping them all organized? Well, then you need Picasa. Picasa finds, organizes, and does simple effective edits to your photos. You can view them by dates, folders, keywords, etc. It's quick, easy and very fun. It also seamlessly integrates with Picasa Web Albums (think poor man's Flickr) to put your photos online. You can also email your pictures using Gmail, MS Outlook, or Picasa Mail quick and easy. I could not live without this app. Mac uses have iPhoto which is built into the OS.
VLC Media Player – If you don't like dealing with the Missing Codec errors (damn Codecs) of Windows Media Player and some of the other annoyances of Quicktime or Real Player, then just use VLC Media Player. This small light tool plays every video format know to man. It does one thing and does it perfectly. It doesn't look as pretty as the other players out of the box, but this article on Download Squad tells how to use skins to make VLC look better.
System Utilities
Keeping your system secure and healthy can be an exhausting and costly chore. Truth be told, most of my favorite system utilities on my PC and Mac are actually free.
Security
AVG Antivirus –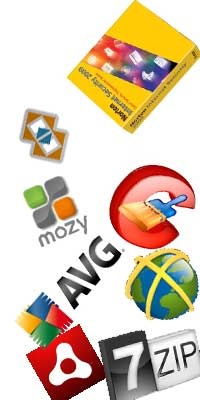 Just say NO to Norton. It sucks and will destroy your computer. AVG is lighter, faster, better, and free-er. Windows and Linux only, but Mac users claim to be immune to viruses.
AdAware Spyware Remover – Take back your computer! Spyware and malware can infest your computer, stealing your private data and slowing down your machine. Run AdAware and see how much gunk gets removed.
Backup Tools – Why are backups part of security? If you do end up getting a virus, you will feel a lot more secure knowing that your "good" data is safely backed up.
SyncBack SE –You do regular backups, right? Yeah, me too. There are no excuses with SyncBack SE. This software will allow you to do thorough "incremental" backups of your system without having to be an IT guru.
Mozy Backup – A really nice and simple backup tool for your Mac. That is if you're not a fan of Time Machine which is built in.
DropBox – Put your files into your Dropbox on one computer, and they'll be instantly available on any of your other computers that you've installed Dropbox on (Windows, Mac, and Linux too!) If you work on more than one computer, this is a life saver. See how incredibly Dropbox syncs files on multiple computers in this tutorial.
Maintenance
Here are some great free tools to clean and optimize your system.
System Cleaners
CCleaner – Get the crud out of your system. Remove junk from the Recycle Bin, Cookies, Temp files, Registry garbage. Keeps your system running smoothly.
Monolingual – I only operate my computer in one language; English. So why do I need a bunch of localization files for the Mac OS wasting space on my hard drive? Monolingual is a handy utility that reclaims this wasted space in a few simple clicks. It also gets rid of files for non Intel processors, assuming you're on a relatively new machine. I usually run it after I install any system upgrades or new software.
AppCleaner – One of the weirdest things about a Mac is the way that you uninstall applications. I don't see any obvious way to completely and cleanly uninstall software from my machine. That is where AppCleaner comes in. Just go to your Applications folder and drag the unwanted application onto the AppCleaner window and it's gone. It also cleans up all of those hard to find preference files too.
Remote Access
VNC – If you need to control another computer on your network, you can set up VNC on both computers. This will allow you to control another machine remotely. The link is for a Windows version, but just search for one for your operating system.
TightVNC – Remotely view and control other computers from your desktop. Install the server software on one (remote) computer and then control it with the viewer software from your main computer. Great for helping diagnose computer problems on your family and friend's computers. Alternatives: UltraVNC andRealVNC have comparable feature sets and decent followings. See this tutorial for Using VNC to remotely control another computer.
Chicken of the VNC – Chicken of the VNC is a VNC client for Mac OS X. A VNC client allows one to display and interact with a remote computer screen. In other words, you can use Chicken of the VNC to interact with a remote computer as though it's right next to you. The VNC server is built right into the Mac OS. Just go to System Preferences> Internet & Network> Sharing and turn on the Remote Management service. Check out this tutorial on some of the cool things that you can do with VNC software.
File Management
7Zip – This WinZip alternative will open just about any archive file format known to man. It's faster and lighter on resources than any archive tool I've used. Alternatives: There are a bunch, here is a list of free winzip alternatives.
Zipeg – Zipeg is the easiest way to open Zip, Rar, and any other type of archive files. Plus, it has a cool little sheep for a logo. Yeah, I'm sure there are tons of other good ones, but I really like the little sheep.
Roxio and Nero have been the go-to CD and DVD burning tools for a while now. They are relatively expensive and can easily be replaced with better tools for free.
InfraRecorde – is a free CD/DVD burning solution for Microsoft Windows. It offers a wide range of powerful features; all through an easy to use application interface and Windows Explorer integration.
ImgBurn – is a lightweight CD / DVD / HD DVD / Blu-ray burning application that everyone should have in their toolkit!
DVD Shrink – If you want to make "backup copies" of any of your "legally purchased" DVDs, this is the simplest application out there. Pop in the disk, click "Backup" and go. Then, use DVD Decrypter to burn it to a blank disk. Once you do the simple setup, you can do a two click back up of any DVD. (I hope Netflix doesn't read this blog.)
Hand Brake – If you want to make "backup copies" of any of your "legally purchased" DVDs, this is the simplest application out there. You can make copies that will play on your iPod, iPhone, PSP, or any other portable device from Hand Brake.
Customization
Here are a couple of nice additions to your Mac or PC:
Quicksilver – Just start typing the first few letters of a program, file name, or folder and Quicksilver will pull it up in front of your eyes. Then, just hit enter and open up whatever you were looking for. There's a reason the word quick is in the name. This will shave hours of hunting and clicking through menus and folder off your life.
Rocket Dock – Do you have Mac Envy? This launching doc is nearly a dead clone of Apple's dock. You can launch Applications, Folders, Files, and other processes so quickly and easily, you'll never click the Start button again.
Adobe Air – Adobe Air uses Flash and some other magic sauce to take web based applications and turn them into desktop applications. There is a growing list of small, simple applications that give you control of many of your favorite web services. (See Tweet Deck above.) Best of all they will work on a PC, Mac, or Linux system.
Here are a few places where you can find tons of cool, useful Adobe AIR apps: 60+ Useful Adobe AIR Applications You Should Know, 45+ Most Useful Adobe AIR Applications, and 30+ Enormously Useful Adobe Air Applications.
Web Development / Programming / Blogging
Web developers, programmers, and bloggers actually have a wealth of free tools available. I have them grouped by Server, Coding, and Blogging tools.
Server
XAMPP –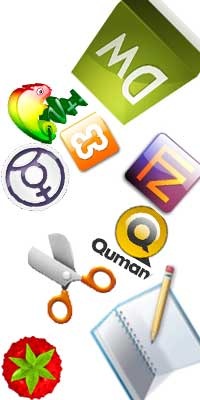 Everything you need to run a full-fledged testing server on your computer. All bundled into one install file. All configured to work immediately. This thing will save you hours. See this article for setup instructions: How to Set up A Testing Server on Your PC.
Filezilla – FTP Client – Free, simple FTP tool. I use this to upload files to this site's server.
Coding
Notepad++ – NotePad is OK, but if you want some really nice features for working with any kind of text based file, then step up to NotePad++. It's got to be better, didn't you see the 2 plusses? Seriously though, I use it daily when I am working on web development.
Smultron – I miss NotePad++ from Windows so much. It is a simple, clean text editor that allows me to edit HTML, PHP, CSS, and any other format files. Smultron is the best free text editor that I have found on the Mac platform yet. I'm desperately hoping that someone will give me a better suggestion in the Comments below.
Snippely – Snippely is a basic text and code organizational tool. Instead of storing bits of code, quick notes, and memos in text files all over your hard drive, this application will let you save and organize "snippets" in one convenient location. A snippet is a collection of one or more pieces of code and notes. Snippets are stored in groups for organization and quick retrieval. If you write or maintain a lot of code, this is a must.
Blogging
Windows Live Writer – This is the tool that I use to write my articles. It's not perfect, but it has a lot of pretty nice features. It integrates with several blog platforms very well too.
Qumana – I still have not found a desktop blogging tool that I love on the Mac, but I just recently discovered Qumana and like it a lot. I has most of the features that I need. The biggest one that it doesn't have, (code snippet clipboard) I have been able to get with Snippely.
OK, Where Do I Start?
You can actually download and install dozens of the applications listed here in one shot using a bulk software installer. See how to Install Dozens of Free Applications at Once in this tutorial.
What are Your Favorite Free Applications?
I know I covered a lot of tools, but there are plenty of other great ones that I left out. If you have a free application or web service that you love, please enter it in the comments below.
Get More Updates
See some of the other places where you can connect with me out there in the wilds of the internets.