Me, Some Cheerleaders, and Free Stuff. Yay!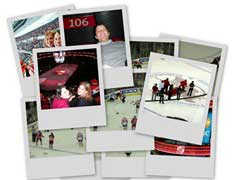 Last night my wife and I went to a bar in Hoboken, NJ to meet her friend Joel (Jo-El, not Jole) from work. We were at this bar Texas-Arizona, where the New Jersey Devils hockey team and Z100 radio station were doing a publicity event. The event was showing people how easy it is to take the PATH train (a light rail system in Northern NJ and New York City) to the new hockey stadium in Newark, NJ.
There were some of the Devil's cheerleaders (The Power Players) rounding up contestants for free tickets to the game going on in an hour. Well, once the cheerleaders saw how hot I am (yeah, that's the reason) they picked us as one of the winners.

So we all pile into the PATH train and head on down to the game. Ironically, I work in Newark about two blocks from the stadium, so I took a long roundabout journey to end up 500 feet from my job. I could have just stayed at work. The train ride with Carolina's (morning DJ) and her crew from Z100 and of course the Cheerleaders (Kristin and Jenna) was a lot of fun. They were really cool and we had a great time.
When we got to the game, we had great seats. Our girls were out on the ice doing a "Score-O" contest when they gave us the pre-scripted signal (scratching their eye) that was our covert shout out. We had fun acting like complete idiots.
The Devils lost the game 2 – 1, but they did win the fight, which was the most exciting part of the game.
Then, we hopped back on the train to Hoboken for some more beer and pizza.
Beer, Pizza, Free Stuff, and Cheerleaders – All in all, not a bad night.
See all of the fun here.
Get More Updates
See some of the other places where you can connect with me out there in the wilds of the internets.