Simple Flexible To Do List Management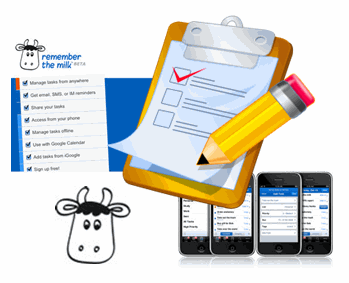 Keeping track of the myriad of things that I need to get done on a daily basis can be near impossible. I use the RememberTheMilk task management service to keep track of my tasks. This is a very simple, powerful, elegant tool for task management and to-do list creation.
You can sign up for a Free or Pro (paid) account. The Free account gives you just about all of the best, most valuable features. The Pro account ($25 USD/year) adds applications for your phone (iPhone, Blackberry, and Windows Mobile). I currently use an iPhone and used to have a Windows Mobile phone and always just used the free mobile web interface, which is very good. Times are tight and so's my wallet.
Here's how RememberTheMilk describes their service:
Take your tasks anywhere with this feature-packed application. See tasks located nearby, add and complete tasks on the go, organize upcoming tasks, and sync it all seamlessly with Remember The Milk.

The Inbox is just like your email inbox — except that instead of emails, you'll receive tasks.

There are four kinds of tasks that will appear in your Inbox:
RememberTheMilk integrates with an increasing number of third party services to incorporate your task management process into some familar places. Here are some of the places that I pull in my to do list:
See the Many Possibilities for Using RememberTheMilk in this Video Tutorial:
Download the Get Things Done with RememberTheMilk tutorial video.
Great Ways to Use RememberTheMilk
View tasks in Gmail, See tasks in your Google Calendar, Create tasks from Google Reader, Remember The Milk for Twitter, See your tasks on iGoogle or Netvibes, Locate your tasks on a Map, and many more.
Conclusion
So if you have a lot of tasks to keep track of, I HIGHLY recommend taking a look at RememberTheMilk to help you get a handle on things. I use and love it all the time! Don't miss the next article where I talk about another tool that helps me keep organized – Note Taking application – Evernote.
Get More Updates
See some of the other places where you can connect with me out there in the wilds of the internets.