Leave Yourself Voicemails that Are Instantly Transcribed to Text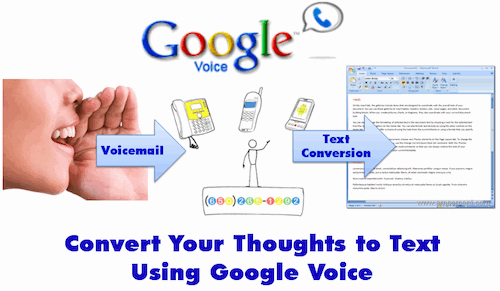 OVERVIEW: This video tutorial shows how to use Google Voice to convert your speech to text that can be used in other applications. Use the feature that converts voicemail audio to text.
The Best Voicemail System Ever
Once you see the iPhone's Visual Voicemail, you realize how cool it is. Well, Google Voice has actually one-upped them by adding the new voice transcription feature to what is already an incredible voicemail system. The audio for all of your messages is saved in an inbox that works just like an email inbox. This alone is pretty cool, but then they convert the message to text and put it in your inbox too. When you click the play button to hear the voicemail, the transcribed text is highlighted in sync with the audio. The words that are in black text are usually perfect, while the ones in gray are 50/50. They also send the text to your email, so that you can read the message without having to play it. This cuts hours and hours of blah, blah, blah time out of your life.
I have been using this feature when I come up with "good" ideas while I'm on the go. I just call my Google Voice number from my mobile phone and leave my idea as a message. Then, when I get home, I just copy and paste the transcribed text into Word, an Email, or whatever other application are applicable.
How to Use Google Voice's Text Transcriptions with Other Apps
Just log in to your Google Voice account and go to the Inbox.
Once you call your Google Voice number and leave a voicemail, it will be saved in your inbox as an audio file. Google's severs will also convert the audio in the voicemail to text.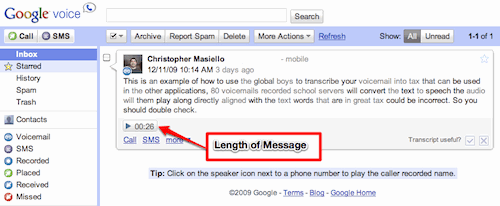 The length of the voicemail will be displayed next to the Play button. The words that are in gray text (not black) are ones whose accuracy is "questionable". You should double-check them for accuracy.
When you click the play button, the text gets highlighted in green along with the audio. (This is actually pretty cool.)

Now that your voicemail has been converted to text, you can copy and paste it into any application that you want.

See the Google Voicemail to Text Tutorial Below
The following video tutorial shows how to use the Google Voice audio transcription feature to use your messages as text.
Good, But Not Perfect
While this is a cool feature, it is FAR from perfect. I'm sure that there will be tweaks and upgrades down the road, but I'm really impressed with its humble beginnings. I would love to see some vocal training or learning features added, sort of like Dragon Naturally Speaking has had for years.
Did you Like this Article?
Sign up for free updates from VitaminCM.com?



See some of the other places where you can connect with me out there in the wilds of the internets.
Get More Updates
See some of the other places where you can connect with me out there in the wilds of the internets.