Turning a Negative into a Positive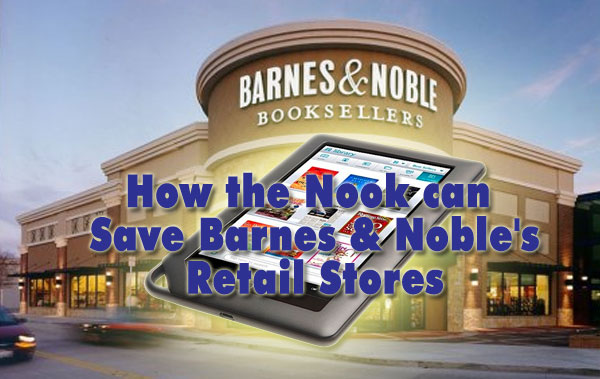 Barnes & Noble is locked in a vicious battle between people going to their brick and mortar retail stores and the increasing shift to digital content. One of the biggest problem the company faces is competition from within in the form of the Nook e-reader. (Or is it???) This has become such an internal issue that they are considering separating the businesses into separate legal entitities.
On the surface it seems fairly obvious that every ebook purchased on the Nook (or Kindle or iPad) is yet another nail in the store's coffin. That doesn't have to be the case. Last weekend I was in the store with my wife's Nook Tablet and I saw a few children's books that I wanted to get her. I wanted them for the Nook though, because our daughter loves when we use the "Read to Me" feature. It was such a pain in the neck to see whether each book was available in the Nook store. It all dawned on me that if the two interests worked together it could be a huge boost to both sides. Not to mention the benefits to customers like myself.
A Solution to Their Problem
Offer a significant discount, say 20%, on ebooks purchased from inside the store. This means that if I am in the store, connected to their wifi network and purchase a book or anything else, it will be cheaper than if I do it elsewhere. (Not in the store.) They can make it more appealing and convenient by placing a quick-code on any physical book that is also an ebook. For instance, let's say the latest John Grisham book is also available on the nook; Place a sign on the display that says "Type in ABC123 into your Nook to get 20% Off". Then, the physical store where you are at would get a referral/affiliate fee for that transaction. Not to go off topic, but think how much easier this would be using QR codes if they would have included a camera. There are a number of other extensions of this that could drive revenue back to the stores. After each purchase they could send you an alert with a "today only" coupon for a free drink at the cafe or $10 off a $50 purchase. How about giving an in-store only credit to people who purchase $100 of digital content?
Benefits for Everyone
If you think of the previous ideas; there are three stakeholders involved: Nook Owners, Brick & Mortar Stores, and The Nook Store. Ideas like these would have simultaneous benefits to all three parties.
Nook Owners Save money on the books they want Use their purchases to earn other discounts Get out of the house Brick & Mortar Stores Use the tool that has been bringing people AWAY from the store to pull them back in
Add more value to Nook owners who are also store visitors Increased foot traffic and impulse purchases A small slice of the growing digital pie
The Nook Store Increased value proposition over iPad and Kindle (no physical content browsing) An incentivised sales channel Increased impulse purchases
What Do You Think?
I would love to hear your thoughts in the Comments below.
Did you Like this Article?
Sign up for free updates from VitaminCM.com?



See some of the other places where you can connect with me out there in the wilds of the internets.
Get More Updates
See some of the other places where you can connect with me out there in the wilds of the internets.