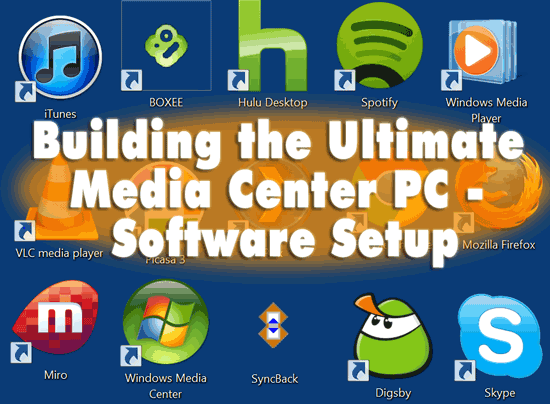 Software Makes a Computer into a Living Room Centerpiece
The thing that turns your computer into a powerful media center is the right software.
Here is the collection of applications that I installed to do more.
I have the software grouped into the following categories:
All-In-One Media Centers Apps
Software for Watching Video
Software for Viewing Pictures
Software for Acquiring Media
Miscellaneous
All-In-One Media Center Apps
There are a few apps that handle just about everything you need on your media center. They organize and play your local media files and download other audio, video, and pictures from the internet.
Boxee – Price – Free
Boxee is a media center for your home theater PC. It compiles media from your computer and on the internet into a simple, remote-control friendly user interface. Boxee includes built-in social media features, so you can see what your friends have watched and recommended. You can also integrate Boxee with services like Twitter, FriendFeed, Tumblr and Netflix. Operating System – Windows, Mac
This is one of the most used apps on my media center pc.
Miro – Price – Free
Miro is a free, open source internet TV application that will play virtually any video format. It integrates a bit torrent client, a RSS aggregator, and a media player.
You can subscribe to any RSS feed, podcast or video blog and explore hundreds of free channels with the built-in Channel Guide. It is fully BitTorrent capable, but also allows you to subscribe to videos from YouTube, Google Video, Yahoo Video and many other sites. The program furthermore makes it easy to browse your collection, make playlists and stay organized. Operating System – Windows, Mac, Linux
See how Boxee works in the following video.
Software for Watching Video
VLC – Price – Free
VLC is a powerful media player, playing most of the media codecs and video formats out there. Operating System – Windows, Mac, Linux
Hulu Desktop Player – Price – Free
Hulu Desktop is a lean-back viewing experience for your personal computer. It features a sleek new look that's optimized for use with standard Windows Media Center remote controls or Apple remote controls, allowing you to navigate Hulu's entire library with just six buttons. For users without remotes, the application is keyboard and mouse-enabled. Hulu Desktop is a downloadable application and will work on PCs and Macs. It will initially launch as a beta product during which we plan to gather and incorporate user feedback to improve the service. Operating System – Windows, Mac, Linux
Browsers
If you're going to get media from the internet, you'll need a top notch browser. These two should handle any need you could possibly have.
Chrome – Price – Free
Google Chrome runs web pages and applications with lightning speed. Operating System – Windows, Mac, Linux
Firefox – Price – Free
ozilla Firefox is a free and open source web browser descended from the Mozilla Application Suite. As of Dec 2010, Firefox has 31% of the recorded usage share of web browsers, making it the #2 browser in terms of current usage (1) and the #1 browser independent of any operating system. Firefox is highly extensible, with thousands of third-party add-ons available. Operating System – Windows, Mac, Linux
Software for Viewing Pictures
Picasa – Price – Free
Picasa is free photo organizing, viewing, and editing software from Google that makes your pictures look great. Sharing your best photos with friends and family is as easy as pressing a button! Operating System – Windows, Mac, Linux
See how Picasa works in the following video.
Software for Acquiring Media
In addition to the numerous streaming sources available on the internet, you will need a good Bittorrent client to supplement your media downloading capabilities.
uTorrent – Price – Free
uTorrent (a.k.a uTorrent or MicroTorrent) is a lightweight BitTorrent client that includes standard features such as bandwidth prioritization, scheduling, RSS auto-downloading and Mainline DHT. Additionally, uTorrent supports the Protocol Encryption joint specification and peer exchange. Operating System – Windows, Mac, Linux
See how to use uTorrent to automatically download TV shows.
7-Zip – Price – Free
7zip is an source and free archive utility that runs on Windows. 7Zip is the smallest, fastest, free-est archive tool available, Period. Operating System – Windows
Miscellaneous Apps
Application Launcher
RocketDock – Price – Free
RocketDock is a very nice Mac OS X dock clone. It provides a clean interface for shortcuts to launch apps and files. Each item is completely customizable allowing for better productivity and accessibility. Operating System –Windows
Stream Media to Other Places
PS3 Media Server – Price – Free
PS3 Media Server is a DLNA compliant Upnp Media Server for the PS3, written in Java, with the purpose of streaming or transcoding any kind of media files, with minimum configuration. Its backed up with the powerful Mplayer/FFmpeg packages Operating System – Windows, Mac, Linux
Communication and Social Media
Digsby – Price – Free
Digsby is a multi protocol IM client that lets you chat with all your friends on AIM, MSN, Yahoo, ICQ, Google Talk, and Jabber with one simple to manage buddy list. Its also a social networking tool that alerts you of every update imaginable. Operating System – Windows
TweetDeck – Price – Free
TweetDeck is your personal real-time browser, connecting you with your contacts across Twitter, Facebook, MySpace, LinkedIn, Foursquare, Google Buzz and more. Operating System – Windows, Mac, Linux
View the Rest of this Series
This is part 2 in a four part series on Building the Ultimate Media Center PC on a Budget. View the rest of the series:
Media Center PC – Hardware Accessories
Media Center PC – Home Server
Did you Like this Article?
Sign up for free updates from VitaminCM.com?



See some of the other places where you can connect with me out there in the wilds of the internets.