Fun Movie to See With the Family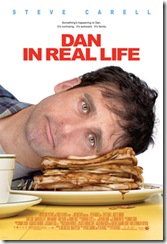 Dan in Real Life is a cute, touching movie about a widower / single father of three girls struggling to hold his family together and find love. Dan (Steve Carell), an advice columnist has been a widower for 4 years and has focused all of his attention on his kids, who are growing up, despite his best efforts. The kids are all starting to grow a little weary of dad's "focus" on them and need a little breathing room.
The family goes away for a yearly "bonding" weekend with the extended family and that's where the fun begins. Dan meets an amazing woman, whom he later finds out is dating his brother. He loves her, she loves him, but this love is FORBIDDEN. Will he back off, will they sip wicked nectar of this off-limits lovin'? Well, I'm not going to spoil it for you.
Let's just say that it's a fun, funny, touching movie that I watched with my wife and my teenage daughter. One hug (daughter) and one cry (wife) let me know that it was a good choice.
Rating:
4 out of 5
Cast: This was an ensemble cast that really worked well. Steve Carell did a great job in this role. He was totally believable. The best compliment that I can pay him is that I never once thought of Michael Scott. Juliette Binoche, the love interest was good-not-great but very believable. John Mahoney, Dan's father was as good as he was in Frazer, if not a bit less gruff. Alison Pill, Brittany Robertson, and Marlene Lawston played the three daughters and were all amazing.
Director: Peter Hedges – I really liked the way the movie paced itself. I wasn't blown away, but it was a nice directorial job.
Shining Stars: Alison Pill, Brittany Robertson, and Marlene Lawston (three daughters) all killed. I'll be very surprised if they all go on to have very good careers.
Funniest Moment(s): All of the scenes with Brittany Roberston (middle daughter) and her "lover" boyfriend. The two of them are soooo funny as love struck teenagers.
Soundtrack: Great! The music is by Sondre Lerche. We walked out of the theatre and went directly into Barnes & Noble to buy the soundtrack.
Buy the CD at Amazon.com
Download the DRM FREE MP3 at Amazon.com
Watch the Trailer Below:

Subscribe to RSS Feed |

Subscribe to Comments |

Subscribe via Email
Other Articles You May Like
What's the Point to Unlocking the iPhone?
Who Else Wanted More From the iPod Touch?
How to Download TV Shows from the Internet (Part 2)
Is Microsoft Office in Danger of Being Dethroned?
Reader Poll – Roadside Memorials: OK to Document?
See How Easily You Can Embed a Map on Your Site
The Easy Way to Download TV Shows from the Internet
How Much Social Networking is Too Much?
Get More Updates
See some of the other places where you can connect with me out there in the wilds of the internets.