Funny, Cute, Warm, with a Little Edge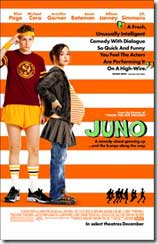 Title: Juno
Release Date: 2007
Director: Jason Reitman
My wife and I saw the trailer during a few other movies and thought that it looked like a good movie. We both love the chick flicks indie romantic comedy stuff. We were off from work and decided to give it a shot. Wow, we were both glad we did. Don't get me wrong, it's no Citizen Kane, but it's a really good movie.
Go see this movie. Take a date, or someone that you want to have a nice time with. You will surely be glad that you did.
Overview
Juno (16 years old) gets pregnant after having sex once with her friend Bleeker. She decides to have the baby and put it up for adoption. I don't want to spoil the movie, so I'll withhold some of the plot. The rest of the movie revolves around the trials and tribulations of a pregnant teen trying to live a "normal" life until the adoption takes place. As you might expect, some weird stuff happens along the way (most of it funny) and she grows up while she navigates the choppy waters. The ending is a toss up, there were two things that had to get closure: Keep or Give Away the baby and Find true love or Not. I'm not going to tell you what happens, but one goes the cliche Hollywood route and the other does not. See it for yourself to find out.
Cast
Listed in order of significance.
Ellen Page … Juno MacGuff Sharp, witty, sarcastic; perfect for the part. She carries that entire movie and does it well. I expect big things from her. Kind of reminds me of Natalie Portman's part in Beautiful Girls
.
Michael Cera … Paulie Bleeker He's the perfect image of the awkward teenage dork who is still kinda cool. Another nice job. See what I thought of the job he did in SuperBad.
Jennifer Garner … Vanessa Loring Just a cliche rip off of Brie Van De Camp. I like her, but this was a pretty lame roll.
Jason Bateman … Mark Loring Can't stand the guy, but he was actually likeable in this movie. (Until he got all creepy in the end.)
Allison Janney … Bren MacGuff Nice job as the "not-so-wicked" step mom from middle America.
J.K. Simmons … Mac MacGuff Very funny and believable as the dad of the pregnant teen.
Take a look at the trailer.
This movie has a great soundtrack. Get the Juno Soundtrack here.
Rating:
I rated this move a strong 4 out of 5 stars. (Maybe a 4 plus)
Excellent acting, direction, soundtrack.
Characters that I could identify with and root for.
An ending that made me feel satisfied, yet surprised.
Very good movie.
Recommendation
Go see this movie. Take a date, or someone that you want to have a nice time with. You will surely be glad that you did.
Other Reviews
Yahoo User Reviews
Want to Read More Articles Like This One, Become a Subscriber

Subscribe to RSS Feed |

Subscribe to Comments |

Subscribe via Email
Get More Updates
See some of the other places where you can connect with me out there in the wilds of the internets.