Just What You Need to Make Your Pictures Pop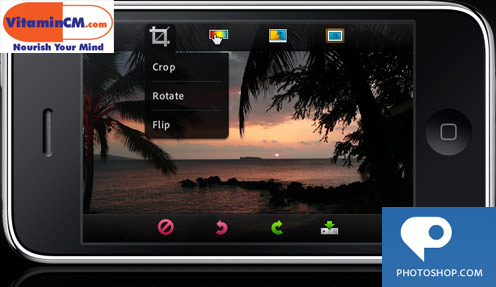 If you have ever taken pictures on your iPhone, you realize that they seldom turn out just right. A little off center, too dark, not vivid enough, whatever. Sure, you can sync them to your computer and edit them, then sync them back to your phone. If you have like 4,000 hours to kill. Well, Photoshop.com Mobile's iPhone application is just what you need. You can take any picture on your iPhone and make quick, simple, effective edits in seconds just using your pointer finger.
Photoshop on your computer has millions of filters, effects, and features that are great for pros, but the Photoshop iPhone application has just what you need to clean up your phone pictures. Did I mention the price? That's right, FREE!
Get it at Photoshop.com and give it a whirl. Direct download link.

Created with Admarket's flickrSLiDR.
See the Photoshop iPone Application in Action
Take a look at the video below to see why I love it so much.
Subscribe to VitaminCM.com for Free
Get free updates from VitaminCM.com

Subscribe via RSS Reader


Subscribe to Comments
Get the VitaminCM.com Podcast

Subscribe via iTunes

Subscribe via YouTube
Connect with Me on the Web

Follow me on Twitter

Friend me on YouTube

Friend me on StumbleUpon

Friend me on Facebook

Friend me on Digg.com

Share bookmarks on Delicious

Share music with me on Last.FM

Share pictures on Flickr
Get More Updates
See some of the other places where you can connect with me out there in the wilds of the internets.