Take Your Calling to the Next Level by Extending Skype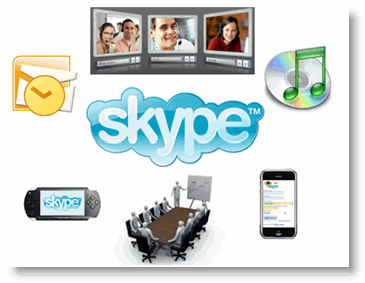 GOAL: Turn Skype from a cheap phone call alternative into a multi-function communication, collaboration, mobile virtuoso.
Skype is the king of the hill when it comes to Voice over IP applications. Besides making free (or really cheap) phone calls, you can do a lot of other useful things with Skype. I'll show you how to add in Video Conferencing, Phone Call Recording (for podcasts, not creepy stuff), Remote Control other PCs, and integrate with IM applications. In addition, I'll show you how to take Skype beyond your PC and move it onto a bunch of other devices like an iPhone, PSP, or Nokia mobile phone.
When you first install Skype, it does a nice job of handling phone calls. You can make PC to PC calls with other Skype users for free. You can also buy minutes to call regular land line and cell phones for a very reasonable rate. You can also pay get an online number that any regular phones can call. This can be used from anywhere with a high-speed internet connection.
Skype is a lot like Firefox when it comes to plug-ins. They have a ton of plug-ins available on their site.
Calling Features to Make Your Conference Calls Amazing
Making plain old voice phone calls is great, if you're Aunt Bee in Mayberry. You want the kind of stuff that you would see on the Jetsons. Here are some options to take your phone calling into the world of flying cars.
Video Calling
Let's say you have to make a critical business conference call (or just argue with your fantasy football buddies.) with a few people. You could all jump on boring old conference call, but that's lame.
Make a multi-person video conference call using VSkype or Festoon. This way you can all see each other while you brainstorm that incredible idea.
Warning: this plug-in is no longer supported, but you should still be able to get it working. You may have to Google around looking for community support.
Collaborate on Ideas
While you and your posse are on that fancy video conference, you may need to get on the whiteboard and demonstrate and collaborate on your brilliant ideas.
WhiteBoardMeeting allows users to draw graphics, insert text and images, and edit objects. All of you see each other creating and editing objects in "real-time".
Remote Control and Share Each Other's Computers
You may need to do more than just draw and show each other things on the whiteboard. Sometimes, you just need to grab the wheel and do the driving.
RemoteX is specifically designed for home users wanting fast and secure remote desktop connections with other PCs via a Skype call or chat.
Capture all of the Magic
This conference call is going to be so productive that you'll want to capture every minute. No, you're not going to assign someone to take notes. That's worse than being the designated driver on New Year's Eve. There are a couple of great ways to record your Skype calls and meetings.
Pamela Call Management Tool records regular calls, video calls, chat sessions and more. It also manages your answering machine, video mail and much more.
Skype Recorder – if you want something a little more simple and straight foreward, try Skype Recorder.
Integration with Applications and Services
There are a number of ways to integrate Skype with other applications on you computer.
Combine Skype with Outlook
The best application integration plug-in that I have come across is Skylook. SkyLook allows you to Make Skype Phone Calls, Send Instant Messages, and many other Skype functions from emails and contacts within Outlook.
SkyLook has a 14 day free trial. Once the trial period expires, you lose a lot of the more advanced features. However, you can continue to use a limited version which still has a ton of useful features.
Mute iTunes When a Skype Call Comes In
When you're rockin' out to your jams, and a call comes in, you don't want to blast the tunes into somebody's ears. SkypeMuter will mute iTunes when a Skype call comes in. Because we know that your neither your Grandma nor your boss want to hear your Slayer tunes.
Add Skype to the Web
Did you ever wish that people could call you right from a page on your website? Well, you have a few good options.
If you have any kind of website, you can use a Skype Button to allow readers to make a Skype call to you from any page.
Get the code here to put a Skype "Call Me" button on your website.
Skype Button for Wordpess Blogs
If you have a WordPress blog (like this one), you can use this plug-in to add a Skype "Call Me" button.
Skype on your Devices
Skype works great on your PC, but what about other places? You're in luck, because there are ways to add Skype calling to just about anything with a processor and an internet connection.
Make Skype calls from your iPhone
Skype from your PSP
Skype from your Windows Mobile Phone
Skype from your Sony Mylo
Skype from your Nokia Symbian Device
Skype from your Nintendo DS (If anyone knows, put it in the comments.)
Rest assured, if there's a new device, someone will figure out how to jam Skype onto it.
Helpful Articles on Getting things done with Skype
Here are some articles that cover other ways to help you get the most out of Skype.
Hacking Skype: 25 Tips to Improve Your Skype Experience
Tips for Better Skype Meetings
How to Make the Most of Skype
What's Coming Next
This is the second in a six part series on "Getting the Most Out of Your Software Using Third Party Add Ons". The next article covers plug-ins that will help you make some Apple iTunes magic.
Subscribe to VitaminCM.com for Free
Get free updates from VitaminCM.com

Subscribe via RSS Reader


Subscribe to Comments
Get the VitaminCM.com Podcast

Subscribe via iTunes

Subscribe via YouTube
Connect with Me on the Web

Follow me on Twitter

Friend me on YouTube

Friend me on StumbleUpon

Friend me on Facebook

Friend me on Digg.com

Share bookmarks on Delicious

Share music with me on Last.FM

Share pictures on Flickr
Get More Updates
See some of the other places where you can connect with me out there in the wilds of the internets.