Big, Beautiful Zoom and Screen Look and Feel Good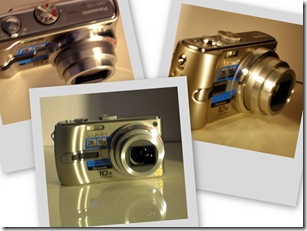 My wife bought me a Panasonic Lumix TZ3
Camera for Christmas. (She must have read my 28 Great Christmas Gifts article.) I was torn between this and a Canon Powershot G9
. The Canon G9
allows you to attach external lenses and flash, plus it shoots Raw images. The Panasonic Lumix TZ3 is smaller, cheaper, and has a 10x zoom. It was a toss up. My wife made the final decision for me. (Her and the price tags.)I've spent a little time with it and I'm ready to pass judgement.
Specs

Four Stars
7.2 Megapixel
10x Optical Zoom (28mm to 280mm equivalent)
3.0 inch screen24 shooting modes
Stores images on SD/ SDHC/ MMC memory cards.
Physical Factors

Four + StarsLooks: I have the silver model which has a mix of shiny and flat surfaces. The GIANT screen and 10x zoom lens are impressive.
Size: The camera is definitely large for a point and shoot model.
Fit and Finish:
It feels really solid and sturdy. All of the controls work well and feel substantial. This is a plus in a point and shoot.
How does it work?

Four + Stars
Start with the start: This thing turns on and shoots fast. Very nice. Plus, the On – Off switch is not going to be mistaken for the shooting button. Sounds like a little deal, but if you've ever missed "The Shot" because you accidentally turned off your camera, then you know what I mean.
Screen Navigation: This is typical of other point and shoot cameras. Nothing Special. Oh yeah, except for the HUGE razor sharp, vivid screen, I may hang it on my living room wall.
Mode Dial: The mode dial is great. It is large and meaty, like something on an old car stereo. It feels "real" in your fingers. Perfect! There are 24 shooting modes. Many seem obscure, but hey, you never know.
5 Way Menu Buttons: These are not the best that I've ever seen. I would like them to be beefy like the Mode Dial.
Zoom Control and Lens: The Zoom control feels normal and acts as I would expect. However, the zoom just keeps going and going. Did I mention the 10x Zoom? This thing is the star of the show here. I almost feel like I have my SLR in my hands.
Image Quality Four + Stars
The image quality is pretty good for the most part. I had a little trouble finding the Long Shutter setting. (I guess I'll have to RTFM.) A few shots get grainy when you blow them up, but you have to zoom to about 300% or more for that.I embedded a slideshow with shots using a variety of shooting modes and situations below. Go to my Flickr page to view the details on each shot.Created with Admarket's flickrSLiDR.
Recording Video: Perfect 5 of 5 stars
This is where my expectations were surpassed. This thing records videos that are very sharp and crisp. The audio is also good for a camera.640 x 480 (VGA) or 848 x 480 (Wide Screen) razor sharp pixels at 30 frames per second. Videos are recorded in Quicktime's .mov format.Take a look at the sample below.The embedded video is actually not the greatest quality. Click here to view the original Quicktime video.I'm going to get a high capacity memory card
so that I can shoot more video stuff during the day. Maybe I'll treat myself to an Eye-Fi Memory / WiFi Card so that I can upload right from my camera. Look for it on an upcoming post.
Conclusion
The camera did not let me down, in form, function or image quality. You could do a lot worse than this camera for a casual to serious point and shooter.Overall:

Four + StarsI really like this camera. I would rate it a 4+ out of 5. I take off a few points for the small 5 way navigator and no zooming while shooting video, but it's a solid piece of equipment that is a welcome upgrade from my previous camera.Who this camera is for: This camera is for someone who wants a serious point and shoot camera to carry around with them. The type of person who probably has a DSLR, but does not want to bring it to Disney World or the Beach. The other person that could use this is an older person whose hands struggle with one of those credit card sized Casios.Pros: The 10x Zoom lens separates this camera from it's peers. The thing is fast too, it turns on and shoots so fast that the people you are stalking will have no time to cover their faces. The other plusses are the Ginormous screen, the solid feel, and the stunning video captures.Cons: Size. There's no getting around it, this thing is big. The thing has an awesome 10x Zoom lens and does awesome video capture, but you can't zoom while capturing a video. That's a major let down.Recommendation: If you want a few more features and you don't mind the girth, then this camera is a winner. If you like to carry your camera all the time and keep it in the waistband of your thong, then this is not for you. Also, if you like to shoot usable video clips, spur-of-the-moment, you will love this thing
.
Want to Read More Arictles Like this one:

Subscribe to RSS Feed |

Subscribe to Comments |

Subscribe via Email
Get More Updates
See some of the other places where you can connect with me out there in the wilds of the internets.