Find Your Stolen Laptop – FAST!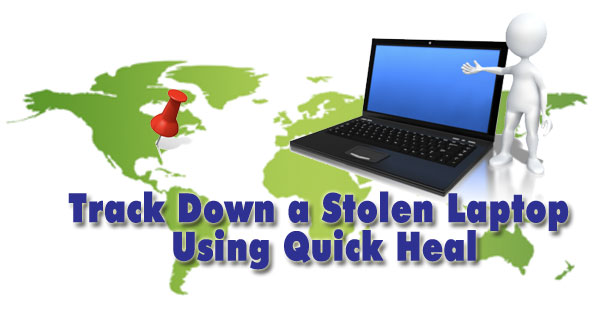 With the development of technology, it's the time for portable gadgets that are easy to carry. Over the decade, there has been a huge increase in the number of USBs, laptops and similar kind of devices. With it, the chances of your devices being lost or stolen has also increased. Once lost, there are no chances of getting it back unless you install any tracking software in your devices that gives you a relief from all your worries. Now, you must be wondering that when a number of tracking software is available, which one will be the best purchase for you.
Quick Heal, the most sought after name when it comes to providing Internet Security tools has come up with a FREE laptop tracker service called 'TrackMyLaptop' that helps  users in tracking their stolen laptops. Once you visit the web URL www. trackmylaptop.net you can have an access to this service. Now, let us have a look what factors differentiates this particular service from the similar kind of services available in the market:
1. It Is a FREE Service Offered By Quick Heal
This free service enables the users as well as the non-users of Quick Heal to track their stolen laptops. So if you are not a registered user of Quick Heal, do not worry. Use this service and get hold of the thief!
2. A Worldwide Service for the Laptop Community
The service caters to the laptop users worldwide. While using the service for tracing their stolen laptops, the users are even providing their stolen laptop details. This in turn, is creating an overall repository of every detail about stolen laptops. So, in a way Quick Heal has managed to link to the laptop community throughout the world.
3. Effective Use of the Information of Stolen Laptops
Quick Heal has given a special access to the law enforcement authorities with which they are making an effective use of the repository of information about the stolen laptops. Once they are able to recover any of the stolen laptops, the authority login to the specific web URL and check that whether the details of the recovered laptop match with any of the details entered by any user on the site.
4. A Service Worthy For the Consumers Planning To Buy Second Hand Laptops
Those who are planning to buy a second hand laptop and fear ending up buying a stolen one, they can even use the service for verifying whether it's a stolen or not. It has also been seen that hundreds of users log in everyday before they purchase any laptop.
Now the question that will come up next is that how this service is to be used.  So, here comes the step that is to be followed while using this service:
The prerequisite for using the 'TrackMyLaptop' service is that the user must have a MAC (media access control) for one of your network cards. Now don't raise your eyebrows in confusion! A MAC address uniquely identifies an adapter on a LAN.
If you are already a registered user of Quick Heal, then you just need to register at the site offering the tracking service where you need to provide the Quick Heal product key and other required details. For the Quick Heal users, it is an advantage that they do not have to give the MAC ID. It gets obtained automatically and stored in the database during the updating or activation of Quick Heal. For non-users, Quick Heal will regularly search through database and notify the users in case of nay match.
About the Author
Kristina Louis is a freelance content writer by profession. Gadgets especially cell phones are her topic of interest and she find immense pleasure in writing articles on cell phone and verizon internet.