Get that Holiday Gift Working Right Away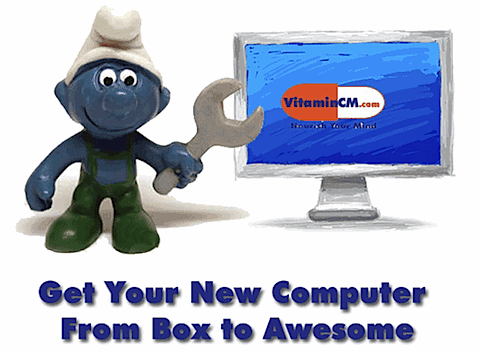 OVERVIEW: This article links to several resources that will help your new computer go from the box to maximum usefulness as fast as possible.
So You Got a New Computer for the Holidays, Now What?
Just getting a new computer is only half the battle. Once you get that thing out of the box, that's where the real fun begins. Here are a few guides and resources that will help you do all of the painful things necessary for making a mass-produced box of electronics into your very own PERSONAL computer.
Configuring Your New Computer
After you get your new machine up an running, you will need to perform a few vital configuration steps. Whether it's a Windows, Mac, or Linux machine, these resources will get you going.
Set Up and Get to Know Your New Windows, Mac, or Linux Computer – The folks over at LifeHacker.com have a bunch of great tips on setting up a new computer. The didn't cut any corners either; Windows, Mac, and Linux are all thoroughly covered.
Download Squad Guide to Making Your New Holiday PC More Kick-Ass! – DownloadSquad.com has lots of great tips on making your new Windows computer better. A lot of the tips center around getting the garbage software that the manufacturers are paid to install gone and replacing it with much better options.
Setting Up Your New Mac: The First 25 Things You Need To Do – If you got a new Mac, the team at MacLife.com take you through a series of steps to make it a workhorse in no time at all.
The Best Free Software for Your New Computer
After you configure your new computer, you need to install the right software to help you get things done. Here are some of my favorite free applications for WIndows and Mac.
22 Most Useful Free Applications for your Windows PC – These are some of the best Windows applications at any price, but when you consider that they're free, how can you go wrong.
26 Best Free Mac Applications – Macs come loaded with a decent set of software, but here are some additions to put you over the top.
100 of the Best (Useful) OpenSource Applications – UbuntuLinuxHelp.com has a massive list of useful Linux applications in every category imaginable.
A Computer is Not All Function, I Can Look Pretty Too
After you have your new computer set up to work like a team of mules, you may want to make it look like a sexy supermodel. Check out a few of these resources.
Five Best Wallpaper Sites – LifeHaker.com has some great places to go get beautiful wallpapers to put your own style on that new machine. I'm going there myself, as soon as I'm done with this article.
Don't Forget Your Other New Gadgets
Even if you didn't get a shiny new computer for the holidays, you might have another fancy gadget that you want to set up the right way. Here are a few guides to help you out.
5 Sites to Help You Set Up Your New Gadgets – ReadWriteWeb.com has a few resources you can use to help set up your new gadgets. They are mostly sites that have video tutorials or Q&A message boards that are helpful.
Setting Up Your New iPod: The First 25 Things You Need To Do – Those helpful guys at MacLife have another good set of tips for you to get your new iPod or iPhone running like a champ.
What are your New Computer Setup Secrets?
Dont' forget to leave any good new computer setup tips in the comments below.
Get More Updates
See some of the other places where you can connect with me out there in the wilds of the internets.