Finding the Perfect Travel Companion
I have a birthday coming up and I'm gong to treat myself to a new Netbook computer. I really want a super small machine that I can carry everywhere in my bag. I want to be able to write, check email, read my RSS feeds, etc. There are a lot of things that can be done with very minimal software and web-based applications. The biggest problem that I have is the storage. A few gigs is just not enough for my needs. I want one with a real hard drive that has lots of storage. I don't need a top notch gaming rig, but I do need all of my photos, music, and files.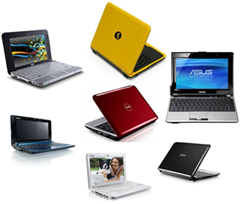 It seems like there is a new Netbook announced every day. Asus EEE, MSI Wind, HP Mini Note, Dell Inspiron Mini, and on and on and on. They all look so cute, small, and fun.
I've looked at many in person and all of them (I think) online and I still can't make a decision.  There are a few that made a great impression, but they all have some flaw(s) that scares me away.
Here is the most thorough blow-by-blow Netbook comparison that I've seen.
Cnet's Crave has a Top 10 List comparing some of the top Netbooks in the field.
I have it narrowed down to a few contenders:
HP Mini Note
Dell Inspiron Mini
MSI Wind
Asus EEE PC 901
Asus EEE PC 1000
Poll of the Week:
If you have any helpful advice, please add it in the comments below. This is a tough decision and I could certainly use the help.
Don't Miss the Seeing Which Selection I Make
Become a Subscriber

Subscribe to RSS Feed |

Subscribe via Email |

Comments
Get More Updates
See some of the other places where you can connect with me out there in the wilds of the internets.