Did Flip just get Flopped?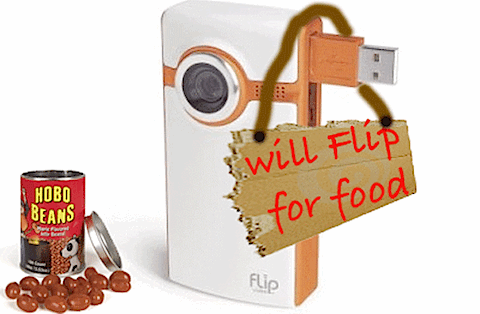 The new iPhone 4 was just announced today with most of the features that we all had been expecting for some time now.
Front facing camera for video conferencing (pretty cool addition)
A Flash on the 5 megapixel rear camera (thank god)
A higher resolution screen (nice)
Apple's new A4 processor (whatevs)
Blah, blah, blah
These features are all pretty nice additions that will force me to upgrade. The one thing that I think let's Apple steal a lot of ground in a niche where it previously had not ventured is the Hi-Definition video camera (720p) that was added. They also announced an iMovie app ($5) to allow you to edit and share movies right from your phone. This probably will not help them gain any new customers, but it is BAD news for Flip Video cameras and their brethren.
Flip Video Cameras
have occupied the top of the video camera sales lists on Amazon.com since they came out. They are the perfect niche device, because there was no other way to get decent quality video from something that small and convenient. They were tiny, simple, fun, and provided acceptable quality video footage. You could quickly plug it into your computer, edit it and share it.
Hard Times Lie Ahead
Well, the iPhone's video camera takes up no space. You're already carrying a phone. Flip cameras don't have an always on connection to YouTube, Facebook, and Twitter which is where all of that raw video will go. Consumers don't want to juggle between a camera and PC, when they can just shoot, edit, and post on the spot.
If the specs/quality are anywhere close, Flip is done.
By the way, I'm sure Google, Palm, Microsoft, and Nokia are already firing up their copy machines as I'm writing this, so even if you're not an Apple guy, you're not going to be Flip guy for long.
They're getting it from all sides:
Phones are more ubiquitous, feature packed, connected and convenient
Point and shoot cameras have FAR better quality and features (for not much more money)
If it's in an iPhone and an iPod nano, how long until it's in the iPod Touch?
Is there any Hope?
Flip better innovate something gamechanging ASAP or they're cooked. I'm not sure what they can do, but they better do it FAST.
Either that or just pray really hard for cargo pants to come back into style. Then maybe people won't mind carrying 5 devices around.
What do You Think?
What impact will an HD Video iPhone (and a few other competitors) have on the Flip Video market?
Did you Like this Article?
Why not get free updates from VitaminCM.com?
Subscribe via RSS Reader
Subscribe via YouTube
Or just
Follow me on Twitter, where I am constantly sharing great articles written by people WAY smarter than me. Or, see some of the other places where you can connect with me out there in the wilds of the internets.