Three Men Enter, One Man Leaves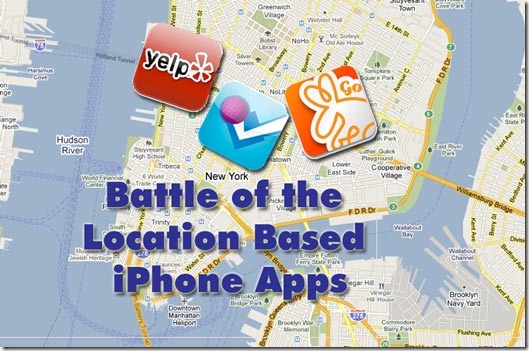 Where You At?
I have been reading and hearing tons of arguments about which location based service is "winning" the war for your phone. Well, I decided to test a few of them for a month to see who i think is the best. I loaded a bunch of apps on my phone and tried to check in on all of them in a variety of locations. As you may suspect, I also got a variety of results. Some good and some bad.
Let's take a look.
Here are the three location based application/services that I tested:
Foursquare – The biggest name in this space.
Gowalla – Up and coming challenger to the King.
Yelp – Business ratings monster throws its hat in the ring.
Here is the list of apps that I rejected:
Google Buzz
Loopt
Layar
Twitter
Facebook
Basically, I skipped them all because they are not really location based social networking games. Rather, they're social networking apps with some aspect of location included.
How they Fared
I rated each service on Location, Interface, GPS Accuracy, and Extra Features.
Foursquare
Foursquare is the king of the hill in this game for a good reason. It's got a huge community, it works well, and it's just plain fun. Spoiler Alert – it's my favorite.
Locations: 4 stars
Interface: 4 – pretty good
GPS Accuracy: 2 – horrible!
Extra Features: This is easily the best, most fun interface and community of the three.
Room for Improvement: It would be nice if you could post business / party photos like Gowalla and Yelp.
Gowalla
Gowalla is one of those nice stories that makes you want to root for them. The thing is, it just doesn't feel as good to use. It just feels a little half-assed in my opinion.
Locations: 3 (worst in the roundup)
Interface: 4 (pretty good)
GPS Accuracy: 1 – the worst
Extra Features: It's pretty easy to add photos
Room for Improvement: More locations and a larger user base.
Yelp
While Yelp technically functions as well as Foursquare, it just doesn't feel as fun. However, it does double as an incredible portable yellow pages / business review tool. It ain't Foursquare, but you still need it on your device.
Locations: 4.5 out of 5 (best in the roundup)
Interface: 4 stars
GPS Accuracy: 2.5 (the best is still real bad)
Extra Features: Massive collection of review data on businesses.
Room for Improvement: Make it easier to add missing places
Comparison of Locations
Over the course of a month, I attempted to check in using all three apps everywhere I went. (Yeah, my wife wanted to choke me.)
Here are the results.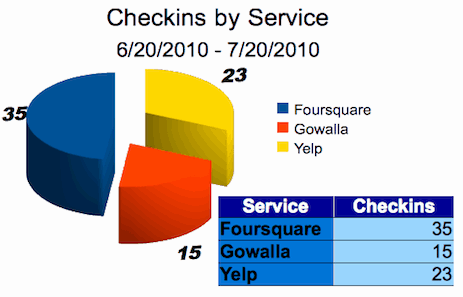 Foursqure was the best, Gowalla was the worst, and Yelp was right in the middle. All of them had NO accuracy on the GPS location. Pretty bad for location based apps, wouldn't you say?
And the Winner Is…
Foursqure by a decent margin. By the way, my ID is as you may have guessed, VitaminCM on all three apps. Add me as a friend if you're looking to share recommendations and badges.