How to Set Up a Moleskine Notebook for Maximum Productivity
OVERVIEW: You will see how to set up a small notebook as a portable tool for gathering information and keeping yourself organized.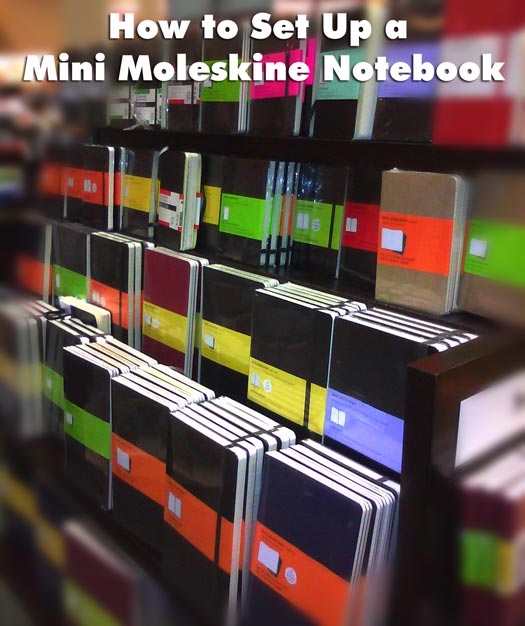 What We are Doing
I am in and out of project meetings all day at work. It is difficult to capture all of the information that is exchanged and keep track of all of my tasks and to-do's.
When I'm going to meetings I take a regular sized notebook to capture all of my notes. I also keep a mini Moleskine Notebook
with me at all times. Why a mini notebook? Well, it fits in my pocket, so I always have it with me. This allows me to do a few things:
Jot down notes, thoughts, ideas, etc. any time and anywhere
Keep a master to-do list that spans across all of my projects
Keep key pieces of "reference" information at hand
I use an elaborate note taking system for my regular sized notebook. Since my mini notebook is, well, mini; I set it up for maximum productivity and efficiency.
Necessary Supplies
You will need the following supplies:
Optional: Fine Tip Pen
and Duct tape.
Laying Out Your Notebook
I separate my mini notebook into three distinct sections:
To-Do – the most important thing is what do I have to do NEXT
Projects – major projects I'm on
Reference – small pieces of information that I may need to recall
To Do
This is the first section in my book. I just keep a running list of tasks and their due date. Cross them off when their finished. Since I'm only writing the task names in a list, I usually only dedicate 5ish pages to this section.
Reference
This is the last, least frequently used section of my notebook. I keep things like names, phone numbers, website addresses, user names, etc. back there. I only need about 5ish pages for this section too.
Projects
I keep notes, ideas, or hi-level plans about the projects I'm working on in this section. This is the meat in my notebook sandwich. (Even if I am a vegetarian) I use all of the pages that the To-Do and Reference don't take up. (80 – 90% of the pages) I place different color post-it tabs on each section (like an address book) to clearly separate each one. This helps me navigate very quickly.
The Finishing Touches
You never know when your setup may need to expand to accommodate a productive brainstorm. I add a few extra tricks to the front and back inside covers for those unexpected needs. I get a few teeny, tiny post-it notes and place them in the inside covers. This allows my to write down more information than a page can handle, yet keep it on that page. I also stick a few multi-color post-it tabs in there to use as place holders or flags on particular pages. Typically I use them if there is some outstanding item on a page. I peel them off and recycle them when that item is resolved. Since my notebook is so small, I need a fine tipped pen to write small and legibly. If you want to keep it with your notebook at all times, you can use tape (duct, masking, painter's, etc.) to rig a pen holder to the cover or spine of your companion. Some may call it ghetto, but I like to call it a "custom modification". Lastly, I love the little pocket that is in the rear, inside cover of Moleskine notebooks. It is the perfect size to hold a few business cards (yours and theirs), receipts, or other precious scraps.
See How to Set Up your Mini Notebook
The following video shows how I set up my mini notebook for maximum performance and flexibility.
Win the Notebook in this Video
Too cheap or lazy to build your own super-terrific mini notebook? No problem. Leave a comment below for a chance to win the one used in the video demonstration. I will keep the contest open until midnight (EST) Friday, August 6th 2010. Then, I will select a comment at random. I will ship the notebook to the lucky commenter, so that they can be awesome too!