Evolution, Not Revolution
Overview: Microsoft Office suite is being updated for 2010. This is an overview / preview of the notable new features..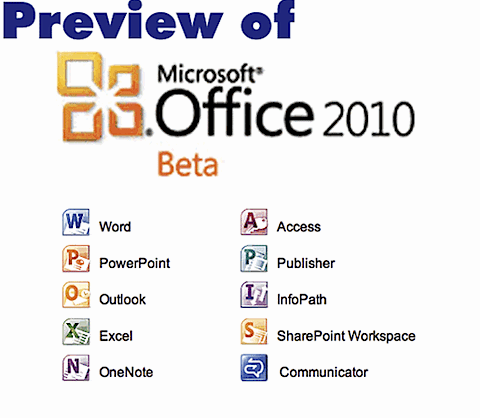 Product: Microsoft Office 2010 (beta)
Price: Not announced yet
Availability: During first half of 2010
Is it time to upgrade already?
When Office 2007 came out, there was a huge stir over the fact that the entire interface was overhauled. Gone was the File menu system and in was the controversial "Ribbon". Then, even if you were an Office guru, you had to do a bit of scrambling to find all of your old standby tricks, let alone learn the new ones. Well I don't think that Microsoft was ready for another few years of upheaval, so they kept the changes minor, concentrating on making a few subtle, yet helpful changes here and there.
You can get your own beta copy to try out from the Office 2010 page on Microsoft's site.
Look and Feel
The majority of the Office 2010 suite looks very similar to Office 2007 with two big exceptions:
The "Office button" has been replaced with a File tab that works like a combination of a traditional menu and a ribbon tab. (Thank god, that Office button was stupid!)
Outlook has adopted the Ribbon interface to match the rest of the suite. Not a big deal, but it does look different.
The rest of the differences are very subtle additions or enhancements that will have minor impacts on how you work.

Cool New Features
There are a few cool things that were added. One of my favorites is the screenshot tools that sits in the Insert tab of the apps.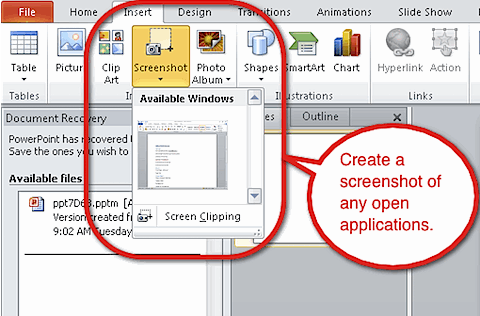 There are a few extra Smart Art options for creating graphics. They also added the ability to easily add and change the background color or image of a page in PowerPoint, Excel, and Word.
PowerPoint has the ability to Create a Video from your presentation or export it to a CD. There are also a few new themes that have been added.
Excel has a new Slicer tool which gives you even more control and options for creating Pivot Tables. There are also some features that allow you to create and manage Named Ranges that can be used in creating advanced formulas.
Outlook has the ribbon added. Love it or hate it, at least it matches.
Overview
Pros:
New File tab and no more Office button
Additions to Themes, Templates, and Smart Art make your files even prettier than before
No learning curve from Office 2007
Cons:
Pretty small set of enhancements for what will be a steep price tag
Would like to see more third party integration
What I Would Change
All-in-all this is a pretty nice suite of applications. In fact, I think that it is the most tightly integrated suite of apps in the industry, bar none! That being said, I would like to have seen some more integrating with web apps like Google Docs, Zoho Office, Flickr, and YouTube. I would love to be able to share my files over the web on more than just Microsoft services. I would also love to be able to seamlessly pull in my favorite media from the web.
See Office 2010 in Action in this Video Walkthrough
Overall Rating
I would rate this upgrade an 8 out of 10.
Is it Upgrade Worthy?
Let me make it simple: If you have Office 2007, save your money. If you have anything older than that, it's time to bite the bullet.
Stay Tuned for My Review of the New Office 2011 for Macs
That's right, Microsoft is also updating the Office suite for Macs (which really needs it) and I'll have a similar overview next.
Wanna make sure that you don't miss anything?
Get free updates from VitaminCM.com
Subscribe via RSS Reader
Subscribe via YouTube
Or just
Follow me on Twitter, where I am constantly sharing great articles written by people WAY smarter than me. Or, see some of the other places where you can connect with me out there in the wilds of the internets.