Is it OK to Do a Photojournalism Piece on Roadside Memorials?
Did you ever see those white crosses with pictures, candles, signs, etc. on the side of the road where people have died in an automobile accident? Me too, the whole phenomenon has fascinated me for as long as I can remember.
I always want to get out and look at them, to figure it all out. Who was it? How old were they? How did it happen? Who built this memorial? So many questions and usually not many answers.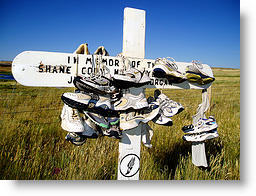 Now, I carry a camera with me just about everywhere that I go. I always try to grab shots of things that strike me as weird, funny, cool, or interesting. Some of my stuff interests people and some makes them scratch their heads.
Every time I see one of these roadside memorials, I want to get out and document the whole thing. The problem is, I'm usually either with my wife and/or daughter. Both of them think it's creepy, inappropriate, and disrespectful. Plus, nobody ever wants to stop and wait around for me to do my thing. If I tried to go out and find these memorials, while I'm alone, I probably never would anyway.
So, here is my question: Is it OK to shoot and document these memorials or am I just a creepy freak. I really don't want to offend or gross anybody out. Here's your chance to put your two cents in. You may be determining a future article.
Get More Updates
See some of the other places where you can connect with me out there in the wilds of the internets.