Works Just Like Office, but on a Mac
Overview: Microsoft Office for Mac suite is being updated for 2011. This is an overview / preview of the notable new features.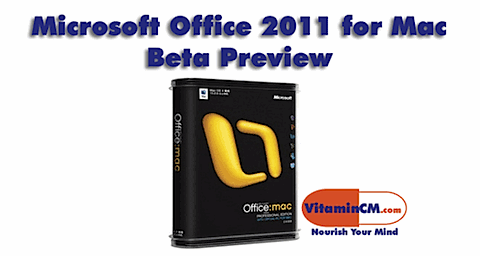 Product: Microsoft Office 2011 for Mac
Price: Not announced yet
Availability: Some time in 2011
Finally, a Good Reason to Install Office on a Mac
If you have ever tried to work with Office files on a Mac, you know it can often be a frustrating experience. Microsoft has made a version of their Office suite (Microsoft Office for Mac
) for Mac users for a while now. That however, does not mean it's the same as using Office on a PC. It's just not! Sure, there are other options available; Open Office (free), Apple iWork
($75), or some of the web-based options like Google or Zoho. While they are all "acceptable" and have their merits, they're just not Microsoft Office
on a PC.
I have been very vocal about how much I hated Office 2008 for Mac and have used many terrible workarounds to overcome its lousy user experience. So when I heard that there was a beta preview for Office 2011 for Mac floating around I had to take a look. First off, as of today (May 10, 2010) you can't officially get a copy from Microsoft's website. It is supposed to be more widely available some time this summer. As for how I got a copy to test…. Don't ask, don't tell. Seriously, if you hunt around on your favorite torrent sites, you will find a perfectly functional demo copy to try out.
So how good is it? Let's take a look.
Look and Feel
The most prominent thing about this version of Office for the Mac is the addition of the "Ribbon" which was introduced in Office 2007 for Windows. It was not added to Office 2008 for Mac. This is a wonderful addition to the software. Not only do you get the benefits of the Ribbon, you still get the standard Mac menu across the top of the screen. I wish that the Windows version had a better blend of the Ribbon and Menu system.

As you can see, it is very similar to Office 2007. Plus, if you double-click on any of the tabs, they will collapse to give you more screen real estate. Just double-click again to restore the menu.
This is a very nice overhaul.
If you take a look at the Excel interface, you can see that it looks like regular old Excel, not that unusable abomination in Office 2008.

Welcome to my home computer old friend.
Cool New Features
Other than the interface overhaul, the best update to the suite is that piece of crap Entourage has been thrown into the dungheap where it belongs and replaced with….. Wait for it….. Outlook!!! Thank god. As a Windows user who converted to a Mac a while back, I can't stand any of the iCal, Address Book, or Mail applications on my Mac.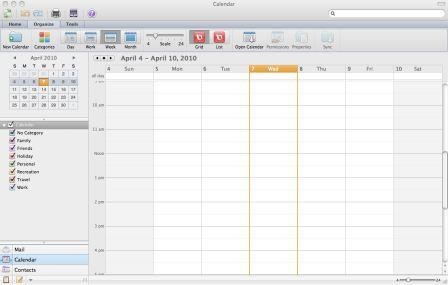 This version of Outlook works just like you would expect. Major improvement!
There are also several nice little additions to all of the apps. They expanded upon the SmartArt, Templates, and Themes available to allow you to make any documents look beautiful.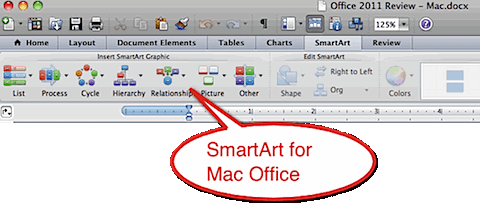 Overview
Pros:
The "Ribbon" interface works great
Real Excel that really works
Microsoft Outlook instead of Entourage
Works just like Office for Windows, but with cool Mac stuff in there
Cons:
Still a quarter of a step behind the Windows version
It won't be cheap
What I Would Change
The Windows 2010 preview had a really nice screenshot feature on the Insert tab of each application that would have been great here too. I would have liked it if the Ribbon tabs were more "identical" between the Windows and Mac version as I switch back and forth between machines daily. All-in-all, these are some minute nit picks though.
Overall Rating
I would rate the Microsoft Office 2011 for Mac suite about a 9.75 out of 10. This is about as good as it gets. Everything you need from Office with everything you love about your Mac.
Bravo!!!
Is it Upgrade Worthy?
If you need to do any work in Excel, PowerPoint, or Word; you MUST purchase this update as soon as it goes on sale. This is such a significant upgrade over any previous version of Office for Mac, or iWork, or Open Office that it is worth every penny.
See Office 2011 for Mac in Action
This video overview shows the beta of Microsoft Office 2011 for Mac and covers some of the major changes.
Don't Take My Word for It
Here are a few other reviews of this beta preview:
Wanna make sure that you don't miss anything?
Get free updates from VitaminCM.com
Subscribe via RSS Reader
Subscribe via YouTube
Or just
Follow me on Twitter, where I am constantly sharing great articles written by people WAY smarter than me. Or, see some of the other places where you can connect with me out there in the wilds of the internets.