Learn How to Tie All of your Gadgets Together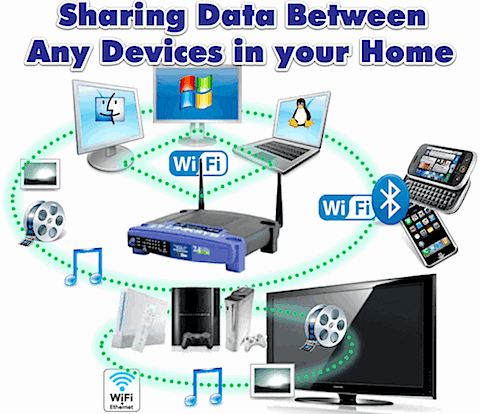 You Can Get there from Here
Your home has any number of "connected" devices (Computers, Video Game Consoles, Phones, Portable Media Players, Televisions, DVRs, etc.). Are they all really connected? This three part tutorial series will show you how to connect all of the devices in your house to each other.
I will show you some simple (and some not so simple) steps to get all of your devices singing in perfect harmony including:
Sharing Files on your Computers
You will learn how to share your files between Windows, Mac, and Linux computers on your home network. Once you have the files on all of your machines shared, you need to connect to them from another machine. You will also learn how to "map" these shared drives so that they are always available, just like your computer's local Hard Drive or CD/DVD Drive. Share Files Between All of your Computers
Connecting your Computer to your Living Room
You will learn how to stream all of the music, photos, and videos on your computers to your living room using your video game console. There are instructions for Microsoft Xbox 360, Sony PlayStation 3, and Nintendo Wii. You will see how to connect WIndows, Mac, and Linux machines to all three gaming systems. Stream Computer Media to the TV using Video Game Consoles
Connecting your Smartphone to your Computer
You will learn how to stream music, photos, and videos from your computer to your smartphone. You will also learn how to use your smartphone to control your computers and schedule recordings on your DVR. Sharing Between your Smartphone and Computer
5min.com Video of the Day
Wanna make sure that you don't miss anything?
Get free updates from VitaminCM.com
Subscribe via RSS Reader
Subscribe via YouTube
Or just
Follow me on Twitter, where I am constantly sharing great articles written by people WAY smarter than me. Or, see some of the other places where you can connect with me out there in the wilds of the internets.