Sharing is Caring
Overview: You will learn how to download large files from the internet using a BitTorrent client.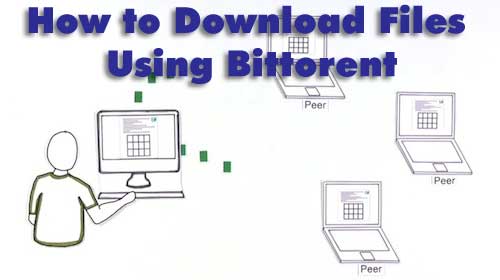 Do you ever need to download huge files from the internet? Maybe you even want to pause and restart the download process. That's what BitTorrent is made for.
What is BitTorrent?
BitTorrent is a way to transfer files of just about any size quickly and efficiently. It works by breaking files up into small pieces. The file is downloaded piece by piece from one or many different sources. It's efficient because you get faster downloads using a lot less bandwidth. Other users (refered to as "peers") have pieces of the file. Those peers also share the pieces they get with even more people who are also trying to download the same file. This sharing makes the file easier to download as more parts become available from multiple sources. Since the file is broken up into small pieces, little bandwidth is used to do the overall transfer. Once the file is finished downloading, the client software continues to share the completed file (becoming a "seed") with others looking for it. This also means the file can still be downloaded long after the original poster has stopped seeding the file.
See how it works in the video below.
BitTorrent, Explained. from BitTorrent, Inc. on Vimeo.
Benefits of Using BitTorrent
There are some very good advantages to using BitTorrent over typical "HTTP" downloads. Here are some of the biggies:
Having large files distributed across numerous users eases the processing and bandwidth resources on websites and content providers
Users can stop downloads in-flight and resume them at more convenient times
BitTorrent supports several ways to automate file downloading like RSS subscriptions
Is Using BItTorrent Legal?
Yes! It is merely a tool that efficiently moves data between computers. You can share "legal" data that you own like documents, videos, applications without any issues. However, you can also share copy written data illegally (as many people do). That is obviously something you do at your own peril. The following instructions are intended for downloading "legal" content.
What you need to Start Downloading Torrent Files
First, you will need to install a BitTorrent client on your computer. This is a bit like picking the right pear of jeans; they all do the same thing, you just need the best fit. I use uTorrent because it has an app for Windows, Mac, and Linux that all work pretty similarly. Since I bounce back and forth between all three systems, it's easier to keep some things consistent.
Picking the Right BitTorrent Client
There are several other great clients available for each operating system, just use Google to find one that you like.
Installing uTorrent
Run the installation file on your machine. (This is very simple on each operating system.)
Select a folder where the downloaded files will go. (Screenshot below is the Mac version. Windows & Linux look similar.)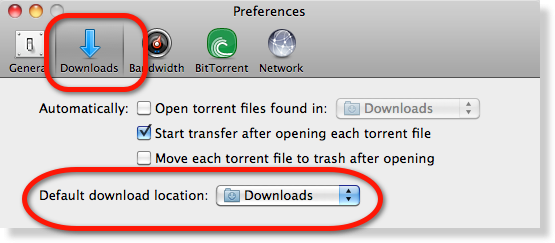 That's it! You're ready to start searching for Torrent files.
Finding Torrent Files
Again, there are tons of torrent search engines out there and your guess is as good as mine for which is best. The one that I have consistently had the best experience is BTjunkie.org.

Type in the name of the file that you would like to download into the Search field and click the Go button.
You will see a list of results.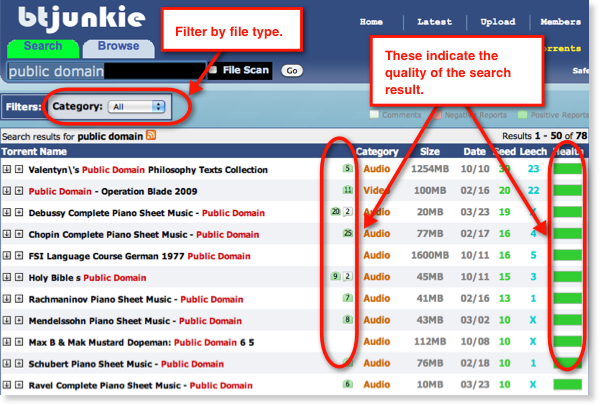 Click on the highest quality, most relevant result to view its information.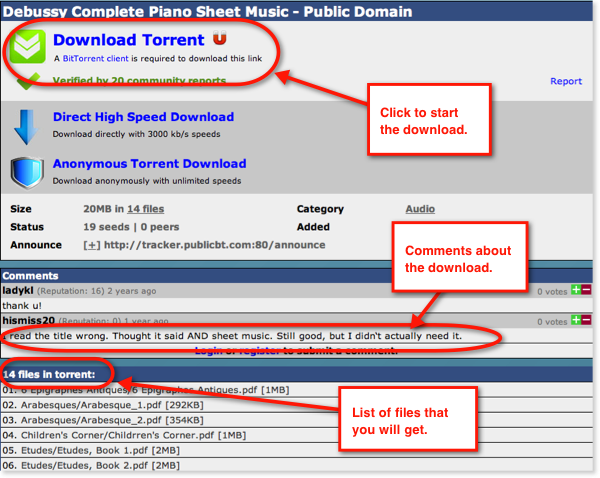 The torrent file will download to your computer. When you open the torrent file uTorrent (or whatever software you installed) will launch. The torrent file only contains the information that uTorrent needs to start downloading pieces from other peers. You can follow the progress of each download in the uTorrent menu.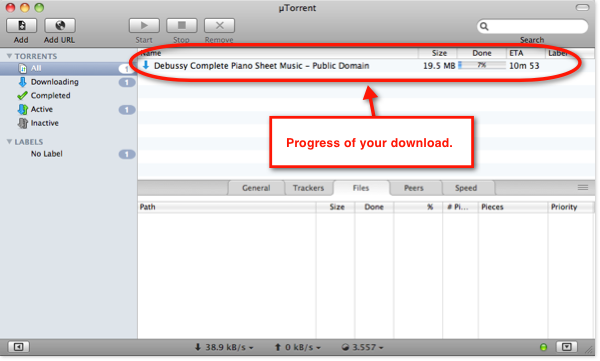 You can adjust individual downloads via an options menu (RIGHT CLICK).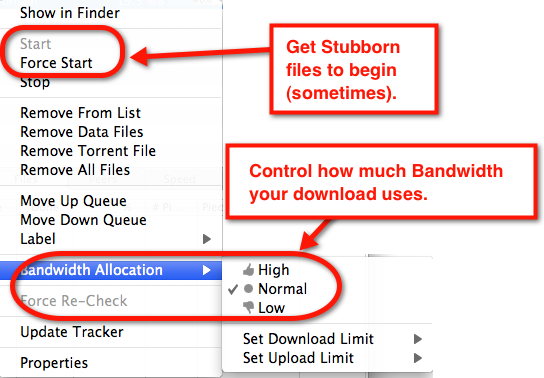 Some downloads don't start right away. The Force Start option is frequently just the nudge that they need.
If you want to speed the download or conserve bandwidth for other applications, you can adjust the speed allotted to each download.
When your file is fully downloaded, the link will turn green.

You can go to the download folder and use the file(s) now.
That's it, you're done!
Video Tutorials for using uTorrent to Download BitTorrent Files
If you want to see it in action, play the video tutorial below. All of the steps are demonstrated with explanations.
Good luck and download responsibly.
Did you Like this Article?
Why not get free updates from VitaminCM.com?

Subscribe via RSS Reader


Subscribe via YouTube
Or just

Follow me on Twitter, where I am constantly sharing great articles written by people WAY smarter than me. Or, see some of the other places where you can connect with me out there in the wilds of the internets.
Get More Updates
See some of the other places where you can connect with me out there in the wilds of the internets.