The Best Music Services – Part 2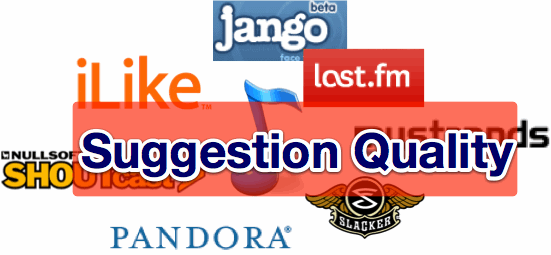 This is the 2nd article in a 5 part series on the Best Music Services on the Internet. See the rest of the series:
The Best Music Discovery Service
The best reason to use any of these music services is to have them send you great music. There are many different ways of determining what "you" will like. They all seem to straddle the line between art and science with a touch of voodoo thrown in. I have spent a lot of time trying to get a stream of good music out of all of these services. Let's take a look at my mixed results. (Don't forget to give your feedback in the pole and comments below.)
Suggestion Quality Comparison

iLike.com – They base their selections on your iTunes history and favorites of other members with "similar" tastes.
Suggestion Quality  They do a decent job of sending you songs. (3 Stars)
Rating:

Good, not great.

Jango.com – Jango stations play the artists you add, along with similar artists favored by other Jango users who share your taste.
Suggestion Quality : I generally like the selections along with the ways that I can modify what it sends me. (4 Stars)
Rating:

Very good.

Last.FM – Last.FM allows you to rate songs up or down and favorite songs that you love. You can also tag songs that you listen to. It also pulls your iTunes data to determine what you like.
Suggestion Quality : It does a very good job of selecting music that I like. (4 Stars)
Rating:

Very, very good.

MyStrands.com – When you go to the My Recommendations page it shows you a bunch of songs based on your play history in iTunes. The recommendations are not really that great.
Suggestion Quality : This is just another disappointing feature of MyStrands. (2 Stars)
Rating:

Not good!

Pandora.com – Pandora lets you rate songs up and down and bookmark (favorite) songs and artists. It is very quick to put together a batch of songs that I just end up liking. They base their picks on the Music Genome project, which uses data entered by music "experts" to indentify what makes music similar.
Suggestion Quality : This is where Pandora really shines. It just keeps picking one great choice after another. (5 Stars)
Rating:

It's not perfect, but it's the best.

Shoutcast.com – Shoutcast is really just a collection of radio stations. It's a straight one-way push. They do have a ton of stations to choose from, so you can usually find something you like, but it does not adapt to you in any way that I can see.
Suggestion Quality : There are no suggestions. You just hunt around and hope you like what you find. (1 Star)
Rating:

Hit or Miss.

Slacker.com – The web player and iPhone players both allow you to rate and bookmark songs that you like and dislike. After doing this for a while, you get a pretty good flow of songs that you like.
Suggestion Quality : It takes a little while to fine tune, but it does send you a nice mix of songs based on your feedback. (4 Stars)
Rating:

Very, very good.
Have Your Say
Well, you know what I think, let's hear what you think. You can select more than one choice below if you have a tie for your most reliable service.
Get More Updates
See some of the other places where you can connect with me out there in the wilds of the internets.