A Monumental Milestone of Time Wasting

My favorite Firefox extension has always been the StumbleUpon toolbar. I have been using it since June of 2006. Whenever I'm bored or looking for something new and interesting it's just a button click away.
I was looking at my profile yesterday and realized that I was at around 2,995 pages thumbed. I thought "Wow, that's a lot of wasted time research!" I decided to celebrate the magical moment of my 3,000th stumble. (Kind of like when your odometer turns a special mile mark.)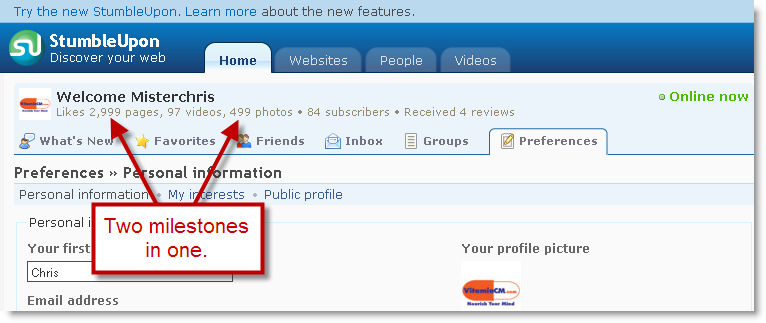 As fate would have it, I was also a few clicks away from my 500th photo thumbed too. So I decided to make my 3,000th stumble my 500th photo.
It took some doing, but I found one worth that little green thumb. At 6:30 PM on Monday December 15th I passed the milestone.
So, who was the 3,000th customer?
Nothing out of this world, but a pretty cool flash zooming photo viewer. I like it.
See What I'm Stumbling
You can see what I'm Stumbling on my StumbleUpon profile. Add me as a friend or send me what you're reading. I'm always looking for interesting stuff.
Subscribe to the VitaminCM.com Feed
Get free updates from VitaminCM.com

Subscribe to RSS Feed

Subscribe via Email

Subscribe to Comments
Get the VitaminCM.com Podcast

Subscribe to the VitaminCM Podcast in iTunes
Get More Updates
See some of the other places where you can connect with me out there in the wilds of the internets.