Get Smart without a Giant Phone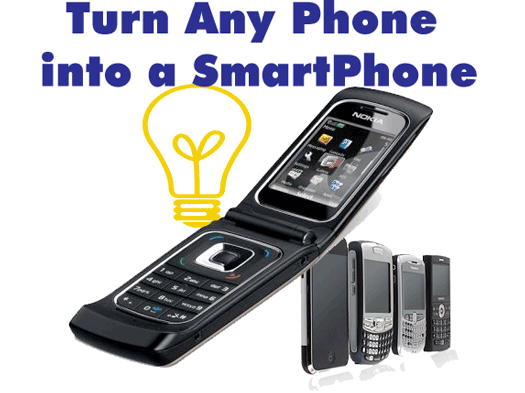 OVERVIEW: This article will show you how to take a regular mobile phone and give it many of the capabilities of a much more expensive SmartPhone.
Be Jealous No More
Just because you don't have a SmartPhone, you don't have to go without all of the cool, useful, and fun stuff that they can do. As long as you have a phone that can take pictures, send MMS, and access the internet (just about all phones made in the last 3 years), you can do a lot more than you think.
Let's look as some of the key capabilities that make SmartPhones what they are:
Personal Information Management (PIM)

(Calendar, Contacts, Notes & Memos)

News

(Sports, Finance, Weather, etc.)

Web Browsing
Social Networking

Instant Messaging
Let's take a look at how you can approximate many of these features on any phone.
*Some of these options are not free. I know that's a major departure from how I usually roll, but if you want all of these features for free, you'll have to pay for a SmartPhone any way.
Personal Information Management (PIM)
Calendar, Contacts, and Notes syncing have always been the main features of SmartPhones. If you're willing to fork over $15 – $30 you can get those features on your phone. Here are two excellent applications for syncing your computer's PIM data to just about any phone.
Susteen's DataPilot
– You can sync information between your computer and all sorts of phones.
Mobile Action's Handset Manager
– Pretty similar to DataPilot in that you can sync between your computer and phone.
Just install their software on your computer, configure the settings, and plug your phone in using the provided cable. That's it! All of your PIM data is synced to your phone.
Get Your News on the Go
The ability to keep up with some key pieces of news is a great capability. There are tons of services that have mobile versions of their pages or will even send news alerts to your phone. Here are a few that you can try.
Headline News – CBS Mobile News, CNN Mobile, Google News Mobile, MSNBC Mobile
Sports – ESPN Mobile, Yahoo Sports Mobile, Sports Illustrated Mobile
Weather – Weather Channel Mobile, Wunderground Mobile
Finance – CNBC Mobile, Yahoo Finance Mobile, CNNMoney Mobile
Browse the Web with Style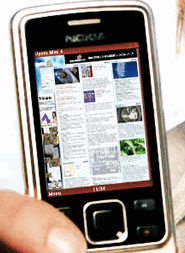 One of the great things about SmartPhones is their ability to browse the web. Let's face it, the standard browser loaded on a typical non-smartphone is just about unusable. There is an option that makes the internet much more usable on a mobile phone. Opera Mini is a JAVA based browser that can be installed on most regular mobile phones. This is about as close as you're going to get to a real browsing experience on your phone.
Just point your phone's crappy browser at: "m.opera.com" and follow the installation prompts. Now you can see all of that cool stuff you've been missing.
Social Networking
Do you want to be able to update your Social Networking sites from your phone? Well, there are a bunch of ways that you can do this. If you have instant messenger on your phone, you can use an IMbot to update any of your networks.

Ping.fm is a simple and FREE service that makes updating your social networks a snap! You can post to Facebook, MySpace, Twitter, and over 40 others just by sending a simple Instant Message. Here is a full list of networks that you can post to.
Here are the ways that you can update your services through Ping.fm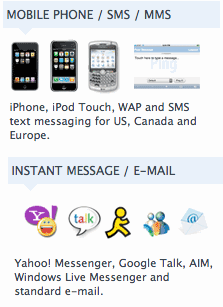 Do you want to post your pictures and videos to services like Flickr, YouTube, and Twitter? Well, you can use PixelPipe.com to post media and messages to over 70 of your favorite social media sites. (Yes there are actually over 70!) Pixelpipe supports photo, video, audio, file, and text posts.
Upload your media from MMS & Email to your private upload address.
To use: Attach your file(s) to a new message and send the message to your personal upload address. Your personal upload address is boulder77banners@upload.pixelpipe.com
Tip: Add 'Routing Tags' (denoted by @service) to the body of the message to send to specific destinations or groups. For example, to make a post only on your Facebook and Twitter, type this into your message: "This is a post @facebook @twitter"

HelloTXT will also let you post updates to many of your favorite social networking sites via a simple text message, email, or Instant Message.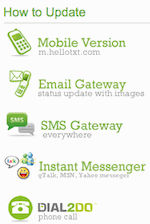 One of the methods that HelloTXT supports is a service called Dial2Do.com . This service allows you to call in and speak commands and information to a virtual secretary. Dial2Do will then carry out your tasks. You can also create and/or hear emails, calendar appointments, to-do's, texts, and more. That's way cooler than a SmartPhone.
The following video shows you some of the amazing things that you can do with this service.

See a complete tutorial on using Dial2Do.com as a personal secretary.
How Do You Make Your Phone Smarter?
If you have any tips on making your phone smarter, I would love to hear them in the comments below.
Get More Updates
See some of the other places where you can connect with me out there in the wilds of the internets.