Site Specific Browsers Put Web Apps on Your Desktop
OVERVIEW: You will learn how to turn your favorite web applications into standalone desktop applications using site specific browser tools.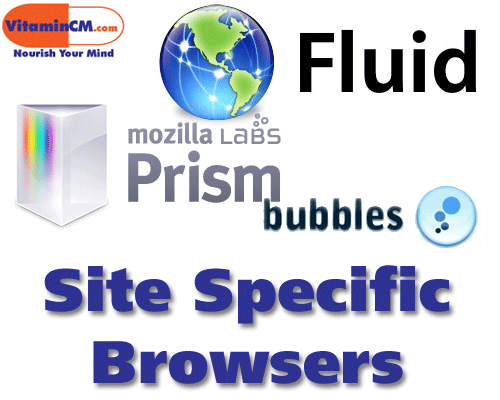 What Is a Site Specific Browser?
A Site Specific Browser (SSB) is is an application with an embedded browser designed to work exclusively with a single web application. It doesn't have the menus, toolbars and accoutrements of a normal web browser.
Benefits of Site Specific Browsers
OK, I know I "can" break web based apps into standalone desktop apps, but why "should" I? Well, there are a number of benefits to SSBs.
Use just what you need. Crop the window down to just the usable part of the application. (Pandora)
Control each application separately.
When one application crashes (and they always do), you all of your other tabs don't go down in flames too.
Have One Application visible all the time.
What Sites have I Applicationized
Pandora – I like to be able to control this just like I would iTunes when it is playing. It just works well as a really tiny, really awesome little music player off in its own little corner of my screen.
RememberTheMilk – When I want to manage or add to-do's to my task list, it is very handy to have RTM sitting in its own little window.
Google Voice – Truth be told, I don't use GV that much, but when I am using it, I just keep it off to the side.
Worth Considering?
Email – If you can't make the jump from Outlook to full webmail, this may help ease you along. (Kind of like the patch for desktop junkies.)
Meebo Instant Messenger
Twitter App – There are a bunch of nice desktop Twitter apps (TweetDeck, Seesmic, Twhirl, etc.), but there are also some cool web based ones too (TwitHive, Seesmic Web App, GTwit, HootSuite, etc.). If these float your boat, you can turn them into a full desktop application.
Google Reader – Some people use Google Reader as a power tool for the web. These users may enjoy splitting it off as a standalone application.
How to Make Site Specific Browser Apps for Your Desktop
There are a few tools that make creating these standalone applications simple. You just install one of the tools listed below. These tools create a framework on your machine that allows the web sites to function as independent applications. Then, you create your applications from a simple wizard.
Each tool has its own specific steps, so pick the one that is appropriate to your operating systems and get started.
Here are some of the ones that I have tried on the three major operating systems.

Windows:
Mozilla Prism –  This is built by Mozilla, so it uses the Gecko (Firefox) rendering engine to run your web apps on the desktop. Bonus – you get to use Firefox extensions and Greasemonkey scripts to customize your desktop applications.
Bubbles – This Windows only tool gives you a very simple wizard to turn your favorite site into an application. It also has a small but powerful set of extensions.
Google Chrome (Browser, not OS) – To put a Chrome Application Shortcut to Gmail, Google Reader, Twitter, Facebook, or any other web app you like to keep open in a separate window, open the site in Chrome. From the Page menu, choose "Create application shortcuts." From there decide to put your shortcut on the desktop, quick launch bar, and/or Start Menu.

Mac:
Fluid – This Mac only tool is built on the webkit (Safari and Chrome) rendering engine. It is very simple to use and creates stable web applications. You can also use most Greasemonkey scripts to customize your new creations.
Mozilla Prism –  See Windows section above.

Linux:
Mozilla Prism –  See Windows section above.
Video Walkthrough
The following video shows how to turn a Web Service into a Desktop Application using Site Specific Browser technology.
Cool Hack
Put links to the application launcher in your Bookmarks. Then, you can launch it straight out to a standalone from your browser.
Want More Good Stuff Like This?
Get More Updates
See some of the other places where you can connect with me out there in the wilds of the internets.