The Best of VitaminCM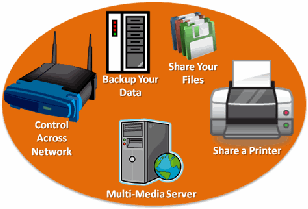 Here are some of my favorite, most useful tutorials that have appeared on VitaminCM.com.
Using Free Software and Equipment that you Already Own
Goal: Provide instructions to turn an old computer into a server that you can control remotely and use for various handy purposes.
Assumptions: You have, or can an old computer that is no longer used and a basic router for your home network.
So
let's say you hit the technology jackpot and score yourself a shiny new
super computer. (OK, maybe just a plain old new computer.)
Congratulations! Now, after you get over the initial euphoria of
setting up your new workhorse, you might start wondering what to do
with your faithful old friend. (OK, annoying old dinosaur.)
Should you…..
Throw it out? – NO
Give it away? – Come on
Donate it to charity? – Even poor kids don't want that thing
Take it out to a field and give it an Office Space style beatdown like Peter, Michael Bolton, and Samir did to that printer. (Fun, but we can do better.)
Let's take that doddering old codger and breathe some new life into it.
Putting Your New Server to Work
Goal: Use the server that you set up in the previous article
to perform helpful tasks such as backing up computers on your network,
storing media files in a central location, share one printer with every
computers computer in the house.
In the previous article you
learned you to set up the VNC software to remote control your server
from another computer. Now that you have your basic server up and
running, here are some of the fun things that we're going to learn how
to do:
Share files between computers
Run backups of the computers on your network
Function as a print server so that all of your computers can share one computer
Operate as a dedicated BitTorrent server to download and upload files
Configure a Professional Testing Server for Web Development
And a few other ideas
Use Software, the Web, and Social Networking to Ace your Job Search
Unless
you've been living in a cave for the last month or so, you're probably
worried about your job. Blue chip companies are falling into the
deadpool or getting taken over on a daily basis.
You either
just got laid off or you're worried that you could be. If that's not
the problem, then you probably just need more money (welcome to the
club). with the job market so tight, how do you compete?.
Let Technology be your not-so secret weapon to find all of the best jobs even in a tough market.
You can use software, social networking, and dead-simple techniques to make the whole process painless and successful.
Give your Netbook a Little More Pep by Adding Extra Ram
GOAL: You will be able to add extra memory to a netbook or laptop in under 10 minutes.
Increase Google Reader's Productivity Using Greasemonkey Scripts
I use Google Reader to read through 200+ feeds that contain mountains of information. Google Reader does a great job helping me manage this tall task. If you do a little tweaking, you can turn Google Reader into an amazing productivity tool. Firefox allows you to add extensions to increase functionality.
See How You Can Bring the Web Operating System to Life
Every so often I read about the Web OS or the Cloud OS, "When are we going to see the Web OS arrive?" In my mind, it's pretty much here (with a few caveats).
Can you create a portable desktop environment using a collection of entirely web-based applications and services that can do (just about) anything from anywhere in the world?
Use your Computer, Not your Wallet
The recession is hitting everyone hard and money is tight. That doesn't mean that can't get the most out of your computer. There are so many great free applications that can help you do just about anything. I'm going to take a look at 22 applications that I use all the time with wonderful results.
Use RSS Technology as Your Border Collie on the Web
Goal: Explain how RSS is used to Organize and Deliver Content over the Internet. Then, show some interesting ways to find, create, and use information with RSS.
This is Part 1 of a Three Part Series on RSS and the things that it can do. This article will cover what RSS is and how you can use it to read news and updates from your favorite web sites.
Part 2 will cover getting RSS data feeds from static sites that do not provide RSS feeds.
Part 3 will cover Putting RSS data into your web pages.
Basic Workflow for Quickly Creating PowerPoint Slide Presentations
Creating an effective PowerPoint presentation tends to be difficult and take a long time for many people. However, if you follow a basic workflow, you can make the entire process much quicker and easier that you may think.
Here is the process that I use to build professional presentations in a short amount of time.
Keep the PDFs, Lose the AcroCrap
Goal: Provide a list of FREE applications that will allow you to do everything you want with PDFs while avoiding the annoying, expensive problems of Adobe Acrobat.
The Portable Document Format (PDF) is great for a number of reasons however; Adobe Acrobat (the de facto standard application) is a horrendous piece of garbage. The Acrobat Reader (Free) is painfully slow to open, has more bugs than a porch light, and love to crash browsers. The Acrobat Writer (Standard $299 or Professional $449) applications are ridiculously expensive.
Here is a list of applications that will let you get the most
out of the PDF format with none of the issues:
You can use this combination of free applications to do just about everything that you would ever want from Adobe Acrobat.
Subscribe to VitaminCM.com for Free
Get free updates from VitaminCM.com

Subscribe to RSS Feed

Subscribe via Email

Subscribe to Comments
Get the VitaminCM.com Podcast

Subscribe via iTunes
Technorati Tags: tutorials, software tutorials, how to, computer instructions
Get More Updates
See some of the other places where you can connect with me out there in the wilds of the internets.