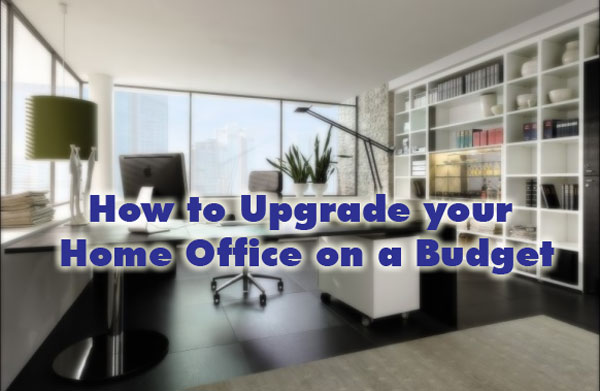 Nowadays, there's a growing shift of professionals with fully fledged businesses, working from home. The perks of working from home are substantial, as individuals are able to wake up later, set their own hours and work in relative comfort. However, distractions can also plague the work-at-home professional, as children, phone calls, and the interruptions of daily life threaten productivity.
A home office creates a barrier between work life and personal life, reminding both you and others that this space is designated for work only. Don't work from the dining room or out of the closet, a dedicated space will allow you to reach your full productivity and potential. For those on a tight budget, the following are tips that can help you upgrade your home office without straining your wallet.
Create a Plan – If you don't have a designated home office, then taking the time to measure out your house plan can save you time in the long run. Instead of simply moving furniture about, understand where an office will best fit in your home. But for those that already have an office and are looking to upgrade the space, write out in detail exactly what you'll need. Getting a firm idea beforehand will allow you to better plan and prepare ahead of time
Try using DIY – Is there anything you can do on your own? There are a lot of ways to upgrade your space without hiring a contractor. For example, painting the walls with a fresh color is a great way to change up the space at a low budget. In addition, if you are able to install electronics and use your own interior design sense, then you can save money on the long run.
Friends, Family and Neighbors – Your social network can provide many of the goods and services that are necessary for upgrading a home office. Know anyone that is cleaning out their space? This may be a good opportunity to obtain a new desk or bookcase for your office. In addition, if you have any friends or family members that possess home renovation skills, asking for their help may yield positive results.
Look for Bargains and Freebies – Furniture can quickly rack up quite a cost for any home office budget. However, instead of buying completely new furniture, look for bargains and freebies in a variety of sources. Garage sales, flea markets and thrift stores are always a good place to find cheap furniture, such as bookcases, desks and chairs. Certain furniture stores and office retail chains often sell refurbished or used goods at a fraction of their original cost. Finally, online advertisement sites such as Craigslist are a great way to find cheap or free furniture in your area.
Get Only What's Necessary – You may be tempted to outfit your home office with the latest gadgets and elegant furniture, creating a home office that is visually stunning and appealing. However, remember that a home office is simply a place to work. Unless these elements would increase your productivity dramatically, you should consider whether such goods can reasonably fit within your budget. Equipping your office with the essentials will not only save your money, it will also protect your productivity from potential distractions and disturbances.
About the Author
Christine Cooney loves learning about architecture and modern house plans. She one day hopes to devise home plan for her own dream home.
Get More Updates
See some of the other places where you can connect with me out there in the wilds of the internets.