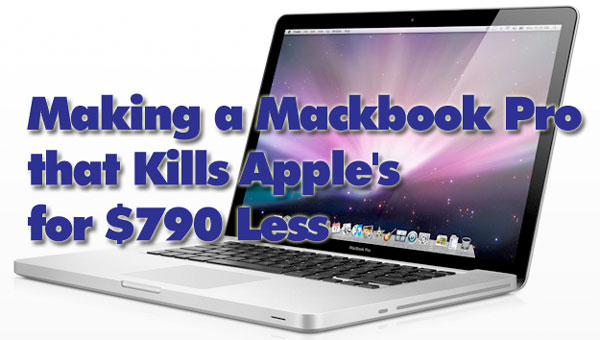 Everybody knows that the Macbook Pro is the most beautiful, powerful, and stable laptop in the world (for Mac or Windows). The problem is that they are not cheap and Apple's limited upgrades are ridiculously overpriced.
If you're willing to invest a few hours and a little elbow grease, you can get yourself a real Macbook Pro that will crush anything that Apple sells and save hundreds of dollars.
The best specked Macbook Pro that you can buy from Apple has the following: (I'm pricing the 15 inch model because the 17 inch model is barely a portable laptop.)
CPU: 2.5 GHz Quad-core Intel Core i7
Memory: 8 GB 1333MHz DDR3 SDRAM — 2x4GB
Storage: 256 GB Solid State Drive
Display: 15-inch Hi-Res Antiglare Widescreen Display
Price: $3,299.00 (Yikes!!!)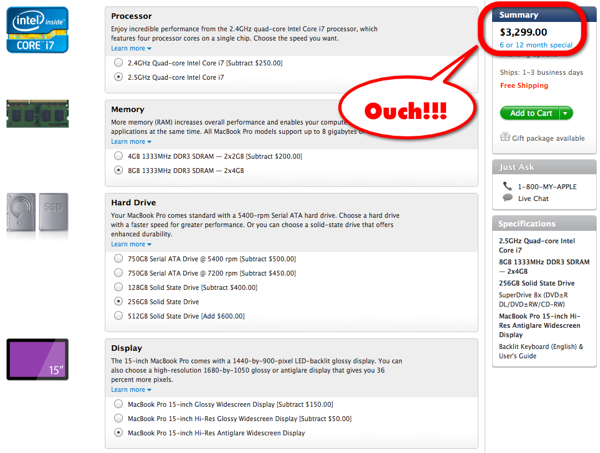 The system I'm going to build has the following specs:
CPU: 2.5 GHz Quad-core Intel Core i7
Memory: 16 GB 1333MHz DDR3 SDRAM — 2 x 8GB (Twice as much as Apple offers.)
Storage: 128 GB Solid State Drive + 750GB Serial ATA Drive (That's right, TWO hard drives.)
Display: 15-inch Hi-Res Antiglare Widescreen Display
Price: $2,509.00 (That's $790 less!)
There are three keys to saving all of this money:
Buy a Refurbished Macbook Pro (More on this below)
Buy the Superior upgraded components from a better, cheaper vendor
Install the upgraded components yourself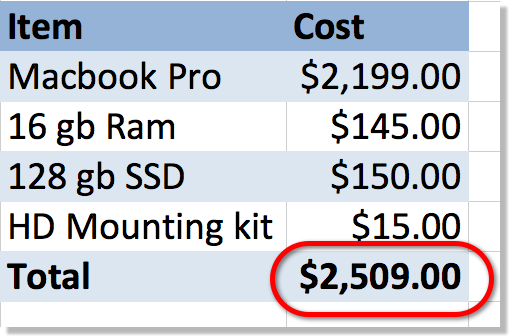 Step 1 – Buying your Machine
Isn't Buying a Refurbished Computer Risky?
No, not at all. Apple's refurbishing program is amazing. They reinstall the Operating System, replace any worn out parts, and fully inspect the entire machine. Then, they cover it with the exact same one year warranty that the ones in the store get. You can purchase Apple Care (extended warranty) too; if you're a worry wart.
So what's missing?
The super cool, cardboard Apple box and about 30% of the price. Seriously, that's it. If you can possibly stand to skip that magical 10 seconds of unboxing, you get a great deal.
Step 2 – Buying the Upgraded Components
Once you have the machine, you need to order your upgraded components. You can shop around, but save yourself some time and go to either NewEgg.com or Amazon.com. They have the best combination of price and selection you'll probably find.
Memory – Apple maxes out at 8 GB for a $200. You can buy a 16 GB kit for $140
. (Twice the memory for $60 less.)
Storage – Apple includes a 750 GB mechanical hard drive, but will upgrade you to a 256 GB SSD for a whopping $500. Here's where we'll get creative. You can buy a 128 GB SSD
. But 128 gigs is not enough storage, right? No, it's not. Don't forget, we still have the 750 GB drive that came with the machine. (If you let Apple do the upgrade, they keep the original parts.) We're going to use the SSD for the Operating System and Applications and put the mechanical Hard Drive in place of the DVD drive. This gives us the speed of the SSD and the massive Hard Drive storage for a fraction of the cost.
IMPORTANT UPDATE
You should check your how much memory your machine can handle before you buy. Other World Computing has a great reference on how much memory your machine can handle.
What Should You Do Next?
This is the 1st article of a 3-part series on Making a Mackbook Pro that Kills Apple's for $790 Less
Read the entire series:
Did you Like this Article?
Sign up for free updates from VitaminCM.com?


See some of the other places where you can connect with me out there in the wilds of the internets.