Use Software, the Web, and Social Networking to Ace your Job Search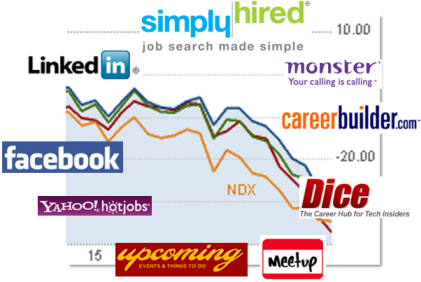 Unless you've been living in a cave for the last month or so, you're probably worried about your job. Blue chip companies are falling into the deadpool or getting taken over on a daily basis.
You either just got laid off or you're worried that you could be. If that's not the problem, then you probably just need more money (welcome to the club). with the job market so tight, how do you compete?.
Let Technology be your not-so secret weapon to find all of the best jobs even in a tough market.
You can use software, social networking, and dead-simple techniques to make the whole process painless and successful.
It all starts with your Resume. You already have one (don't you?), but take a little time to make sure it's a good one. Go to Google and type in "Create a Great Resume" or something like that. Follow the instructions to make your resume a great one.
Save your Word Resume with the following title: "First name-Last name-Resume.doc". Now, when you email the resume to people, they always know what the file is, it's YOUR RESUME!
When you go online to start this process, you'll need to paste the text of your resume into a bunch of sites, forms, emails, etc. This is a huge hassle and can either slow you down or force you to give up. If you don't make it easy on yourself, that is. You're going to have a copy of your resume in a plain text file to breeze through this part.
Create a Plain Text version of your Resume:
Open your Word Resume
Open up your text editor (Start> Programs> Accessories> Notepad)
Copy your entire resume in Word
Paste the copied text into Notepad
Clean up the spacing/formatting
Save the text file "First name-Last name-Resume.txt"
Create a simple Cover Letter that can be tweaked for different jobs.
Resume's are huge, but you also need a cover letter for most jobs. Go back to Google and type in "Create a Simple Cover Letter" or something like that. Follow the instructions to make your Cover Letter a great one.
Create a text file version of your Cover Letter
Use the same steps that you used for your Resume.
Yours should look like the image below.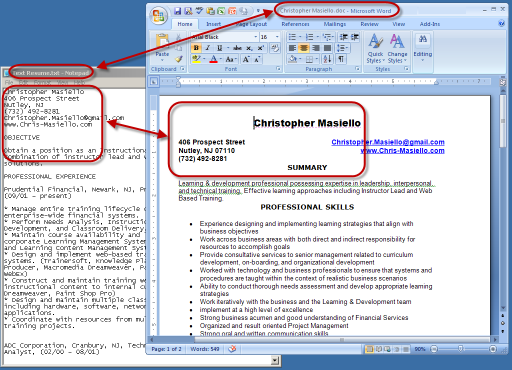 Take a coffee break and celebrate, you just finished the hardest part of the whole process.
Now, let's make a little magic happen
The first step in this process in not to search for jobs, it's getting yourself registered on the major job search sites. Resist the urge to jump right in and start searching. That's just what you need to do to get sidetracked, overwhelmed, and distracted. Eyes on the Prize man, Eyes on the Prize!
There are a ton of great Job Search sites out there, but we'll stick to the big boys for now.
Create Accounts on the Major Job Search Sites:
Monster.com – the granddaddy of 'em all.
HotJobs.com – owned by Yahoo and hooked into some of their services.
Dice.com – heavily focused on Tech jobs, but not exclusively.
CareerBuilder.com – tons of jobs and helpful features.
Simply Hired – we'll focus heavily on this one.
Take some time to thoroughly fill out your profile on these sites. You will be surprised at how many more unsolicited requests this creates.
One of the best things about these sites is that you can build custom "Search Robots" to bring the good jobs to you. (That's right ROBOTS!)
Create your search criteria: Job Position, Industry, Field, Proximity to you, Salary, etc. Save these searches to have newly posted job matches sent to you. Use an RSS feed of jobs (Tutorial on creatively using RSS feeds.) or get targeted listings emailed to you. You will be amazed at how much time wading through garbage this will save.
Job Hunt Like an Expert Using SimplyHired.com
I mentioned Simply Hired above, but let me tell you why this MY favorite place to look for jobs. Simply Hired pulls in job listings from all of the big sites, plus tons of smaller, industry specific search sites and direct listings from the employers.
Search for your job on SimplyHired and apply for any that interest you. Here's the catch, many of these listings from the smaller sites or employers ask you to sign up before you can apply. This hassle kills a lot of the rookies, but you have the tools to breeze through this obstacle in record time. Whenever you start searching through jobs, open up your text based resume and cover letter files so you can just do a few quick copy and pastes. You not only applied to a job that you like, but now you just put yourself into one more place where employers can find YOU. Your competition might apply to, or be seen be a few employers in an hour. This is where you separate yourself. You can get 15 or 20 applications in an hour and many of those applications will also put you into new databases that your competitors miss. Again, this leads to a lot of unsolicited calls down the road.
Do this SimplyHired process once or twice a week.
Video Instructions for the Entire Process
View the Step-By Step Instructions in the Video below.
Download the video for this article.
Use Social Networking to Master the Hidden Job Market
Get out there, press the flesh, meet people and you'll be amazed at how easy finding a great job becomes.
Get memberships at "Professional" Social Networking sites or groups in your niche.
Set up profiles on Linkedin and Facebook. (Make sure that they're something you would want a prospective employer to see.)
The Groups on these sites are great places to find about little known opportunities and companies. Join professional, industry, school, and company groups to learn about hidden opportunities.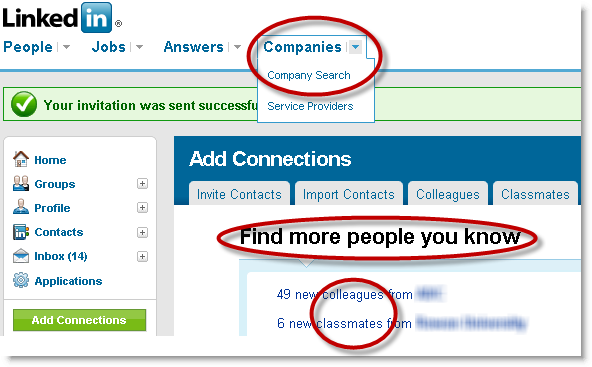 Social Networking doesn't stop at the end of your keyboard. There are great ways to meet people with similar interest out in the "real world". Yes, that's the one where people meet, shake hands, and talk in full sentences.
I go to a few "Meetups" per month full of great new people that are into the things that I like. I use Meetup.com and Upcoming.org to find tons of interesting events in my area. Again, sign up, complete your profile, and join groups. Even if you don't find a new dream job, you'll definitely meet some cool new people.
Going the Extra Mile (Long Tail Job Search Strategies)
You don't have to start searching for jobs, you can look for companies that you like and see if they have a job that fits. Who are the companies that you would love to work for?
Go directly to their site and put your resume into their databases. Look for a "Careers" or "Jobs" link that will list open positions and allow you to put yourself into their database. There may not be a job for you now, but you never know what might happen in the future.
Here are a few other ways to look for jobs that might not be so obvious:
Send very polite Requests For Hookups to people at those companies.
Search on C-Level executives in your field or at companies that you like and email them directly.
Extra Credit
Build a portfolio site List of places where you can build your site List of links to great portfolio sites Links to what goes into a portfolio
Wow, I'm Getting Interviews – Now What?
I'm not going to tell you how to ace your job interview, but there are a bazillion articles, videos, and tips on successful job interviews that you can check out. Here's your chance to use the web to learn a bunch of invaluable tips.
What about when I get a job offer?
You're almost home, but now, you have to get the money. Here are a few articles on Salary Negotiation:
Everything in Your Job Offer is Negotiable
Salary Negotiation and Job Offer Tools and Resources
Stay tuned for the next article: Get Stuff for Less Money.
There's an easy way to make sure that you don't miss any of these articles.
Subscribe to the VitaminCM.com Feed

Subscribe to RSS Feed

Subscribe via Email

Comments
Get the VitaminCM.com Podcast

Subscribe to the VitaminCM Podcast in iTunes.
Get More Updates
See some of the other places where you can connect with me out there in the wilds of the internets.